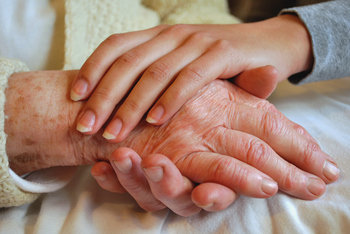 All Rights Reserved
Most people would agree that they want their loved ones to enjoy a good quality of life right to the end. But what does that mean, exactly?
Researchers working with 400 advanced-stage cancer patients and their caregivers have identified five key predictors of quality of life at the end of life. According to a July 2012 Archives of Internal Medicine report, these factors are:
1. Avoiding hospitalizations and the intensive care unit
Nobody wants to die in the hospital if it can be avoided. Or to spend the last week of life in an intensive care unit; a peaceful death can be challenging in these settings. Better: transferring to hospice or a home setting to receive comfort care. That's why finding out early about palliative care and what it offers can be so important.
2. Worrying less
No matter what point you've reached in life, worrying saps strength and distracts you from things that enhance quality of life, like positive interactions with family and time to be contemplative. Families can help a dying loved one by presenting a supportive and united front, while shielding the person from family discord, financial concerns, or other sources of worry.
3. Praying or meditating
A large body of research links spiritual practices with reduced stress and personal strength. Prayer and meditation seemed to magnify positive experiences for those in the multi-institutional Coping With Cancer study.
4. Being visited in the hospital by a pastor or other religious guide
Many patients benefited from focused conversations about religion and spirituality. The study authors suggest that pastoral care could be integrated with medical care for those at the end of life.
5. Having a therapeutic alliance with a physician
Ideally, the patient is treated as a "whole person" and as an active part of his or her own healthcare team. Being a respected participant rather than a passive subject adds to a sense of dignity.