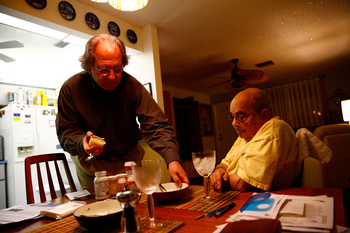 All Rights Reserved
Chris MacLellan with his late partner, Richard Schiffer
Out of pain comes resolve. Those five words describe every caregiver who's endured challenges – emotional, physical, legal, financial – and come out the other side determined to help those in a similar predicament.
Chris MacLellan's personal caregiving journey began in 2011 when his partner Richard Schiffer was diagnosed with esophageal cancer. In a three-part, Pulitzer Prize-nominated story for the South Florida Sun Sentinel in 2014, In Sickness and in Health: A Couple's Final Journey Chris detailed his caregiving experience leading up to his partner's death that year. In 2015, Chris wrote a book, What's the Deal with Caregiving, which offers advice and resources based on his experiences and his desire to help other caregivers who struggle. Today, he continues his advocacy work for family caregivers, which includes hosting The Healing Ties radio show and managing The Purple Jacket blog, both of which are packed with caregiver tips, stories and resources.
I asked Chris how his personal experience as a caregiver shapes his life now as a public advocate. What has he learned? And how do his experiences universally apply to people of all ages, races, sexual orientations and family situations?
Chris, how long have you been involved in caregiving, both personally and as an advocate?
I first took on the role of a family caregiver in 2004 when a close friend of mine asked me to be his advocate. He was alone and not doing well in a nursing facility, and I was happy to help. Looking back on that experience, I recognize how unprepared I was for the challenge of being an in-home family caregiver. When my partner was diagnosed with esophageal cancer in 2011, I was able to use the knowledge I gained from my previous experience to be a better advocate. Now after my caregiver experience has ended, I continue to be an advocate for family caregivers by sharing our caregiving journey with others, just like former family caregivers did for me.
In your 2015 story, In Sickness and in Health: A Couple's Final Journey, you share your journey of caregiving with your partner Richard Schiffer. What did you want people to learn from your very personal experience?
It was an unbelievable period and I am most grateful for the tremendous response to the story from readers all over the world. Now more than two years after the story was published, over 400,000 people have read the story and watched the video, and it still resonates with people today. What I hope people learn from the story is that family caregiving has no gender or orientation boundaries. We all just care for the one we love.
Sure, I am not naïve. I understand that same-sex couples can face difficulties in dealing with the health care and legal system, even after the legalization of same-sex marriage. However, our story was more than just a caregiving story; it was about love, care and commitment between two people who just happened to be men. We loved and cared for each other until the end.
What prompted you to write your book "What's the Deal with Caregiving" (People Tested Media, 2015)?
I started my caregiving blog, The Purple Jacket, in 2011 after Richard was diagnosed. It was an outlet for me and a way to share our caregiving experience. In the process, I found writing about our caregiving experience cathartic. Richard was active in helping write some of the posts and it was something we could do together.
Writing the book provided me with an outlet just like the blog did, but it did something more, too. It helped me move past my grief of losing Richard to cancer. Writing the book, and subsequently finishing my master's thesis on caregiving, helped nudge me from isolation, which affected me for more than a year after Richard made his life transition.
You've just updated your book. What have you added, and what prompted you to include new information?
A: In a way, updating the book and finishing my thesis have allowed me to come out of the closet again. When writing the book, I made a concerted effort not to write from the mindset that being an LGBT caregiver was different. All family caregivers face the challenge of finances, balancing work, life and caregiving, family baggage, etc. I knew it would be obvious to the reader that we were a same-sex couple, committed to each other, and that's why I left out any reference to the LGBT community or same-sex couples - until the epilogue I just added.
You write about caregiving for all people, and also sometimes focus on the LGBT community. In what ways is caregiving a universal challenge for all people, regardless of sexual orientation, family situation or other characteristics?
All family caregivers experience the same emotions regardless of one's sexual orientation. The universal challenge is the same for all. There is a beginning and an end to being a family caregiver. In most cases, we are not prepared for either one of these life-changing events.
What are some of the unique challenges of caring for a loved one who identified as LGBT?
While societal norms are changing and same-sex marriage is now legal in all fifty states, we have to be mindful that some people with whom LGBT caregivers come into contact won't be accepting of their sexual orientation. Equally as important, especially when interacting with an LGBT senior, we have to understand the world from which they came.
LGBT seniors who are now 70 and above remember when being gay was considered a mental disorder and a crime. They remember when being gay could cost them their job. In order to receive the care they need when they age, LGBT seniors now must rely on systems that they didn't trust when they were growing up. It is a slippery slope. LGBT seniors are more likely to live alone than their straight contemporaries and are often shunned by their family of origin.
What specific advice do you have for caregivers?
Keep in mind these two pieces of advice:
Don't be afraid to reach out for help, it is not a sign of weakness; it is a sign of strength!
Caregiving is time consuming and hard; be sure to set a daily intention for yourself.
Some say it takes a village to raise a child. Does it also take a village to care for a sick loved one?
In the 1970's, there was a childcare crisis in America and companies recognized that they were losing good employees who had no one to care for their child while at work. This crisis led to the creation of child daycare at work and FMLA (Family and Medical Leave Act).
Today, we need to apply the same philosophy to working family caregivers who care for a sick parent, grandparent, spouse or partner. We would not leave a sick child at home to care for himself. So why do organizations think we can leave sick loved ones at home to care for themselves? While it does take a village (e.g. a care team) to care for a sick loved one, we have to find a way to create culture change in the workplace, just like society did in the 1970s with the childcare crisis, in order to meet the needs of our adult loved ones who need us.
When you were in the thick of caregiving, what did you do to take care of yourself, to avoid burnout and despair?
I will be the first one to admit that I did not take good care of myself while in the midst of caregiving. And you know what's funny about that, my partner Richard was the one who insisted that I take better care of myself. The last six months were quite difficult and I stopped riding my bike and going for a walk. I was completely tuned into his care, not mine. Looking back, six months before he made his life transition is when the isolation started. We became homebodies and that just intensified after his death. From my personal experience, I always suggest to family caregivers that they set a daily intention for themselves, even if it is just five minutes of "me time." It is important for your all-around mental and physical health.
What are a few ways you think caregivers can get more support from their families, communities and government leaders?
One of the most important things a caregiver can do is create a care team and ask for help. Everyone on the care team comes with a different set of talents and skills; utilize them! With government and community leaders, I feel it's important for family caregivers to self-identify, especially at work. When family caregivers self-identify, they're more likely to receive some form of help, while also learning of additional resources that may help them in their caregiving journey. Self-identification also helps foster change in communities and government polices.
What's the one thing you wish all caregivers would understand?
I hope that all caregivers understand (and I am confident that they do) that to be entrusted with the care of another human being is one of the greatest honors that is bestowed on us.