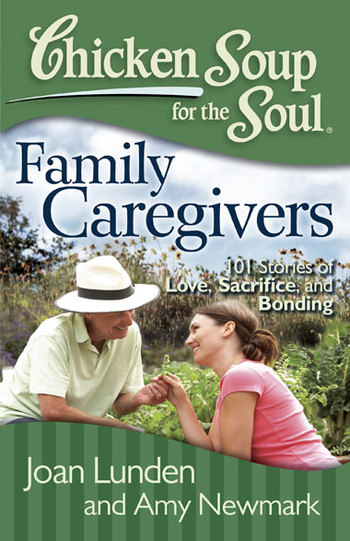 All Rights Reserved
Chances are good that many of us will at some point find ourselves in the role of caregiver for an aging parent. With people living longer and living with many more chronic conditions, the role of caregiver is expanding to encompass increasing responsibilities. Amy Newmark is the coauthor, with Joan Lunden, of Chicken Soup for the Soul: Family Caregivers, a book that provides emotional support and practical resources via 101 revealing stories of love, sacrifice, and bonding from people of all ages who provide care for family members.
Why this book now?
Amy Newmark: Maybe it's just me, being in my 50s, but everyone I know has family caregiving stories to tell. There are tens of millions of families in the U.S. and Canada who are engaged in some kind of caregiving, primarily of older family members but also of younger family members who have cancer, or chronic conditions, or permanent injuries, or other disabilities. This caregiving can occur in the home, in the homes of the affected family members, or in an institutional setting, but however it happens, it can dominate family life and cause stress and financial hardship.
This was written in collaboration with Joan Lunden. How did that come about?
AN: Joan had worked with us on a book called Chicken Soup for the Soul: Thanks Mom, and we also knew each other as neighbors and as mothers of children of the same age. She suggested we do a book to help support family caregivers, and after she explained the issues and the numbers of people who were in this situation, I realized it was a fabulous topic for Chicken Soup for the Soul.
The book consists of 101 stories derived from the personal experiences of caregivers. How were the contributors chosen?
AN: We did our normal callout for stories that is e-mailed to more than 5,000 of our past contributors, and we also posted the new book topic on our website and invited submissions. We received thousands of submissions and we narrowed down the list to about 90 terrific stories, and then Joan filled in with about 10 stories from some very special contributors, including Leeza Gibbons, Gail Sheehy, Michael Tucker and Jill Eikenberry, Dr. Alexis Abramson, and others with special expertise in family caregiving.
The resulting book is a treasure trove of great advice, emotional support, and some great humor, too. Anyone involved in family caregiving will find stories that are right on target with their own situations and concerns.
Of the 101 stories, which best represent the goal of the book?
AN: Every one of the 101 stories is "best in category." After all, we had to narrow down the list from thousands of submissions. But I can point out a few that are stellar in their particular area.
I loved Gail Sheehy's contribution because she discussed her own experience navigating the caregiving maze during her husband Clay Felker's battle with cancer, and the nine emotional stages of the family caregiver. I also loved the story from Dr. Alexis Abramson, who started out at age 22 as her grandmother's full-time caregiver and ended up getting her PhD in gerontology. These women used their own experiences as a foundation for all the great advice they shared with our readers. I also loved Leeza Gibbons's story, which was unique in that her mother knew her Alzheimer's diagnosis while she was still lucid and thus participated in planning her care. And I personally benefited greatly from the story by Jill Eikenberry and Michael Tucker, reminding us to accept our loved ones' new reality and interests and converse with them in their reality, not in our own.
What is the most important advice you would give to someone who is just starting out as caregiver for a loved one?
AN: Don't take it personally. That is so important. Sometimes loved ones who are sick or aging will act out and turn against the people who are actually the closest to them. You can't take it personally. It's not about you. It's about where that person is in his or her life, whether they have dementia, or they are frightened, or they are upset about losing their independence. You just have to soldier on, do your duty, and try to see the humor in some of the events that you and your loved one are experiencing.
Where can the book be purchased?
AN: Chicken Soup for the Soul books are available wherever books are sold, including online retailers, bookstores, mass merchants, drug stories, and grocery chains. Chicken Soup for the Soul: Family Caregivers is also available as an e-book on all the major platforms.