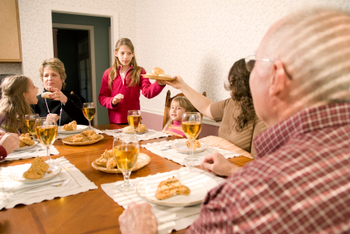 All Rights Reserved
Before your loved one is discharged from the hospital to home, you'll want to be sure the home -- and you, the family member in charge -- are ready. Use the following checklist to make sure you've covered everything.
If you feel you need help with anything, be sure to mention it to the hospital discharge planner when you meet. He or she can help you work out logistics and refer you to the right resources at the same time the discharge plans are explained to you. You should also feel free to call the discharge planner with follow-up questions as they arise.
Am I ready to transfer my loved one home?
Are you sure of the exact date and approximate time of discharge, so you can make plans and prepare the home in advance?
Who will accompany your loved one home from the hospital?
What will the mode of transport from hospital to home be?
Think through the actual transition into the house: Can your loved one move independently from the vehicle into the home, or will he or she need assistance? What kind of assistance will be needed, and who will provide it?
Am I ready to take on post-hospitalization caregiving?
Are you -- or is someone you trust -- available to be with your loved one all (or at least almost all of) the time for the first week or two after recovery, and possibly longer, depending on discharge instructions? Even someone who seems OK will be safest with constant supervision at first.
Can you manage caregiving given your other responsibilities (work, other dependents)? Or will you need to delegate or outsource some tasks?
Can you manage caregiving given your own current health status, or will you need help with certain aspects of your loved one's care?
If you intend to provide home care yourself, who is your backup care? (Every caregiver needs regular substitute care and occasional relief -- also called respite care -- whether paid or unpaid.)
Will my loved one be able to get around at home?
Think about bed access: Is your loved one's customary bedroom accessible and easy to use? Or do you need to set up alternative plans? Consider turning a ground-floor room into a bedroom, so he or she doesn't need to navigate stairs and isn't completely isolated.
Think about bathroom access. Is there a bathroom that's accessible and easy to use? Or can the hospital help you get a bedside commode? If you have to move the bedroom downstairs and there's no shower/bath on that level, how will you bathe your loved one?
More questions to ask yourself about whether you're ready to bring a loved one home from the hospital
Will my loved one have a safe, calm place for recovery?
Does my loved one have a quiet, restorative space in which to recuperate?
Do window coverings in the sleeping area completely block outside light?
Does the bed or a chair your loved one often uses face an outdoor view?
Are there comforting objects for your loved one to feel and look at (blankets, robes, pictures, plants)?
Have you made basic fall-prevention improvements?
Does the bathroom have grab bars and a shower chair?
Will I be able to provide proper care at home?
Are you or other hands-on caregiver(s) comfortable with all needed personal-care and nursing-care tasks:
Transferring in and out of a chair or bed?

Administering medications (including suppositories and injections if applicable)?

Wound care?

Colostomy care?

Managing necessary equipment (such as IV, oxygen)?

Preventing bedsores?

Cooking and feeding?
Do you or the other caregiver(s) understand how to use any equipment that's prescribed? Do you need a tutorial before you leave the hospital or from a visiting nurse that a discharge planner could arrange?
Will you need to hire in-home help to fill in coverage or to perform tasks that available caregivers are unable to do?
How will your loved one get to appointments for outside services that are prescribed, such as a specialty referral or a primary care follow-up visit?
Do you have a notebook in which you can keep a record of visits by outside care providers that detail the date and time of visit and what happened?
Do you understand whether your loved one now has any special dietary needs or restrictions? How do you plan to manage them?
Do I have a good plan for managing medications at home?
Have you updated your loved one's primary-care physician about any medication changes from before hospitalization for new drugs, modified prescriptions, or dropped medications?
Do you have a secure place to store medications, where others (such as children, addicts, or someone with dementia) can't access them?
Are you sure how and when to dispense medications? For drugs prescribed "as needed" (such as for pain), do you know how to help your loved one determine when they're needed? (Be aware that someone with dementia may not ask for pain medication; you may need to dispense it on a prearranged schedule.)
Do you have a special notebook (which can be the same book you use as a care-provider log) to record medication dosages as given? (This ensures you don't miss any doses and helps avoid repeated doses from multiple caregivers.)