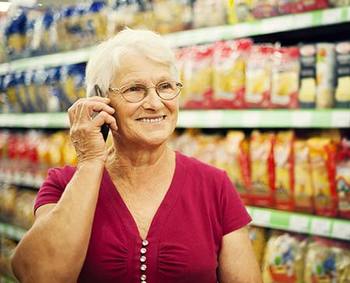 All Rights Reserved
How did we ever survive without cell phones? Gone are the days of pay phones on street corners or courtesy phones in business lobbies. Cell phones not only allow us to connect with family and friends no matter where we are but, more importantly, they provide us with a sense of safety. If we (or our loved ones) have an emergency, get lost, or need assistance, all we have to do is make a call.
But technology can be complicated -- so complicated, in fact, that the very people who need it can't figure out how to use it. That's where the TracFone Big Easy aims to come in. The Big Easy is designed to offer an older population what they value most: affordability and easy-to-use features.
We put the Big Easy to the test and asked our panel of caregiving product reviewers to try it out and tell us what they thought. Here's what we learned.
What Is the Big Easy?
The Big Easy is a no-fuss, basic, prepaid (pay-by-the-month) cell phone designed for people who want and need a phone that's sturdy and user-friendly. The Big Easy features big buttons, a large screen with large-font letters, well-lighted keys, a built-in flashlight, and FM radio -- and it's hearing-aid compatible.
Why Is the Big Easy Important for Seniors and Caregivers?
Seniors and caregivers want to know that they can make a call without being flustered by too many options. The Big Easy makes it possible to read numbers and texts at a glance. Additionally, many seniors struggle with arthritis or might have a slight shake or tremor, so navigating larger buttons is less difficult.
Our testers said that the Big Easy is perfect for the aging population. "It's a sturdy, durable, hands-on cell phone that I'm not afraid to use! I found it extremely user-friendly and intuitive. Usually it takes me (as a senior) days and/or weeks to learn how to use all the new technology out there, but this cell phone allowed me to use it almost instantly," said Janet, a Caring.com reviewer.
What Caring.com Users Liked About the Big Easy:
Great sound quality
Every Big Easy reviewer commented on the crisp and clear sound quality. There's also a speakerphone option. "I found the sound quality to be the clearest cell phone I've used so far," said a Caring.com member.

Sturdy, lightweight, and easy to use
Reviewers raved about how comfortable the Big Easy felt in their hands -- and how comfortable it was to read. "I can actually see the phone numbers and wording without having to put the cell phone three inches in front of my face. I don't even have to pick it up from my desk or side table to see who's calling or the words scrolling on the screen. I can just glance over at it and see everything at once. Keeping in mind all the functions offered on this cell phone, its simplicity of use is amazing, which conjures up the phrase 'even a caveman can do it'!" one Caring.com reviewer said.

You always know how many minutes you have left -- along with various payment options.
Because it's a prepaid (or pay-as-you-go) phone, you get to choose your minutes and choose from regional and national wireless carriers without being locked into a long-term contract. And don't worry about going over your minutes. The Big Easy's ample screen indicates airtime balance, date, and time, with a scroll bar showing service days left and when you'll need to add airtime minutes in order to stay active. It offers close to four hours of talk time with 16 days of standby time. "This is the only cell phone I know of that has an easy access key/button located on the back of the phone that instantly brings up your cell phone number on the front lighted screen. . . . It's a nifty phone!" one caregiver said.
What Caring.com Users Didn't Like About the Big Easy
The lock button feature and location can be awkward.
Almost every reviewer mentioned the lock button feature. Some liked it because it could keep buttons from being pushed unintentionally. One reviewer's phone did not have this feature activated, and the others found the location of the lock button to be "awkward."

Accessing your contacts list take a bit of know-how.
We live in a world of gadgets, and it can be difficult to remember how to access telephone numbers, especially if you have more than one phone (say, a house phone or another cell phone that operates differently). "He (my husband) can't memorize the phone numbers and cannot use a contact list due to not being able to see what number is under the letter. It would be easier for him to pick up the phone and press a button and tell the phone to call whomever he's trying to call," a Caring.com reviewer commented.

The scroll button can be challenging for some users.
"The Up scroll button is somewhat difficult for the side and flat of my thumb to use, and I sometimes inadvertently press the OK button. I'd use my thumbnail, but my first knuckle doesn't bend that well. I suggest that the button be made one millimeter larger than the Down scroll button (yes, I measured it)," said one reviewer.
You Should Try the Big Easy if You . . .
Are a senior who is overwhelmed by a cell phone with too many bells and whistles, and you want a basic phone.

Have some visual, hearing, or dexterity impairment and would appreciate larger buttons and a larger, clearer screen, as well as a phone known for its excellent sound quality.

Only want a phone with basic service, such as calls and texts (no Internet search, apps for games, music, photos, etc.).

Like various payment options, such as pay by the month.
How to Purchase the Big Easy
The Big Easy is widely available by searching online. You can also find it at the TracFone store.