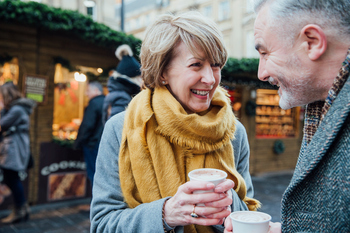 All Rights Reserved
It's that time of year when we're all making our lists and checking them twice, trying to find out who's naughty and nice.
One thing is for sure: caregivers don't have to wonder on which list we belong.
We're heavily weighted at the top of that "nice" list since, throughout the year, we're the ones making sure our loved ones are safe, secure, social, seen regularly by their doctors, and tended to in a thousand mental, spiritual, physical and financial ways.
When the holiday season rolls around, we feel extra pressure to make things nice (that word again) for our carees, so they can make the most of the festive season and check off whatever they might want on their holiday list. Yet we don't spend much time making lists for ourselves.
SEE ALSO: Find In-Home Care Help Near You
While the holidays are a stressful and emotionally challenging time for many dealing with loss, grief or adversity, it's a particularly tough time for those who spend their days looking after others. So caregivers, when your loved ones ask what you want for the holidays, send them this list of ways to care for the caregiver.
1. Give the gift of acknowledgement.
"No well is bottomless and no caregiver can give in a limitless manner," says Leah Eskenazi, Operations Director for the Family Caregiver Alliance (National Center on Caregiving). "One can't always be expected to be kind, on-alert, supportive, compassionate, protective, and more. It can leave the caregivers' physical, mental and emotional well empty. In this season of giving, acknowledgment of the giving that goes on all year long can get overlooked."
The holiday season can be an important opportunity to thank the caregivers whose hard work may often get overlooked.
For example, you could send flowers to your parent's primary caregiver with a note that reads, "I really appreciate what you do for dad and how much help and joy you bring to his life."
SEE ALSO: Find In-Home Care Help Near You
2. Help us take a moment to grieve.
"People forget that caregivers are often living in a state of grief," says David Kessler, who runs Grief.com and is the author of five books, including You Can Heal Your Heart: Finding Peace After Breakup, Divorce or Death. "They are not able to fully experience the happy life that they had expected – the life before illness and other conditions gave them the added burden of caring for a loved one."
Help a caregiver take off their happy, productive face for a minute and do some necessary grieving of that idealized life they once expected to have. Share books and resources like the free videos and meditations on Grief.com, send them to a grief seminar or join them in attending a support group.
3. Take us out.
Make a caregiver's day by planning a trip to the movies, a long scenic drive through the country or dinner out at his or her favorite restaurant. "One of the best gifts you can give this holiday season is just being there for the caregivers in your life," says Rachel Thomas, president of OptionB.org, a website founded earlier this year by Facebook COO Sheryl Sandberg.
"We know that people who receive experiences as gifts feel closer to the gift giver than those who receive things so finding an activity you can do together is a great way to show you're thinking of someone," she says.
4. Offer financial support.
Providing emotional respite and a listening ear are wonderful examples of caring for the caregiver who's managing exhausting extra duties during the holidays. But since some caregivers face added financial stress, can you offer financial aid of some sort? How about buying a gift card for a fun activity or a visit to a health spa? Maybe you could go shopping and surprise them with a couple full bags of groceries.
Or if time off is what the caregiver needs most, and you're in a position to help offset payment for a home health aide or companion to step in for a few hours, buying some time could make a caregiver's holiday more joyful than they'd have imagined.
5. Create a coupon book for gifts we can redeem when we need them most.
Why not give a gift that can be used when the caregiver needs it most, which may be after the rush of the holidays or anytime from New Year's Day to New Year's Eve, for that matter? Eskenazi suggests getting creative with a coupon book, with gifts to be redeemed when the caregiver chooses and possibly needs them most, including:
A big hug, maybe two or three. As people we love become seriously ill, especially when the person is your spouse, we lose an important source of physical touch and warmth.
A hearty laugh. Caregiving can be so darn serious and awfully boring. Sometimes, caregivers need to feel the freedom of letting loose, giggling and guffawing, without feeling guilty for enjoying themselves.
Your undivided attention, more than once a year. Caregivers need and deserve to have time to kvetch, to say things that are not going to be repeated or judged, to talk about their interests and dreams, to just say what they want to say without feeling guilty that they are being a burden.
6. Be our positive holiday coach.
Pump your caregiver up a little and see how a little positive energy can make a difference. "Caring for a loved one can be isolating, so call or text the caregiver in your life regularly and encourage them to be honest about what they're feeling," says Thomas. "You can also encourage the caregivers in your life to prioritize self care during what can be a particularly exhausting time of year."
OptionBThere offers a range of practical tips and actions big and small that you can take to offer friends and loved ones extra support this holiday season. For example, they provide:
Tips for alternatives when the standard holiday greetings don't feel quite right.
A series of "empathy cards" that make it easier to acknowledge how your friends and loved ones might be feeling. They replace standard greetings with more honest messages of support and understanding.
Resources people can use themselves if they need a little extra support, like a seven-step guide to approaching the holidays on your own terms.
By giving a little of yourself to care for the caregiver in your life this holiday season, you're providing a gift that lasts all year long.