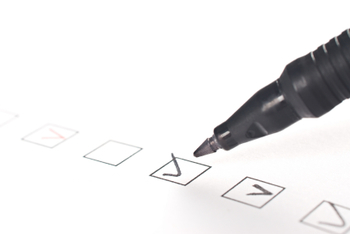 All Rights Reserved
Many mass transit services provide information on websites or through recorded telephone options. If these don't supply the information you need, you may have to persevere and make some additional calls -- perhaps directly to the transit headquarters -- until you reach a line staffed by a human.
To ease planning for future transportation needs, use this checklist to keep careful notes, both about basic services offered and about whether the company can cover any special needs.
Basic services
What geographic routes are covered?
Are express services available on any of these routes?
What hours and days is service available?
How much does service cost?
Is it necessary to preregister passengers for the service?
Are reduced fares available for seniors or riders with disabilities?
If so, what are the eligibility criteria for those, and how does a person sign up?

Are monthly passes or booklets for multiple rides available?
Can an account be set up in advance to pay for service?
Special needs
How much assistance does the driver provide with:
Helping passengers into and out of the vehicle?

Assisting with packages or bags?
Would cognitive or physical limitations (describe them) make it difficult for this person to use the service?
Is there any assistance available to help orient a new rider to the service?
What accommodations are available for those who use wheelchairs or scooters?
Can an aide or companion ride along?
If so, is there a charge for those who do?