CareLine Phone System: Caregivers' Review
Home Safety Telephone System: Do Caregivers Like It?
100% helpful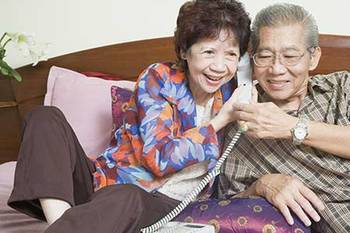 Many people strive to remain independent for as long as possible. For those still living at home in their later years, this means finding simple lifestyle changes to adjust to the nuances of aging in place. CareLine™ SN6197 by VTech aims to give caregivers and seniors a system to answer phone calls anywhere throughout the house, without having to rush to a phone. Here's what Caring.com members had to say about this problem-solving product:
What Is CareLine?
CareLine is a home safety telephone system with three parts:
The corded phone can be used as a desk or wall unit and has a large push-button dialing system and four photo-dial buttons to preprogram pictures and phone numbers for friends and family.

The cordless handset has a charging base, which plugs into a normal household outlet and has answering machine access, speakerphone availability, and caller ID. Volume adjustment buttons are located on one side of the phone.

The portable safety pendant is a handheld device with a large answering button and speaker. There are two voice buttons and a microphone included, and the device allows for two preprogrammed phone numbers for outbound calling. It's small, lightweight, and comes with a cord to wear as a necklace or bracelet around the house.
Why Is CareLine Important for Caregivers and Seniors?
The hustle and bustle of caregiving can make life hectic. Similarly, living alone in a multiroom house may make it difficult for seniors to get to a phone in time to answer. The pendant is great for anyone who's handicapped, elderly, or bedridden -- even for a child who understands how to press one of two buttons. "If a person easily falls, the pendant would be quite useful to call for assistance," said Caring.com product tester Patricia.
What Caring.com Users Liked About CareLine
Instructions were great for setup. The CareLine has a "quick start guide" with user instructions for setting up the phone system. "Initially, plugging in took about 15 minutes, including the unpacking," Caring.com tester Peggy said. "I used the quick start guide. The instructions were well illustrated and the print is large, even in the warranty."

Big buttons are easy to use. Each device include in the CareLine has big, easy-to-use buttons that can be used to adjust volume as well as to call the base phone and extension handset. Caring.com tester Beverly mentioned that when the phone rang, she was able see the incoming call from the flashing light on the pendant and answer quickly. "The photo speed dial on the corded phone is also a great feature," she said.

The sound quality is super. According to every product tester, the quality of the sound is clear, loud, and easy to adjust. "Hearing the caller is not an issue," said Patricia. "It sounds similar to the [caller] being located in the same room."

The voice command features on the pendant are great. There's a list of several commands available. Intercom to all devices is one possibility. Calling one of the preprogrammed numbers via voice is another choice. If you don't know or remember how to voice command the pendant, simply ask, "What can I say?" The pendant will then give a choice of commands via audio.
What Caring.com Users Didn't Like About CareLine
Adding phone numbers twice. Peggy mentioned that, after entering four phone numbers into the picture-dial feature on the corded phone, they did not translate to the phone's address book. She would have preferred that they be entered automatically when she put them in the first time.

Lanyard is difficult to attach. The pendant comes with a lanyard that the user must attach; however, one member was not able to easily get the cord through the top of the pendant. "I would like to see the hole where the lanyard attaches either be larger or the lanyard be stiffer so it can be pushed through the hole at the end of the pendant," said Peggy.

It's tough to know what part of the house is considered out of range. Like a cordless phone, the pendant has to be used inside the area of the base unit. However, if someone wanders outside this region, the phone call dies and the pendant becomes useless. The user may have a few dropped calls before they know what is considered out of range.
How to Get CareLine
CareLine can be purchased for $29.95 to $179.85. Learn more about this problem-solving device and order one online today, and have peace of mind that you can stay in touch with your loved ones.