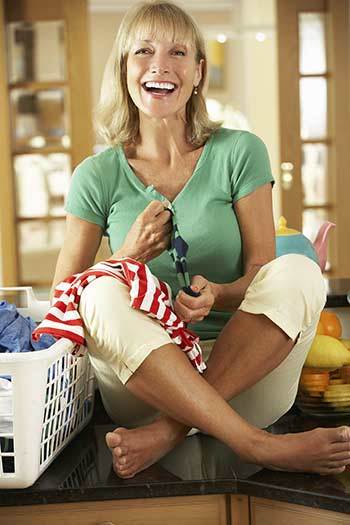 All Rights Reserved

Have you ever been at a doctor's office, or even the hospital, and not had on hand all the information you needed? Caregivers have a lot to keep track of -- medication (times and doses), physicians' contact information and appointment schedules, additional care aide info, food preferences and allergies -- all of this is pertinent information you need in order to help your loved one receive the best of care.
For Your Loved Ones is a product that aims to solve that problem by helping you keep all needed Medicare information, family contacts, health information, life insurance, pension, housing, and banking information -- even final wishes -- all in one place. This customizable personal information management tool is designed to help you keep track of these and other important pieces of information and will allow you to access them when you need them most.
We thought this tool sounded like a good idea and wanted to know whether caregivers liked it. Here's what our product testers had to say.
SEE ALSO: Find In-Home Care Help Near You
What a For Your Loved Ones Booklet Is
For Your Loved Ones is a planner that will allow you to gather all of your loved one's pertinent information into a bound, 92-page, soft-cover booklet with sections ranging from basic contact information to more detailed insurance and financial information. It's designed for family caregivers (such as adult children or other family members), or for the primary professional caregiver who's responsible for the care person's medical and/or financial transactions. For Your Loved Ones could be used for collecting information for a senior or elder person's care or for a person with disabilities (even for a child with special needs, although all the sections in the book would not apply).
Why the For Your Loved Ones Booklet Might Be Important for Seniors and Caregivers
Many seniors and caregivers become flustered with all the paperwork and information needed to manage the details of another person's care. Some people find computers overwhelming. Yet not having the information you need when you need it could delay or prevent proper treatment. It could also delay payments or reimbursements. The For Your Loved Ones booklet allows you to gather and store all of this important information in a succinct booklet. Divided into sections, you decide when and how much to fill out.
"Having all the information in one book will make it easy to find contact names and account numbers very quickly," said one Caring.com reviewer.
What Caring.com Users Liked About the For Your Loved Ones Booklet
It's self-explanatory, with "bite-size" sections.
There are no complicated directions. Each section is easy to fill out and offers blank spaces for additional notes and comments. "It can be a little overwhelming to have so much information to fill in or to feel as if I don't have the information. But I found just taking one section at a time is helpful," one reviewer said.

SEE ALSO: Find In-Home Care Help Near You

You choose how to use the For Your Loved Ones booklet.
Perhaps you're interested in using the booklet primarily for medical information -- a way to keep up with doctor and therapist appointments and medication information. Just fill out the sections you deem important. "My mother has an extensive medication, laboratory, and surgical history. So I would never take the time to fill out that information. This is one of the reasons I found the additional notes section so helpful," one Caring.com reviewer said.

It's great for those who aren't computer-savvy.
The For Your Loved Ones booklet doesn't require computer know-how. It can be slipped into your bag and taken with you wherever you go.
What Caring.com Users Didn't Like About the For Your Loved Ones Booklet
You might not know all the terminology.
While it's nice that the For Your Loved Ones booklet is a simple fill-out organizer, some reviewers felt that it would have been helpful if it offered a few explanations. L'Tanya, one of our Caring.com reviewers, commented, "Because I'm not familiar with all of the legal terms, I struggled the most with the legal representative portion. So it required a little research to figure out what the '5 Wishes' information I did with my mother is considered."

The For Your Loved Ones booklet contains private information, so make sure that only trusted individuals have access.
While it's most helpful to have everything from your social security number to your banking information all in one place, it can also be dangerous. Make sure to keep it in a secure location, and if you take it with you (to the doctor's or the hospital), be sure it's safe and in your possession at all times.

For Your Loved Ones could be expanded.
One Caring.com reviewer would have liked a section added for airline frequent-flier accounts and other "points accounts" that may expire and could be used by family members who would like to visit or contribute to care. Also, "Add tips on how to move joint [bank] accounts to single-person accounts (will there be holds placed, will online banking be affected if this is done after one person dies), as well as include tips on putting savings bonds, retirement accounts, and other assets in more than one person's name before the person is deceased," shared another reviewer.
You Should Try For Your Loved Ones If You . . .
Are not computer-savvy and/or would rather have a handwritten document you can fill out as you go.
Would rather have all your information in a booklet form rather than in a file folder or box.
Are a caregiver managing someone else's affairs and you need access to their information on a regular basis.