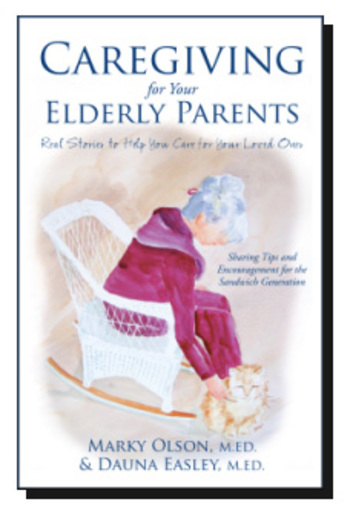 All Rights Reserved
Dauna Easley and Marky Olson met in the early '70s. They were at a similar place in life -- Miami University grads embarking on careers as teachers while juggling the responsibilities of marriage and parenting their young children. Decades passed and their friendship endured, their lives mirroring each other's as their children married and grandchildren arrived. They never anticipated that their lifetime of shared experiences would include both of them becoming caregivers for their elderly parents, a role they each embraced in and around their responsibilities as spouses, parents, grandparents, and teachers. However, that shared experience of caregiving for their parents became a lifeline, and they were able to learn from and support each other as they navigated a challenging time of life. Like the true teachers they are, they couldn't let a good lesson go untaught. The result was Caregiving for Your Elderly Parents -- Real Stories to Help You Care for Your Loved Ones, in which both women share their tips, insights, and encouragement for the "sandwich generation."
Why this book now?
Dauna Easley: I'm not a celebrity and I don't know Oprah, so nobody much cares about what I would write in a book. Why do Americans only care about what a celebrity has to say about caring for their elderly parents? Celebrities have resources, contacts, and a national platform that I don't have. If you are a celebrity, I suggest you read a celebrity's book.
Maybe you are like me. Let's find out.
Here's what I do have. I have two 89-year-old parents. They weren't perfect parents, but I love them. They aren't even together anymore, because they divorced when I was grown. They are completely different. They need me in very different ways. Each day they seem to need me more.
I have a husband who has medical challenges. I also have a married daughter who has provided me with five fabulous grandchildren. I am determined to be active in my grandchildren's lives. I've just reached Medicare age myself, but I'm still working part-time. I'm a semiretired teacher with the resources to match my situation.
I don't have two million followers on Twitter. Remember, I'm not a celebrity. What I do have is a pretty fabulous blog where Marky Olson, my coauthor, and I speak honestly about the challenges of caring for our elderly parents. You'll see black-and-white photos of our real parents there. You'll read honest stories about the real-life challenges of caring for aging parents. But, be warned: Our parents aren't celebrities. Maybe yours aren't either. Find us at caregivingelderlyparents.com.
What is my best resource? My friends! They listen and encourage me. Marky Olson (my coauthor) is one of the best. We met each other decades ago as beginning teachers in Cincinnati. But she moved clear across the country to the Seattle area more than 30 years ago. I always admired Marky. She has common sense, wonderful values, and a great sense of humor. We tried our best to stay in touch, but life handed us both plenty of things to do. We juggled many roles, probably just like you. Our friendship had dwindled to only one Christmas card letter per year.
Something we didn't expect drew us close again even though we still live 2,500 miles apart. We were both helping elderly parents make important decisions in their lives. We supported one another in this process. We decided to take on one more challenge. We wrote a book to help you. It is full of honest stories about our journey. It will make you laugh and probably cry a little. I know you will enjoy it.
Our book is titled Caregiving for Your Elderly Parents. I know the title is a little bit bland, but I promise the stories aren't. Apparently that title has great SEO value (search engine optimization). That is computer talk for "lots of people should Google us." Remember, I'm not a celebrity, so apparently I need SEO.
Now I have two questions for you: Do you know Oprah? Could you tell her about us?
Marky Olson: I write a blog for another eldercare website (www.icareinsite.com), and I realized that I had stories I wanted to share with the exploding baby boomer population. Dauna sent me a story one day about her mother, suggesting I include it in my blog. In a moment of genius inspiration, I realized we needed to coauthor the book. We have both been published by Chicken Soup for the Soul and are both speakers. Dauna has spoken extensively to educational groups and has written two books about her years in education. And here we were, both caring for our elderly parents, amidst a sea of fear, guilt, and unanswered questions. So, the writing journey began.
It has also become very clear that our peers are struggling with the same issues of unprepared parents, complicated lives of their own, challenging sibling relationships, helping adult children, and being madly in love with grandchildren.
We also felt that with my situation of my parents being in assisted living and Dauna's mother staying in her home, together, we covered many issues. We're both storytellers and I think people respond to stories. We do offer tips, but we're not professionals in eldercare.
We've just lived it.
And we both felt that the power of love and guilt became the fuel and the albatross, as well as the privilege of our journeys.
What topics should be covered in "the talk" everyone needs to have with their parents?
DE: What should happen and what does happen sometimes have no resemblance. We are talking about real life, not a perfect world. When Marky first asked me when I had "the talk" with my mom, I flashed back to fifth grade when Mom should have told me about the birds and the bees. That talk was a disaster. In fact, it never happened. When the teachers marched us girls into the gymnasium for "the movie" -- these were the days of Sputnik and bomb shelters -- I thought the Communists were coming for just the girls.
Decades later when it was time for "the talk" about what needs to be done concerning end-of-life decisions, Mom handled this one much better. She actually initiated the conversation. She had a flyer about a seminar planned by an eldercare attorney. We attended this well-run and informative seminar and learned together. That was probably the perfect scenario. I didn't need to push her at all. We had the power of attorney, living trust, and her final wishes all carefully arranged in a notebook probably ten years before I ever needed any of it when she entered a nursing facility for a short-term rehabilitation program following a broken leg.
My dad is a far different story. My parents divorced when I was already grown. My dad remarried and has a wife. I know my dad well enough to know that "the talk" will never take place. Unbelievably, at age 89 my dad still works as a courier. He drives throughout a three-state area delivering items to businesses. As fortunate as that sounds, I also know my dad well enough to know his finances are and will forever be a mess. So whatever my good intentions are, my knowledge and experiences won't help in the case of my dad. Maybe that means I'm not enough of an expert to write a book about caring for elderly parents; however, I believe there are plenty of adult children out there facing a situation just like this. All we can do is all we can do.
MO: Absolutely no one I know wants to talk about aging . . . my parents, my peers' parents, me . . . no one. But I learned that acceptance, decisions, and preparation are the only way to go. It's far easier to enjoy life when plans are in place.
Housing. Where do your parents want to live? Most people want to stay in their homes, and with planning that can certainly work. A professional can point out ways to make a home safer for aging. Make sure to assess how much family members can help and the cost of in-home care, should that become necessary.
Finances. In-home care is expensive. Skilled nursing is expensive. Though you may be lucky and not need either, talk about it and consider the cost. And it helps to have a trusted adult child who is privy to all financial information and who is a co-owner on the checking account.
End-of-life decisions. This is so hard, but you just have to do it. Talking about the end of life can relieve the stress of pretending it won't happen.
Legal documents. A will, a medical directive, and a durable power of attorney are basic necessities. Trusts are worth considering.
There are so many intangibles in the talk -- such as personal legacy, fears, your precious diamond, your grandmother's ring, your Bible -- whatever means something to you should be a part of the talk. Clean out your closets and let people know what is important and who should have it. Then enjoy each day.
What are the signs that you have entered the sandwich generation?
DE: My parents have been grandparents for 46 years and great-grandparents for 23 years. I have been a grandparent for 18 years. We aren't just a sandwich; we are one of those four-decker sandwiches and could become a five-decker sandwich quite easily.
You know you are part of the sandwich generation when no matter what function you are attending, you feel guilty because someone in the extended family would rather you be somewhere else. One of my worst weeks inside the sandwich included trying to make plans for my mom to return to her home following temporary rehabilitation in a nursing facility, at the very same time my 16-year-old daughter was rediagnosed with brain cancer. Those events happened on back-to-back days during which I was working full-time as a teacher.
Yes, Marky and I truly live in the sandwich generation, and we share in our book how we have coped. However, our goal is not just to cope but somehow thrive in spite of the challenges. I think Marky and I have managed to do that, but it often takes the encouragement and reassurance of a friend to put it all into perspective.
MO: There is logic and then there is the heart. One day, I glanced at my porch and here is what I saw: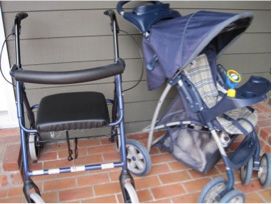 This, then, is the yin and yang of life. And it was a pretty clear picture of the sandwich. That's my dog in the bottom of the stroller. He prefers riding to walking.
There are many safety issues to consider as seniors age and certainly every senior has different circumstances. What universal advice do you have regarding safety and security for seniors who begin to lose their independence?
DE: I learned when I was a high school teacher that if I wanted my students to feel safe coming to me when they were in some kind of crisis, I could not overreact when they told me something shocking. No matter how appalled I was at the information they shared, I wouldn't let it show on my face or in my manner. Because of that one skill, students felt safe coming to me and they beat a path to my classroom for help and advice.
I use that same technique with my mom. Sometimes my mom makes a safety mistake. She usually figures out after she makes the mistake that she has goofed. Because I don't overreact, she will share the experience with me. That way we can problem-solve together. If I went crazy or chastised her, she would just hide the facts, making the next safety mistake more likely.
My parents divorced when I was an adult, but because my mother has lived so long, she has been alone in her home for 40 years. There are obvious safety steps to take and those are the easy ones. After my mom broke her leg and recovered, we purchased the services of a life alert necklace so she can reach someone who will call us whenever she needs help. My brother bought a camera from Radio Shack that he attached to an old television mom has. With this camera she can see any car in her driveway or person walking up the sidewalk. That apparatus has been so helpful he installed another one in her bedroom.
But unfortunately scams change every day. You can't possibly anticipate them all. That's when an open communication pays off. If you go nuts, they won't share their experiences. Mom once had a young woman come to her door trying to get money for drugs. She was previously someone from the neighborhood and she reminded Mom of that fact. She asked Mom to use her car to go see her own mom in the hospital. Thank goodness my mom's car wasn't there at the time or she may have given it to her. Mom did walk away from the door and went to get money for her. She told me about it the next day. We decided together to call the police. As I expected, the woman has a local reputation for this and we learned from the police what to do next time. You can bet if I had scolded Mom or freaked out on other occasions, she never would have told me about that episode.
You'll have to read our book to find out about the guy in our community who approaches elderly women in their motorized grocery carts. Yep, this has happened to my mom also. We call him "Grandma's creeper guy." We haven't caught him yet, but we will.
MO: I would recommend a home analysis by a professional occupational therapist for parents choosing to stay in their home. It is surprising and comforting to realize what can be done.
I also found that my dad became susceptible to phone solicitation. He was from the trusting generation, and he became lonely after my mother died. Fortunately, he also trusted me. I became relentless at watching his credit card statements. With questionable charges, I was like a dog with a bone. I even threatened. I'm not advocating hysterical behavior, but when I was in protection mode, no one could take anything from my dad.
What is your best advice for helping your parents deal with doctors?
DE: Once again, my answers are completely different for both my parents. My dad lives locally, but I don't even know who his doctor is, nor have I ever accompanied him to the doctor. I know he does take care of his health, but he rarely even discusses health issues with me.
My mom doesn't drive anymore so I accompany her to all her doctors' visits. Her general practitioner is the perfect blend of patience, caring, and humor. Mom thinks of a doctor's visit as a social occasion. Often I'm embarrassed at the long, long laundry list of questions she has for him during our appointments. I try to keep my main role as that of listener and supporter. But I will interject a comment or two for clarification. I also ask my own questions.
However, my role changes and I become more vocal with physicians who are specialists, especially those who are likely to recommend surgery. At this point in Mom's medical life, I've come to think of us as a package deal. For years my mom weathered surgeries easily, but that changed dramatically about three surgeries ago. These days if you are going to care for my mother, you are going to have to understand that I will be a strong advocate for her. Doctors are the experts in their field of specialization, but I am the expert on my mom and her well-being. We work as a team or we go elsewhere. Mom now trusts me in that role, but we went through some very scary hospital moments to get to this point.
MO: I mentioned earlier that I write the blog for icareinsite.com, which is an online service that obtains and translates a loved one's medical records. That can be very helpful when parents are far away. I was able to attend most of my parents' medical appointments. Of course that isn't possible for everyone and that ability also took over my life at times. In the dark of the night, information tends to personify.
If one can afford the services of an eldercare coach/consultant, that is a wonderful way to allow someone else to make good care decisions. I found that I spent so much time with phone calls and "putting out the fires of caregiving" that I didn't just sit and hold my mother's hand as much as I should have. Even though my parents were in an assisted living facility and Mom's care needs were met, I was in charge of emotions, decisions, and received all of the phone calls.
When it comes to nursing homes and assisted living facilities, what should those who are new to the world of caregiving for a parent be most aware about?
DE: Marky has more experience in this area than I do and she shares her expertise and experiences in our book.
Many people of my parents' generation were vocal about never wanting to live in a "nursing home." I grew up hearing this. But 60 years ago, caregiving residences were completely different than they are today. Both my parents claim that they still want to live independently, and I have tried my best to support those wishes. It takes quite a bit of commitment, time, and patience to honor that decision. So far we have been lucky, but I know we are only one bad fall or one stroke away from having to change courses.
Independence is a very relative term in my mother's case. Many times I've thought that she is lonelier than she needs to be living in her own home. However, following surgeries my mother has spent time in a retirement facility in their full nursing care section three different times. The first time we had to select one we had only about 24 hours to make the decision. How did we choose? Word of mouth. We selected one in Mom's home community about which we had only heard great things. During her stays there, the family comes and goes at all hours. We are a presence. We do that on purpose.
MO: When my mother became wheelchair-bound, we convinced my parents to move closer to us and to an assisted living facility. But my dad was still independent and fairly healthy. I visited places and, if I liked them and they were licensed to use the lift my mom needed, I then asked the percentage of residents who actually needed care. I wanted to make sure the majority of them were active and living there in case of future needs. Only 20 percent of the residents actually needed assistance in the facility I found. That worked very well for us and we all gradually accepted the new lifestyle. My dad was to live there for 6 years, until he had a stroke.
Rehabilitation facility. Skilled nursing. Nursing home. Whatever you call it, I doubt I will ever encounter anyone who says, "Sign me up." They are clean, absolutely necessary, and mostly well run. I could not have managed without the four that we needed at various times. They were bustling with activity and good care; yet, for me, they were the loneliest places in the world. I could not leave my dad there, so I found an adult family home where he lived for eight months. We made it a true home.
What are the keys to success when dealing with professional caregivers?
DE: Over the years we have had a variety of professional caregivers in Mom's home; however, not as many as you would think for a parent aged 89. We, as a family, provide much of the care for my mother.
I suppose my philosophy on caregivers goes something like this. . . I pay attention and then trust my instincts. First, I come and go unannounced in my mother's home. I try to build a positive relationship, of course, with Mom's temporary caregivers. However, once I started distrusting a woman who came in to help Mom with cleaning tasks. Why? She started doing things for Mom outside her role and telling Mom not to tell anyone. At first I thought I was being paranoid. Mom is great at appearing pitiful and asking people to do extra things for her. On any given day she has a list miles long.
I talked about my uneasiness with my daughter, who also plays a large role in my mom's life. She said she was having the same feelings. I went to my mom and discussed our fears. She completely disagreed with me. Over a matter of months I brought the topic up a few times. Mom always insisted I was wrong. However, it wasn't long before the agency the woman worked for fired her. I didn't report her, but I believe at least one other family had the same uneasy feeling I did. Next time I would intervene faster. Trust your instincts.
MO: I treated my parents' caregivers like gold. They took loving care of my parents and allowed me to sleep at night. But they are human and mistakes happen. My ironclad rule in response to any issue was the sandwich approach. Compliment-issue/suggestion-compliment. That rule worked wonders.
What are the often unspoken truths about guilt as it relates to caregiving and grief?
DE: Guilt. Ah yes, this has easily been my greatest challenge. No matter what I do for my parents, I always feel some gnawing sense of guilt. Why? I don't know. My childhood wasn't perfect. In fact, my childhood provides quite a bit of humor for our book.
But no matter how much I do for my parents, I can always think of a list of things I don't do. Maybe it circles back to my mother's list. Santa himself has a shorter list than my mother, and he takes care of all the boys and girls in the world. On the day after Christmas, Santa gets to rest. My mother's list is more like Buzz Lightyear's mantra. It stretches to infinity and beyond. You simply will never, never get to the end of the list of things Mother would like you to do for her.
Guilt is a completely useless emotion. Like worry, it accomplishes nothing. Intellectually I can tell myself this and know it is the truth. But on the issue of guilt, I am a work in progress.
MO: Many years ago, Dauna told me there is a fine line between love and hate. I have learned there is a fine line between love and guilt. And this guilt is a stalker of well-being. One of my stories is of a particularly challenging day with my dad when I took my grandsons (ages six and four) to see him. I escaped reality by taking them to see Winnie the Pooh at the 'feater,' as Will pronounced it. I will never forget this line from Piglet:
Piglet sidled up to Pooh from behind.
"Pooh!" he whispered.
"Yes, Piglet?" said Pooh.
"Nothing," said Piglet taking Pooh's paw. "I just wanted to be sure of you."
In the end, I made mistakes, but my parents were sure of me. I simply had to let go of the guilt.
Where can your book be purchased?
DE: I'll let Marky answer this one.
MO: Our website, www.caregivingelderlyparents.com, and Amazon. You will receive a signed copy from our website, but if you're a person who fills up your cart for free shipping, go for it! And a sidenote: my brother is a professional artist who did all of our original watercolor illustrations. If you have a Kindle Fire, the illustrations will be in color. The book is available in print and all electronic formats.