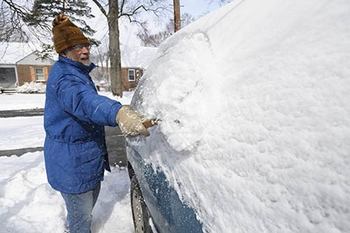 All Rights Reserved
If a natural disaster hits, you might need to stay with your parent or other elderly relative in his or her assisted living community. Get ready now by buying a simple folding camp cot (you can find one for about $50) and a cheap sleeping bag (about $30). Store the camp cot in the back of your family member's closet; the sleeping bag can be rolled up under the bed or tucked away in a shelf or drawer.
It's also a good idea to talk to the assisted living community staff to make sure you're familiar with their emergency procedures. You especially want to know if they'll provide a "care package" for both you and your loved one -- food and water to help you ride out the disaster together.
At a time like this, staff support may be more limited than usual, so plan to be as self-sustaining as possible for a while. Also, please remember that your kindness is invaluable during an emergency -- the staff will be taking care of your relative and other residents, but they'll also be worried about their own families. A kind word from you is a real gift in a situation like this.
-- Tip inspired by Bruce T, Caring.com User
SEE ALSO: Find Assisted Living Near You