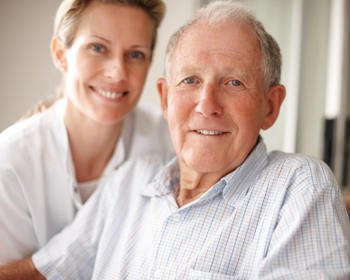 Before hiring an independent in-home care worker, be sure to do a thorough interview to make sure your loved one will be well cared for.
Ask these questions in person so you can verify that the person looks and acts like a professional and is someone your loved one would get along with. If possible, include your loved one in the conversation, and make sure you get his or her vote of approval.
Print the In-Home Care Worker Interview Checklist now
The basics
Are you bonded and/or insured?
SEE ALSO: Find In-Home Care Help Near You
How long have you been a care worker?
Why did you choose this career?
This answer can tell you a lot about who the person is, what his or her motivations might be, and whether he or she is a good fit for your loved one.
Training and experience
What special training have you had?
SEE ALSO: Find In-Home Care Help Near You
Leave this question open-ended, and see if he or she mentions anything relevant to your loved one's condition. If not, be explicit:
Have you ever cared for someone with my loved one's condition?
What sort of training do you have that would help you care for my loved one?
Do you have any specialty certifications?
Working out the details
How much do you charge?
Is your schedule flexible, or do you only have set times that you're available?
If we need it, can you work weekends or overnights?
Are you able and willing to perform the specific tasks my loved one and I need help with?
This can range from the mundane, like laundry help, to the skilled, like medication management. Ask about cooking, driving, bathing, and toileting too, if those things apply to your situation.
Are there any caregiving tasks you aren't able or willing to perform?
If we decide you're a good fit, will you agree to a two-week trial period of working with my loved one?
Other important questions
Are you a smoker?
If applicable: How do you get along with cats, dogs, or any other pets?
If applicable: Do you have a current driver's license and car insurance?
Ask to see evidence of both.
Can you put me in touch with any current or former care receivers or their loved ones that I can talk to about your caregiving skills?
If the interview goes well, be sure to follow up with the provided references.
You may also want to conduct a background check before hiring any independent care workers. You can search online for background check, [your state's name], police to find contact information for background checks run through your local law enforcement agencies.
If you're having trouble finding an independent care worker you like, you can also search for in-home care agencies. While workers at agencies may be more expensive, they also usually go through thorough background checks and often have more training and supervision. See a list of questions to ask when evaluating an in-home care agency.