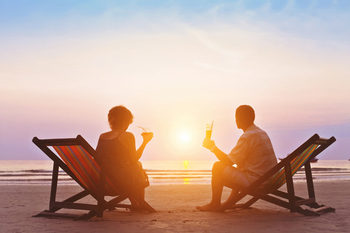 All Rights Reserved
An earlier version of this post appeared on GreatCall's blog, Currents.
The spouses of married family caregivers are partners in the deal, no matter how much or how little involvement they signed up for intentionally. Ideally, your spouse has a "we're all in this together" attitude about the time-consuming demands of caregiving. But even the most understanding person can feel a little left out from time to time, and both of you may long to have more time together as a couple.
A Caring.com survey found 80 percent of respondents saying that caregiving put a strain on their marriage or other partner relationship. Even couples whose senior relative is in an assisted living facility can be at risk of devoting so much time to their relative that they neglect their own relationship.
"I sometimes see families making a point to go every single day and stay until mother falls asleep," says Maria Wellisch, founder and vice president of corporate education at mmLearn.org, the web-based caregiver training program of Morningside Ministries in San Antonio. "But I think you have to question yourself if you really have to do that every day. Maybe you could let Wednesday be your date night with your husband."
Below are some ways to find time for each other amid the chaos of caregiving.
Talk it over
It may not be easy for you and your spouse to talk about how caregiving is affecting your marriage. These are touchy subjects. Maybe the money you're spending on medical needs and personal care, or the wages you've lost from taken time off, is causing economic stress.
One way to help get the conversation started might be to join a caregiver support group together, Wellisch advises. Sometimes it's easier to be in a group hearing others discuss concerns that might sound like accusations in a one-on-one discussion with your spouse. Look for a group that meets in your area, or connect with one online.
Find some relief
Ask if other family members can step in from time to time so you can take a break. Check into the availability of respite care programs in your community, or the possibility of hiring an in-home caregiver for a few hours so you and your spouse can go to a dinner and a movie, Wellisch says.
While you're away, the Lively Urgent Response device can keep your relative connected to help in case of an emergency, so you can have peace of mind that they can get assistance even if you're not there.
Get creative
You may not be able to swing a romantic weekend getaway if you're the sole caregiver for someone who needs constant attention. But Carol O'Dell, family advisor for Caring.com, says in an interview for that site that even small gestures, like "bubble bath and a box of chocolates" can mean a lot. Similarly, The Mayo Clinic advises caregiving couples to look for ways "big or small – to celebrate your spouse, laugh together or pamper each other."
Whether you can manage a short break or a long one, making time for a couple's retreat from caregiving is an essential part of your self-care—and keeping the spark in your marriage.
Enjoy this article? Leave a comment below or share it on social!