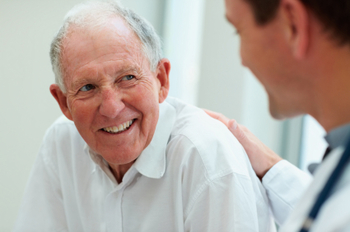 All Rights Reserved
What they do
Visiting physicians, who usually are part of an agency or larger operation (such as the Visiting Physicians Association), work in a way that models a return to days of the past, when doctors commonly treated patients by making house calls. Today's visiting physicians typically diagnose and treat homebound patients in their homes, with technological advances making it possible to provide the same medical services usually offered in an office setting -- including physical examinations, laboratory services, and diagnostic testing.
Home visits can generally be scheduled within 24 to 48 hours, and most providers also offer on-call services after regular hours to answer questions and address concerns. Finally, most visiting-physician services team up with other healthcare providers to help deliver a full range of services to homebound patients, including in-home nursing, home health aides, and medical equipment and supplies.
How they help
Visiting-physician services say patients who receive care in their own homes are more relaxed, comfortable, and receptive to medical advice. The doctors say the home setting allows more time, and often more privacy, to discuss medical realities and options than is possible during a regular office visit. The care patients receive at home can help avoid hospitalization by giving an earlier diagnosis and treatment to those who might be unwilling or unable to schedule or travel to a doctor's office appointment.
The visiting-physician arrangement also relieves caregivers of the duties of providing or arranging transportation.
Possible drawbacks for some patients: Most visiting-physician services don't make appointment on weekends, and it's not always possible to get the same doctor if repeated visits are necessary.
What they cost
Visiting physician costs vary by region but are usually comparable to or slightly more than local doctors' rates. Most providers accept Medicare, Medicaid or Medi-Cal, and most private insurance. Deductibles or co-payments required for medical services are handled in the same way they are during a trip to a physician's office.
How to get started
Because the idea of a visiting physician is still reemerging and being accepted again, it may take a little time and effort to find one in your area. Some possible sources for contacts include:
Personal recommendations. An attending doctor or friends, neighbors, or relatives who live in your area may have contact information for visiting physicians who have attended them.

Area Agency on Aging. Representatives at the local Area Agency on Aging may be able to refer you to physicians who make house calls in your locale.

Professional groups. A number of professional groups operate websites that offer online directories of visiting physicians. Some sites to try include: