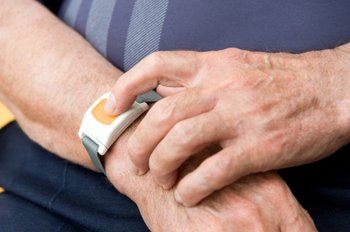 All Rights Reserved
What they do
Personal emergency response systems (PERS), also known as medical emergency response systems, equip a person to call for help in an emergency. Most systems supply a small radio transmitter that a person can wear around the neck; on a wristband, ankle strap, or belt; or in a pocket. If they need help, they activate it by pressing a button. A console attached to the home telephone then automatically dials one or more numbers -- at least one of them to an emergency response center staffed by a worker trained to determine the nature of the call and summon appropriate emergency personnel or family members, friends, neighbors, or others who have been listed with the company as "responders."
How they help
Older adults and those who care for them may gain peace of mind from the assurance that help for any type of emergency can be summoned at the push of a button, from anywhere within a home.
What they cost
In most cases, consumers lease the response system's transmitter and telephone console at a cost ranging from $15 to $50 per month. Longer lease terms generally come with a smaller price tag but may lock consumers into inflexible plans and services or may come with a hefty cancellation fee. Some providers also offer a flat purchase option for about $200 to $1,500, depending on the type of equipment.
All charge additional monthly monitoring fees costing about $15 to $40 monthly.
In addition to offering basic emergency response services, some companies provide extras -- such as check-in calls, wake-up calls, medication reminders, and language translation -- for an additional cost.
How to get started
Prudent consumers will review several different emergency response systems before deciding on one to rent or buy. The reality is that the services work more or less effectively in different locations, often depending on what kind of 911 emergency systems operate there. For help in choosing, consider:
Personal recommendations. Friends, neighbors, or relatives -- particularly those who live in your area and deal with the same possibilities and limitations -- may have useful recommendations.

Area Agency on Aging. Representatives at your local Area Agency on Aging may be able to tell you what systems work best in the immediate area.

Local emergency responders. Representatives at the local police department and at local hospitals may be able to provide information about particular systems that work well in the area.
Before selecting and signing up with a particular provider, check with the local consumer protection agency, state attorney general, and Better Business Bureau to see if any complaints have been filed against that provider.