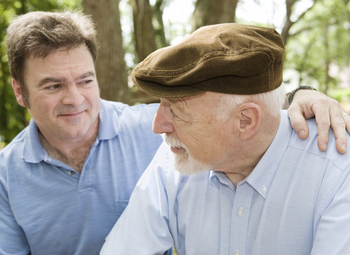 All Rights Reserved
Individuals or agencies offering live-in care usually agree to monitor a person's condition and also offer a variety of care and services, including help with the following:
Housekeeping
Grocery shopping
Meal preparation
SEE ALSO: Find In-Home Care Help Near You
Personal care needs including bathing, dressing, and grooming
Managing medications
Those helping with these needs, commonly called elder companions or personal care assistants, are generally on duty occasionally, for a few hours a week or day. However, when more constant care is needed, or when a person simply requires close monitoring or supervision, it's also possible to arrange for a caregiver to move in with the person who needs care. In some arrangements, two or more people share full-time duties and rotate shifts.
How it helps
SEE ALSO: Find In-Home Care Help Near You
A live-in caregiver can help provide peace of mind for the person who wants to remain at home but needs care, offering the constant assurance that basic needs will be attended to and that more intensive medical care will be summoned if needed and wanted. The peace of mind also extends to others who have caregiving duties, including family members who may also live in the home but appreciate someone who will share the duties and offer some respite when they need breaks.
What it costs
There's a huge range in pay rates for live-in caregivers, depending on an assortment of factors, such as the complexity of the care required, how much extra work in chores or assistance is required, and whether there's another person present in the home the majority of the time. Averages run from about $300 a day for basic companionship to $1,000 a day or more for intense nursing care.
How to get started
Before inviting someone in to live with the person needing care, be sure that person is a good fit both personally and professionally. You might be able to get recommendations from neighbors, friends, or family members who have hired a local live-in caregiver. You can also use Caring.com's Senior Living Directory to search for in-home care agencies by city or zip code -- and to see ratings and reviews of the providers.