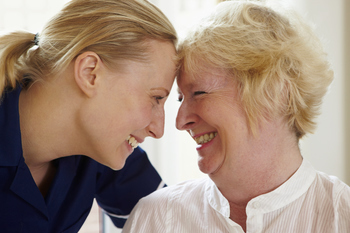 What they do
Home health agencies provide short-term, skilled medical care at home, delivered or supervised by nurses and therapists (physical, occupational, and speech). Home healthcare is provided while someone is recovering from a serious illness, accident, or surgery. If a home care agency provides medical care, it can also offer a limited amount of help with what's known as the activities of daily living -- such as bathing, dressing, eating, toileting, and other basic tasks.
Home healthcare must be ordered by a physician -- often following a stay in a hospital or skilled nursing or rehabilitation facility. It's intended to ease the transition from inpatient care to home care.
Note: Home healthcare, which is short-term medical care, is different from in-home care, which is short- or long-term personal assistance but not medical care. Sometimes the same agency can provide both types of care.
SEE ALSO: Find In-Home Care Help Near You
How they help
Home health agency nurses do some of the work that doctors used to do when they made house calls: They administer medications, change dressings, manage catheters and intravenous lines, give injections, and provide other skilled care. Therapists assist patients with recovery and help them safely regain mobility. The nurses and therapists can also teach patients and family caregivers how to perform many of these tasks. Less skilled workers, such as certified nursing assistants (CNAs) and home health aides, also help with care, under supervision of an agency nurse.
What they cost
Medicare, Medicaid, and most private health insurance policies cover short-term home healthcare prescribed by a physician and provided by a certified agency. If paying out of pocket, expect to spend between $20 and $75 per hour, depending on the location and services provided.
SEE ALSO: Find In-Home Care Help Near You
How to get started
The treating physician or the hospital or other facility where you or your loved one is a patient will refer you to a particular certified home healthcare agency. But if you know a different agency you'd prefer, or if you become dissatisfied with the agency your doctor or hospital chooses (or with the particular nurses, therapists, or home health aides the agency sends), you may be able to switch to a different agency. To search for home health agencies in a particular city or zip code -- and to see ratings and reviews of home health agencies -- use Caring.com's Senior Living Directory. You can also compare information about home healthcare agencies by using Medicare's official online Home Health Compare tool.