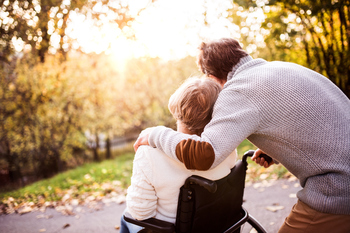 All Rights Reserved
There's a difficult and often overlooked dynamic that tends to occur when someone takes on the role of caregiver for their spouse. The ailing person in need of help and care tends to no longer be viewed as -- or function as -- a source of intimacy or support for their partner. And whether this is the result of physical trauma like severe, chronic back pain or stroke, or cognitive issues like dementia, over time, the caregiver spouse's emotional and physical needs go unnoticed and unmet.
A caregiving partner can feel isolated, frustrated and even grieve the loss of intimacy from their relationship. Helping widen the chasm is the ill person's feelings of guilt for their role in the couple's dynamic, which can lead to them pulling further away from their caregiving partner.
Many times someone struggling with an illness does not want to be in the role of a passive, needy or even impotent partner, says Lisa Marie Bobby, a marriage and family therapist, and founder and clinical director of Growing Self Counseling & Coaching.
Because an intense or chronic health issue can limit the degree to which someone can be physically available for their partner (whether for sex, shoveling the sidewalk after a snow or being the charismatic, energetic social partner they once were), Bobby stresses there are many ways to process the feelings of loss that often arise and prevent resentment or guilt.
Speak Up
Many times, spouses of ailing partners feel guilty for asking for things or "burdening" their partners with anything else. "So they don't ask for what they want, including any level of intimacy," says Bobby, author of "author of "Exaholics: Breaking Your Addiction to an Ex Love". "They assume that their partners are too sick or frail to give anything to them."
Caregivers often do not reach out for physical contact, ask for advice, or vent about their day. They don't seek physical affection or ask for help.
Bobby cautions against this type of silence and instead encourages caregivers to speak up. "Say, 'I miss us,' and give your partner the chance to hear you, understand you, and respond to you," she advises. "Your honesty helps your loved one preserve his or her identity, and cultivate their healthy selves while addressing your needs."
Don't Assume
Often, a caregiver's assumption that their partner is "too sick" sends a demoralizing meta-message to the unwell partner, too. "They think their partner views them as weak and doesn't need or want anything from them," says Bobby. "This, ironically, contributes to the downward spiral of the unwell partner who is then deprived of their meaningful, life-giving role as a contributing partner in the relationship."
Instead, she suggests looking for new ways to share intimacy.
"Your partner may still be able to listen and care about your day," she says. Instead of taking a walk and holding hands, you may be able to sit together and watch a favorite show, for example. "Look for new ways to receive emotional support and for your loved one to be your number-one fan to the extent that they are able,"
Ask For Help
Whether your partner is living with chronic pain, Alzheimer's disease or another serious health condition such as cancer, diabetes or heart disease, you might consider having a conversation with your partner as well as their doctor (ideally, after having had that conversation with your partner).
This can help ensure that you're on the same page about your partner's physical and cognitive abilities and expectations concerning intimacy, particularly if he or she is in the earlier stages of a disease like Alzheimer's, says Bobby. "It would be best to avoid any 'secret conversations' with the doctor," she adds.
Instead of feeling frustrated with the relationship, or the increasingly ill partner, Heidi McBain, a Texas-based licensed marriage and family therapist, suggests seeking out supportive counseling. "This will help you work through the grief and anger over the loss of the person you knew, while learning to accept the reality of the person your partner is becoming — and what that means for you."
Give Yourself Time to Grieve
It's crucial to allow yourself time to grieve the loss of the way things used to be, as well as the hopes and dreams you had laid out for your future together.
"This is a major life change for you personally and for you as part of this couple," McBain says.
Accept Support
"Therapy can be very helpful in the grieving process and going through this major life change," says McBain. The type of treatment you choose will depend on your unique situation and personal preferences.
While in-person or online support groups may be the right option for one person, others may do better in individual therapy where their sessions are fully focused on their own issues and goals, she notes.
Your best bet is working with a licensed clinician who specializes in grief and loss. "A licensed marriage and family therapist is also trained in intimacy issues and to see the marital relationship as a whole," adds McBain.
Stay Social
Bobby urges spousal caregivers to remain involved in meaningful and reciprocal social relationships with people who are able to meet some of the needs your partner is no longer able to fulfill. "Having a supportive social circle and people to spend time with, have fun with, and have meaningful conversations with are what keeps many people in this stage of life going," she says.
As for whether or not the spousal caregiver's social life will extend to new sexual or romantic relationships while their partner is still alive, experts say that's a question that only that individual can answer.
"It may be helpful to work through feelings of ambivalence or guilt in non-judgmental, supportive therapy or coaching so that you can make a values-based, morally congruent decision about what genuinely feels right for you, while also honoring your love and commitment to your spouse, and the legacy of your marriage," Bobby says.
Visit our Caring for a Spouse Support Group to connect with other spousal caregivers.