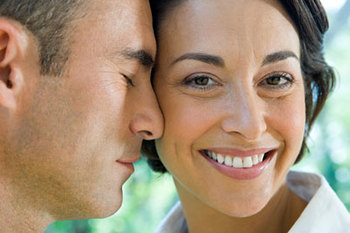 All Rights Reserved
Taking care of an aging parent changes everything -- from the new financial stress to the scheduling of endless doctor visits. And everything includes one arena that often surprises caregivers: your sex life.
(Spousal caregivers, obviously, face even tougher challenges. See How Your Sex Life May Change When a Partner Has Dementia).
"Each situation tends to be specific, but caretakers often face some common challenges to maintaining a healthy sex life," says geriatric psychiatrist Ken Robbins, a Caring.com senior medical editor who's also board-certified in internal medicine.
Here's what caregivers need to know about some common sex-life interferences.
Problem #1: Lack of sleep
"When caregiving interferes with sleep, couples have more difficulty getting along," Robbins says. "It's the number-one way that the stress of caregiving spills into sexual relationships."
What happens is more complicated than the fact that less time sleeping in bed equals less time for other activities there. Burning the candle at both ends to fit in all the extra chores of caregiving affects mood and patience. The more emotional and physical strain one endures without replenishment, the easier it is to snap. And snapping at your mate is, in turn, a surefire libido-killer.
A 2008 study found that dementia caregivers, in particular, got significantly less sleep than others. Alzheimer's and other forms of dementia often involve sundown syndrome, a behavioral state in which the person grows more agitated at night and, in some cases, doesn't settle down for hours. Many people with Alzheimer's confuse day and night, disrupting the sleep-wake cycle for the caregiver, too.
Problem solvers: Protecting sleep should be every family caregiver's main self-care objective. "It's in the interest of the entire household," Robbins says.
If you routinely get fewer than 6.5 hours of sleep a night, take a hard look at your schedule for places where you can cut back, delegate to other family members, or let go.
Try daytime naps, even if you've never been a napper. Enroll your relative in a senior center or adult day program several mornings a week so you can have downtime, or -- if you can afford it -- hire someone to come into your home a few hours a day, such as a professional elder companion (ask a local home health agency or personal in-home care agency for a reference).
If the person you care for has dementia, take extra steps to follow a predictable daily routine that includes movement and fresh air early in the day and time to wind down by evening.
Ask the person's doctor about medications (including some antidepressants) to manage highly disturbed sleep.
Consider whether it's time for an out-of-home living situation for an elder who's unable to sleep well at night.
Problem #2: Lack of privacy
Having a father or a mother-in-law right in the next room can crimp intimacy for those who are sensitive. But when a live-in relative thinks nothing of barging into your bedroom at all hours of the night or day, the problem moves from the psychologically difficult to the outright impossible. Some older people have a problem with boundaries or have cognitive impairments that don't let them discern what's inappropriate. Others, such as people with Alzheimer's disease, are prone to wandering.
Problem solvers:
As soon as a new living situation begins, discuss privacy limits with a parent who can still be reasonable: "Please knock before you enter our room, Mom." Do the same for her.
Install a deadbolt lock on your door; you'll still get interrupted, but at least you can control access.
Don't feel you should automatically put your parent above your spouse or partner; both need you. Often a parent's neediness morphs into emotional manipulation.
Look into plastic doorknob covers that are hard to grip to keep a wanderer in his or her room at night; install a baby monitor (in a location where the person can't see or reach it) so that you'll be able to hear if you're needed.
Consider hiring a night caregiver who can attend to the person at least a few nights a week.
Problem #3: The sandwich-generation blues
Taking care of the needs of both an aging parent and kids is a double-whammy for many mid-lifers. What gets squeezed out? You-time, me-time, us-time. When a woman doesn't have time to shave both legs at the same time or a man logs two jobs to make all the ends meet, it's little wonder their sex life sizzles a lot less than it did in their early days together.
"No matter how devoted you are to all the generations counting on you," Robbins says, "you have to have some opportunities to have your own life."
Problem solvers:
Rely on respite. Respite care provides a set number of hours each day or week when an older person gets out of the house and exposed to professionals who are expert at providing stimulating, interesting activities, both mental and physical. It's also an opportunity to socialize with peers. Using respite care isn't a bad thing; it's a win-win for everyone.
Reprioritize. Some couples find it helpful to take quarterly inventories of where they are as a team. Go out to dinner with an agenda, and make sure each shares candidly what's working and what's not, and then brainstorm strategies to get on track. The very act of making a commitment to yourselves can be transformative.
Go away together, by yourselves. It can seem hard to get away for a weekend if you can't even find an hour to have sex. But sometimes overstressed couples most need a complete time-out in order to remind themselves (and their bodies) what they're missing. Ask a relative to take over, or patch together on a combination of babysitters and respite.
Don't feel guilty about putting your marriage before others' needs. You have to have a healthy base before all the branches can flourish.
Problem #4: Depression
Caregivers experience higher rates of depression than the general population. Symptoms include lack of desire and difficulty falling asleep -- conditions that, obviously, wreak havoc over time on a healthy sex life.
It's worth noting that some treatments for depression can interfere with sex. The SSRI family of antidepressants (including Prozac, Paxil, and Zoloft) have been found in many studies to cause a dip in desire or in the ability to achieve orgasm -- not the effects you want if depression is interfering with your sex life in the first place.
Problem solvers:
Know the symptoms of depression for caregivers.
Don't hesitate to mention worrisome symptoms to your doctor -- and definitely mention your caregiving situation.
If you're diagnosed with depression, ask your doctor about a type of medication that doesn't interfere with libido, such as bupropion (Wellbutrin).