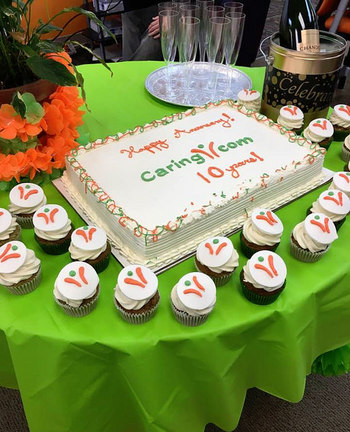 All Rights Reserved
10 years ago, a small group of family caregivers noticed a lack of caregiving resources online. Led by Andy Cohen, Steve Fram, and Jim Scott, the group launched Caring.com, the first website of its kind for family caregivers in 2007. Since its launch, Caring.com has sought to help caregivers make better decisions and feel less alone and less stressed everyday, by providing expert articles, support groups, newsletters, and a national directory of local senior care resources. To celebrate this milestone, we reflect on how everything from public perceptions to advances in technology have progressed over the past decade in aid of the family caregiver.
Caring for an aging loved one has always been a responsibility that not only requires an immense output of physical and emotional energy, but is often undertaken against a backdrop of competing personal, professional and familial responsibilities. Caregivers face a lot of stress, and are at higher risk of developing chronic illnesses compared to non-caregivers.
But it's not all bad news. Over the years, the caregiving landscape in the U.S. has evolved in some remarkable ways, leading to more caregiver resources than ever before.
Growing Awareness in Society
When asked about changes in caregiving for aging loved ones over the past decade, industry experts unanimously point to societal shifts in perception as the most remarkable.
"The biggest thing that's changed in the past 10 to 20 years is that people are aware of family caregiving as a major issue and responsibility," says Grace Whiting, interim CEO of the National Alliance for Caregiving (NAC). "I think Baby Boomers have driven a lot of our national conversation about this, while a lot of movements in healthcare have worked to de-stigmatize certain conditions. And that means caregivers are more comfortable asking for help."
According to Lynette Whiteman, executive director of Caregiver Volunteers of Central Jersey — a nonprofit that helps the homebound elderly remain independent—this increased awareness has greatly benefited caregivers of loved ones with Alzheimer's disease and other forms of dementia.
"Even as recently as 15 years ago, home caregivers didn't want anyone to know their loved one suffered from this disease. It was a source of shame and they were embarrassed," says Whiteman. "Now, almost everyone I talk to knows someone who has been touched by it, and that translates into a greater willingness to ask for help and actively looking for resources."
What's more, a growing awareness of family caregiving in general has given Americans a greater sense of its scope and severity.
More People Self-Identify as Caregivers
According to a 2015 survey conducted by NAC and AARP, about 34.2 million Americans provide unpaid care to an adult who's 50 or older. The study also found that family caregivers spend an average of 24.4 hours per week providing care, and nearly 1 in 4 spend 41 hours or more per week providing care. These figures serve a larger purpose than mere statistical noise, says Lou-Ellen Barkan, president and CEO of CaringKind (formerly known as the Alzheimer's Association, New York City Chapter).
"When people start seeing the numbers, they suddenly wake up and say, 'I get it! I'm a caregiver. I'm not just someone who's home with my aging husband and unhappy and worried and starving because I've given all my money to services I can't afford,'" says Barkan. "It's an epiphany because they suddenly realize, 'I have a job to do!' And that can be really empowering."
This growing self-identification of family caregivers has yielded positive results.
According to a survey conducted by the National Family Caregivers Association, more than 90 percent of family caregivers become "more proactive about seeking resources and skills" after they've self-identified as a caregiver. Moreover, 83 percent of self-identified caregivers say it was precisely this self-awareness that led to "increase confidence when talking to healthcare professionals about their loved one's care."
"People now perceive of family caregiving as a real, specific role," says Barkan. "And I think that's been a substantial sea change."
The Work-Caregiving Balance
According to Caring.com's recent Family Caregiver Journey Survey, about 33 percent of caregivers work a full-time job in addition to caring for their aging loved one. What's more, 68 percent of those respondents said their caregiving had a "strong or somewhat negative impact on their work," and 79 percent said they've had to miss work in the past year because of caregiving responsibilities.
But here, too, progress has been made, as employers, advocacy groups and states are increasingly providing resources and opportunities for those trying to juggle the balance of work and caregiving.
"You see that employers are starting to look at different ways of supporting family caregivers through things like flexible hours, telecommuting, and access to support and counseling," says Laura Gitlin, director of the Johns Hopkins School of Nursing's Center for Innovative Care in Aging. "In addition to provisions in the Family Medical Leave Act (FMLA), there's a growing recognition that employers need to provide more resources to caregiving employees."
This is becoming increasingly critical, Gitlin adds, pointing to a 2013 Pew Research report which shows that 47 percent of adults in their 40s and 50s have a parent over 65 plus at least one child under 18—and nearly 15 percent of those Americans provide financial and caregiving support to both their aging parents and children.
What's more, according to a 2015 Forbes report, 15 percent of American workers take on a "second shift" while caring for an older family member, and by 2020, it's estimated that 20 percent of the U.S. workforce will be over the age of 50 and caring for both their children and senior parents at the same time.
Some states are taking legislative action to alleviate the strains put on this growing population of "Sandwich Generation" caregivers.
According to a comprehensive 2016 report by the National Academies Press, four states—California, New Jersey, New York, and Rhode Island—have enacted paid family leave statutes. And five states—California, Connecticut, Massachusetts, Oregon, and Vermont—have paid sick leave laws that require employers to allow workers "a reasonable number of earned sick days to care for an ill family member (including some older adults)." The report goes on to state that, "These programs have the potential both to facilitate family caregiving and alleviate some of its economic hardships."
"If you are a caregiver in the workplace and you need help, it's okay to approach your boss or manager and ask what types of accommodations are available to you," says Whiting. "Not only do you have rights protected under FMLA, but you may have individual state or company provisions available to you as well. But try to have a conversation with your employer even before you are in the throes of intense caregiving."
Technology and Online Resources
The past decade has witnessed a breathtaking advance in technologies, social media platforms and web resources aimed at aiding caregivers and their aging loved ones.
In addition to caregiver resources available on sites like Caring.com, a wide range of apps have been rolled out in recent years to help family caregivers stay in touch with one another (such as CaringBridge), monitor a loved one's care remotely (like eCare21), provide regular medication reminders (like Medisafe) or provide a one-stop repository of more than 500 pieces of elder care advice and instruction (such as Elder 411).
"Folks in the technology sector have developed a real interest in this space because there is a real market out there for a whole host of technological options in caregiving," says Barkan, who notes that CaringKind is constantly developing partnerships with universities and entrepreneurs to design apps and products that assist caregivers and their loved ones suffering from dementia.
What's more, an increasing number of seniors and their caregivers are finding outlets like Facebook, Skype and email to be invaluable tools for combating the social isolation that sometimes comes with aging.
"Technology also now serves as a bridge to include family as part of the overall healthcare team," says Whiting. "Electronic healthcare records, shared data, OpenNotes https://www.opennotes.org for access to medical information, and the ability to provide companionship and care from a distance thanks to things like video calls and Skype are all really positive steps."
Finally, a wide range of nonprofit and advocacy groups have compiled extensive web resources in recent years for caregivers who may be unfamiliar with the complicated and exhausting nuances of caring for an aging loved one.
For instance, AARP has developed the ReACT Toolkit, which provides an exhaustive list of links and resources for working family caregivers. And the nonprofit Family Caregiver Alliance has resources on everything from caregiver education based on specific health issues and conditions to detailed explanations of relevant policy and advocacy initiatives throughout the country.
"Overall, I think the increased conversation and awareness about caregiving in this country has been extremely positive over the past decade or so," says Whiteman. "People aren't embarrassed anymore. They're seeking help and they're finding all sorts of new ways of finding it. But I also think talk is cheap and we have a long way to go in the future, because our society still isn't prepared to put the proper resources behind helping caregivers the way they need to. Hopefully I won't be able to say that 10 years from now."