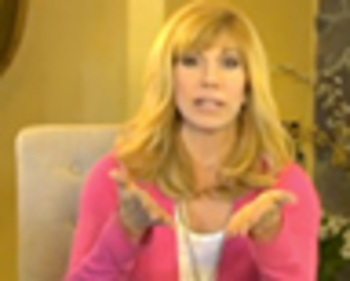 All Rights Reserved
Feeling overwhelmed by caregiving? You're not alone. It's common to feel over your head in terms of managing the stress, worries, new skills, and piles of details involved in caring for another person.
"If you tore a page from my diary when I was caring for my mother, who had Alzheimer's, it would be shocking," says TV-radio personality Leeza Gibbons, founder of the Leeza's Place communities for caregivers. In contrast to the calm confidence she felt about her work, caregiving's demands sent her into emotional cartwheels.
See Leeza's firsthand advice for coping with feeling overwhelmed.
Video 5 of 13
More tips:
Don't imagine everyone else is more together than you are. Gibbons says she thought everyone else was "Mother Teresa and Florence Nightingale -- and that was so not me." The reality: Every caregiver climbs a learning curve. And every caregiver who seems to be so on top of things has private moments of feeling like he or she is falling apart and is ill-equipped for the caregiver journey. It's all normal.
SEE ALSO: Find In-Home Care Help Near You
Break down big to-do lists into small, manageable chunks. Ask yourself, "What can I do in this hour, on this day?" You'll feel like you're accomplishing more if you can measure small successes.
Take the team approach."Many hands make light work," goes the old saying. If you can spread the burdens of decision making, hands-on care, household maintenance, and so on, it's less on you. Figure out whom you trust and what their various skills are. Don't be shy about reaching out.
Aim for the B+. We can't all be A+ caregivers all the time, because we're not A+ human beings all the time. Reality happens. If you aim for the impossible, you'll always feel like you're coming up short. But if you aim to do a pretty darn good job, you'll be better able to meet that goal -- and even exceed it sometimes.
Try to solve big problems before they overstress you. Beware some of the biggest issues that sabotage family caregivers: lack of privacy, isolation, sleep deprivation, incontinence, and Alzheimer's-related wandering. Find out ways to be prepared for these tough issues so they don't catch you completely off guard.
SEE ALSO: Find In-Home Care Help Near You
See also:

When You're Feeling Guilt


When You Don't Feel Appreciated


When You're Sleeping Poorly


When You're in Over Your Head


When You Lose Your Temper


Family Is Being Torn Apart


When You're Just Not Eating Right


When You Rarely See Friends


When You Resent Being a Caregiver


When No One Will Help