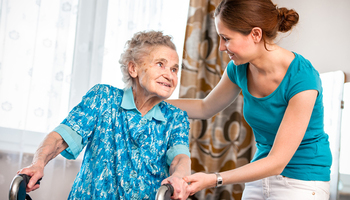 All Rights Reserved
You weren't trained to be a caregiver, and chances are, you and the aging loved one you care for never sat down to talk about how to handle caregiving. If you're one of the millions of family caregivers in the United States, chances are you have mixed feelings about this particular "job."
In a recent survey of 1,003 adults, financial planning firm Northwestern Mutual learned about the profound impact caregiving had on their lives:
86% of experienced caregivers saw an impact on their lifestyle; 97% of future caregivers expect the same
39% noted an impact on their emotional well-being
44% felt tired, and 37% felt sadness all the time or often
The good news, according to the study, is that the majority of caregivers feel proud of their role, and about 60 percent feel a sense of accomplishment for caring for a loved one. But, in order to cope with some of the negative experiences and to take care of themselves, caregivers may need to set some boundaries with their loved ones.
"If the caregiver is worn down or frustrated or responding to guilt, they are not providing the very best care that they could to their loved one. Those emotions drag us down," explains Deborah Ford, in practice with Agape Home Care in Williamsburg, Virginia. Ford helps to arrange respite care and other services for people who are caregiving at home.
Setting boundaries takes practice. And since as a caregiver, your first priority is likely making sure that your loved one is safe, it's important to remember that you can still set boundaries without worry for their wellbeing.
"Caregivers need permission to go out and do things for themselves, without worrying about their loved one," says Christine Jensen, PhD, director of health services research at the Center for Excellence in Aging in the Riverside Health System in Virginia.
This means being realistic about what your loved one needs when you take time for yourself. Find a neighbor, relative, or respite care volunteer who can sit with them, or find an appropriate day program or in-home care agency, if they can't be at home alone.
Once you're reassured about their safety during times when you need a break, these steps can help you regain some control over your life.
1. Put yourself on the schedule.
"Write your lunch with friends or whatever you need to do for yourself, even if it's five minutes to meditate, on your schedule. Then you can show your loved one that just as their medical appointments or other activities are important and on the schedule, yours are, too," advises Jensen.
2. Limit the details.
Jensen adds that it's up to you how much detail you want to share about what the appointment is for. It might not be necessary to say that you are meeting your four best friends for a long lunch. Instead, you could be able to use a small white lie to explain the time you need for yourself, she says.
3. Be firm about your needs.
Let your loved one know why you need your time and space. This can help them feel like less of a burden to you, says Jensen.
4. Recommend specialists.
Depending on your situation, the person you're caring for may need a specialist such as a physical or occupational therapist in order to feel less dependent on you. For example, if your loved one's loss of mobility is keeping them from leaving the house, a physical therapist may be able to help them find new ways to be mobile and comfortable with going out again.
5. Just say no.
"Do caregiver tasks that are necessary and not to be nice. Caregivers need to be able to say no and do it without guilt," advises Iris Waichler, LCSW and author of "Role Reversal, How to Take Care of Yourself and Your Aging Parents." The reality is that you might not have the skills or strength to do all of the things your loved one needs or wants done. Talk to your medical team or a geriatric care manager to find professional help.
6. Prioritize the tasks.
Waichler emphasizes that the caregiver must prioritize their to-do list. You can talk to your loved one about why you're organizing your shared day the way you are, and encourage them to do the things they are capable of doing without help.
7. Look for ways to have fun together.
Look around your community for activities that caregivers and their loved ones can do together. You may find that local aging resource agencies, community centers, or advocacy organizations arrange events where you can have fun together. Likewise, says Waichler, look for activities you can do with your loved one at home that you both enjoy, such as playing music or board games.
8. Draw up a caregiver agreement.
Much of caregiving is spontaneous and informal, but in some cases you may want to formalize it, says senior benefits adviser Michael Guerrero with Elder Care Resource Planning. A caregiver agreement is a written agreement that outlines what you can and can't do.
"There are several additional financial reasons for using a caregiver agreement including aiding access to financial benefits for long-term care and serving as a method to compensate family members for lost wages while caregiving," says Guerrero.
9. Accept help.
Many times, concerned friends and family will say things like, "Let me know if I can help you!" These are people you can call on to do things you aren't able to do, or to sit with your loved one. "Look for areas in your life where people can help and then let them," says licensed clinical social worker Robyn Wendell, in private practice in Austin, Texas.
10. Give it time.
Your loved one might complain about staying at home while you go out, or having to spend time with strangers. It's important to give the change some time. For example, arrange for your loved one to meet any professional caregiver or volunteer respite worker who may be spending time with them in the future, advises Ford. Proceed with your plan, despite any initial resistance.
If you know you need boundaries, but setting them seems too intimidating, reach out for help. A geriatric care manager, social worker or nurse can give you ideas to suit your situation.