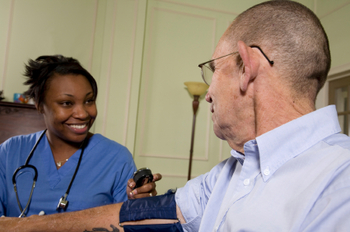 All Rights Reserved
Helping an older adult prepare to apply to a clinical trial
Once your close friend or relative has decided that participating in a clinical trial could be worth doing, has found one that seems appropriate, and has discussed it with her doctor, you'll want to quickly begin the process of helping her apply to the trial. Time is of the essence, because a patient's health status can change very quickly and her medical information needs to be up to date.
The application process isn't simple; most clinical trials for cancer treatment have stringent criteria for each patient's medical history and, sometimes, lifestyle choices. The more prepared you are, the better able you'll be to provide the answers that will get the person you're caring for into the study of her choice -- or help her discoveit's not the right trial for her.
1. Assemble her medical data.
The researchers conducting each clinical trial need a great deal of medical information in order to make decisions about which patients to include in and which to exclude from a trial. Before the initial visit, she will receive a packet of information, including instructions about which medical records she'll need to bring with her or have her doctor send in. These might include treatment history, pathology reports and slides, and radiology reports.
2. Prepare for the screening.
If the trial is far away, she'll often be given maps and travel and hotel information. Researchers are looking for, among other things, signs that an applicant is healthy enough to withstand the treatment being tested and isn't at high risk for other conditions and side effects, so you may wish to arrive the day before and stay overnight nearby to make sure she is well rested and alert the day of the screening.
3. Get the most out of the screening.
Screening for a clinical trial is much like a consultation with a medical specialist. The person you're caring for (and you, if she wants you there) will have a chance to meet with the research team and learn about the benefits and risks of the trial. She'll probably be given several common diagnostic tests, which might include blood tests, X-rays, an EKG, and other scans. You'll be able to ask questions, and you'll want to take advantage of that opportunity. It's important to get as much information as you can. This is a big, complicated decision, so come prepared with a comprehensive list of things that would be helpful to know, including:
What are the possible benefits of the drug or treatment being tested, both short- and long-term?
What are the risks and possible side effects, both short- and long-term?
How do the risks and possible benefits of this drug or treatment compare with those associated with other options?
What kinds of treatment, medical tests, or procedures will she have during the study?
How often will she receive the treatments, tests, or procedures?
Will treatments, tests, or procedures be painful? If so, can the pain be controlled?
Will she be able to take her regular medications while in the clinical trial?
Where will she receive medical care? Will she be in a hospital? If so, for how long?
Who will be in charge of her care? Will she be able to see her own doctors?
How long will she need to stay in the study? Will there be follow-up visits after the study?
Will participants have to pay for any treatment, tests, or other charges? If so, what will the approximate charges be?
What is health insurance likely to cover?
Who can help answer questions from the insurance company or health plan?
4. Discuss personal and lifestyle issues up front.
Many factors will go into the person's decision about whether she should join a clinical trial, including personal and lifestyle issues. If the trial is far from her home, you may wish to ask if all treatments and procedures have to be administered at the location of the trial, or if her own doctor or facility could perform some. Other questions to ask:
How will being in the study affect her daily life?
What support is available for participants and their families?
Can we speak with people already enrolled in the study?
5. Wait for notification.
The researchers then determine if the person is a candidate and call to notify her of her acceptance or ineligibility.
6. Talk it over.
If the person you're caring for is eligible for the trial of her choice, she'll need to talk to her doctor (even if she did so at the beginning of the process) to discuss the pros and cons of choosing the trial over standard care. She'll probably also want to discuss plans for any coordination necessary between the trial's research team and her oncologist. And you or she will need to talk over with family and friends the impact the trial will have on her everyday life and long-term quality of life. Participating in a clinical trial may require more appointments, longer drives, and more phone time, and you want to make sure everyone who's helping with her care is on board with the plan.
7. Sign up.
Once she decides to enroll in a clinical trial, there's more paperwork to fill out. She will be asked to sign a consent document that details the trial's treatment schedule, possible benefits, and likely side effects. From there, you'll work with the research team to set up the necessary schedule of appointments.