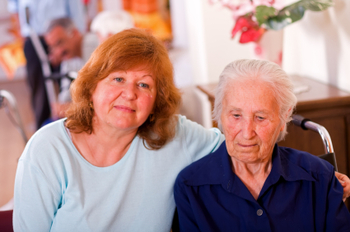 All Rights Reserved
Expect to receive offers of help
When you tell family members, friends, or neighbors that the person you're caring for has cancer, one of the first things they'll ask is, "How can I help?" In fact, as soon as the news that a person has cancer begins to spread, offers of help are likely to begin pouring in, often from unexpected sources. You may get a call or e-mail from a member of the person's book group or a neighbor you've never met. It's common to find yourself caught off guard by these offers of support and unsure how to respond.
Often, too, even when you do respond positively, you'll immediately lose track of the information necessary to follow up. It's far too easy, during the early chaotic days of cancer treatment , to promise yourself you'll remember a name and look it up in the phone book or to jot down an e-mail address, stuff it in your pocket, and lose it in the laundry. Yet these offers of support are valuable and worth acting on. Caring for someone with cancer is a huge job, and you're going to need all the help you can get.
"This is the time to call in the troops," says Bonnie Bajorek Daneker, author of The Compassionate Caregiver series, including The Compassionate Caregiver's Guide to Caring for Someone With Cancer . "You need to start lining up who you can count on to fight this enemy. These are the people you will turn to -- probably repeatedly -- for assistance."
Get Organized to Get the Cancer Help You'll Need
The first thing to do is make a list of everyone close to the person in your care who you know will be part of your core caregiving team.
Add to the list others who've offered to be involved, though be careful about adding anyone you know is irresponsible or chronically late. If the list doesn't seem long enough, think about ways to marshal more help.
If the patient has a well-organized friend who keeps in close touch with their mutual social network, ask her to let others know that she's sick and that you and the family could use some support.
Make sure word gets out to any groups or social organizations she belongs to; those can be powerful support networks. Contact her church or synagogue and ask the pastor, the rabbi, or a member of the congregation to solicit help on her behalf. Also, make sure the people spreading the word for you gather lists of names, phone numbers, and e-mail addresses, and add these folks to your list as well.
If possible, use your e-mail program to create an e-mail "group" in your address book that includes all the people in your caregiving support network. If you don't know how to do this, recruit a tech-savvy friend (or a neighbor's kid) to help you. This is a huge time-saver that enables you to send one e-mail to the entire group rather than to each individual.
Or consider setting up a private Yahoo group with its own calendar. Through this group, you can e-mail everyone at once asking if someone can, say, drive the patient to the doctor on Tuesday at 10 a.m., and whoever's available can sign up on the calendar.
Once you have a list of names, you're ready to begin communicating the person's needs. (And don't forget, your needs are important, too. If someone can run an errand for you while you're busy caring for the patient, or if you need a break for an evening, that's just as valuable.)
How to Ask for Help: E-mail Template
Here's a sample e-mail letter you can modify to fit your own personality and needs. Be sure to list your requests in the order of what the patient needs most, since people tend to react most strongly to what they read first, and delete ones that don't apply. Add an appropriate sign-off to the letter with your preferred contact information.
Dear family and friends,
Since hearing the news that my [father, mother, patient], [name here], has cancer, many of you have kindly offered to help and asked what you can do. We very much appreciate your support, and we're happy to accept your assistance. Because my [father, mother, patient] isn't feeling well and I'm busy managing [his or her] care, there are many things we can't cope with right now. Here are some of the things you could do that would make life easier for us.
Cooking It would be wonderful if you could make one of my [mother's, father's, patient's] favorite dishes. I can even supply you with a recipe. We'll want to freeze food for future use, so please divide the dish into single portions and wrap them in plastic wrap or put them in disposable dishes for freezing. (It would be difficult right now to keep track of dishes and serving utensils and return them.)
Shopping A grocery run would be much appreciated. I'm happy to provide a shopping list. It would also be great if you could let me know when you're making trips of your own to the grocery store, drugstore, or hardware store so I can ask you to pick up a few things while you're there. We could also use help shopping for holiday gifts and other occasions and wrapping them. Needless to say, I'll immediately reimburse you for any expenditures.
Transportation If you can drive my [father, mother, patient] to a doctor's appointment, support group, or social function, that would be helpful. Some of these need to be scheduled in advance, so if there are certain days or times that are best for you, please let me know. If you regularly attend an event or meeting with my [father, mother, patient], I'd appreciate your offer to do the driving. You could also help by driving other family members to events and appointments.
Household tasks Any help will be appreciated. Come over and do a load of laundry, empty the dishwasher, vacuum, or dust. Other help we could use:
Pick up and sort the mail.
Water and care for houseplants.
Feed the cat or walk the dog.
Weed or water the garden.
Just let me know ahead of time when you can come so I can plan to be there and make good use of your time.
Gifts of services If you'd like to give my [father, mother, patient] something but aren't sure what he needs, please consider the gift of a massage or other treatment. (I'd be happy to tell you what services we're using at any time.)
Support and encouragement My [father, mother, patient] loves reading mail from friends. If you can send an encouraging note or card every few weeks, it would cheer him up to know you're thinking about [him or her].
Other needs At various times we could use help getting the car serviced, filling out insurance paperwork, or staying with my [father, mother, patient] (or being on call) while I take a night or weekend off. If you're available for this kind of support, please let me know.
Again, my sincerest thanks to all of you for your support and help. If you have any questions, you can reach me at [phone or e-mail address].
How to Accept Help: Never Say No
If you're the self-sufficient type, you may find it hard to accept favors and offers of help. Many of us have a voice in our heads telling us that we should be able to do everything ourselves. In a situation like this, though, no one benefits if you try to do it all yourself. "When you feel yourself resisting help, stop and really think about it," Daneker says. "You need all the help you can get."
In addition to sending out an e-mail like the one above, keep a list near the phone so that when someone calls with an offer to help, you'll have an immediate reminder of what's most needed. If you start feeling guilty or inadequate about accepting so much help, remind yourself that others really do want to do something to support the patient, and you're enabling them to become involved. Remind yourself, too, that caregiver burnout is a real danger -- it happens all the time. You won't do a patient any good if y ou become exhausted, overwhelmed, angry, or ill yourself, and accepting help is the best way to prevent that from happening.