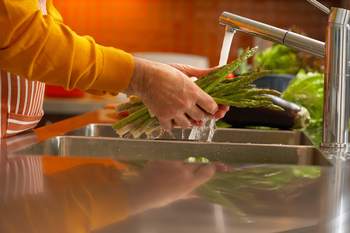 All Rights Reserved
Tasks you'll need help with to care for someone with cancer
The cardinal rule of caring for someone with cancer is that no caregiver can do it alone. The following categories of care will help remind you which things need immediate attention when someone asks, "How can I help?"
Cooking and serving
Cooking up a meal is a natural first instinct when we learn that someone is sick, but someone with cancer doesn't need a kitchen full of uneaten casseroles. When friends or relatives offer to bring food, be specific about his needs and how he'd like the food prepared.
Make copies of his favorite recipes, or recipes for foods he has asked for, and hand them out. Or, better still, scan and e-mail the recipes.
Mention specific dos and don'ts. If he has food allergies, is a vegetarian or a meat-and-potatoes person, or has other likes and dislikes (which is likely if he's suffering from nausea), be sure to say so.
Ask for food to be divided into single portions and wrapped in plastic wrap or put in disposable dishes for easy freezing and storing.
Schedule friends and family members to help prepare meals and wash dishes.
Food and shopping
If someone offers to do a weekly grocery or general shopping run for the person you're caring for, that's a big help. (Be sure to pay them back from his funds unless they really want to contribute the goods occasionally.) Some ways to make shopping trips more efficient:
Create a computer file titled "Grocery list" that includes all the staples he needs. Any time someone offers to make a trip, add and delete items from the core list and print it out (or e-mail it) to the day's volunteer.
Keep a running list of "things to buy" near the phone. Ask friends and family members to call you when they're headed for the drugstore, hardware store, nursery, big-box store, and so on. When they call, quickly scan the list and ask them to pick up the things you need, and reimburse them when they arrive.
Order extra copies of the patient's medical ID card so volunteers can pick up prescriptions for him.
Keep a list of his clothing sizes handy. That way if he asks for new slippers or a shirt without buttons (helpful if he has neuropathy), you'll know exactly what size to ask for.
Driving
Get a large wall calendar with plenty of room to write in all the appointments and events that need to be scheduled. Recruit people to drive to specific appointments and activities and keep track of the times and who's driving on the calendar. And when you need to take him to an appointment, don't hesitate to ask for driving help for your own household as well -- maybe a friend will be willing to take your children to after-school activities or weekend sporting events. Ask volunteers to drive him or your family to:
Other types of therapy appointments (physical therapy, support groups)
Alternative treatment appointments (massage therapist, acupuncturist, chiropractor, herbalist)
Errands (drugstore, hardware store, and so on)
Social functions (dinners out, bowling league, book group, sports events)
Childcare (for your kids), school, activities, and social events
Around the house
It's not easy keeping up with everything that someone with cancer needs done. It may feel uncomfortable asking friends and family to help with household tasks, but they're often eager to contribute. Ask them to:
Wash and sort a load of laundry.
Do the dishes or empty the dishwasher.
Clean out the refrigerator.
Walk the dog or feed the cat.
Care for houseplants.
Shovel snow from the walk or driveway.
Water or weed the garden.
Form a "maid brigade" once a week to dust, vacuum, and clean bathrooms.
Extra tasks
There's always something more you haven't been able to get around to. When a trusted friend or relative calls with an impromptu offer of help and the basic tasks are well covered, why not ask her to do one of the following:
Take the car to the shop for servicing.
Fill out insurance forms.
Send thank-you notes.
Take the dog or cat to the vet.
Research a new treatment option you've heard about.
Emotional support you'll need to care for someone with cancer
Social support
Once the initial crisis has passed, family and friends often lose touch with the person's overall condition. That can leave both you and him feeling isolated. To avoid this, ask friends and family to:
Send notes, cards, and e-mails to help keep his spirits up.
Invite him to social events such as dinners out, cultural events, and picnics.
Alert him to meetings of groups (clubs, committees, organizations) he and they belong to, and if they attend meetings he can't make, fill him in on what happened.
Take charge of an e-mail network or Yahoo group to let friends, colleagues, and neighbors know how the person you're caring for is doing and to keep him up-to-date on everyone else's activities.
Support for you, the primary caregiver
No matter how dedicated you are, you can't be there for your friend or relative all the time, and you shouldn't have to be. You need to attend to your own life as well, and caregiver burnout is a real danger if you don't make time for some rest and relaxation for yourself. Some ways friends and family can provide respite:
Take him to a movie or out to dinner.
Be "on call" for a day or night to handle everything but a dire emergency.
Stay with him for an evening while you go to a movie or out to dinner.
Sit with him for an afternoon while you go for a walk.
Move in with him for a weekend while you get away with your partner or spouse.
Take your children to the movies or on other outings if they're not getting enough attention.
Drive your children to school so you can sleep in.
Remember, no task is too big or too small for someone else to take on when your hands are full. Your job is to care for your loved one, and it can only be done successfully with lot s of delegating. Think of yourself as the captain of a ship; your mission is to keep the ship afloat and heading in the right direction, and you're going to need plenty of crew to do it. And like any good captain, you need to show your crew how much you appreciate their work -- just tell them now and then how much it means to you.