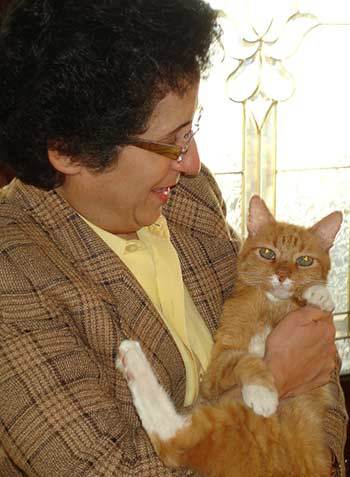 All Rights Reserved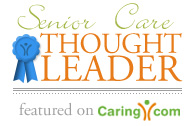 Brenda Avadian began caregiving full-time when her mother died and her father began struggling with both deafness and Alzheimer's. And she hasn't quit: She now uses her experience to advocate for all caregivers, helping them find the resources they need to make it through the multifaceted world of caregiving. Through her speeches, workshops, books, and articles, Brenda's goal is to show that one person can make a difference.
Learn what kept Brenda going as a caregiver for her father, and what motivates her now to help others in the same situation.
And see where to get more information about Brenda, so you can find her writings and the resources she has to offer as every caregiver's advocate.
Who Is Brenda Avadian?
Brenda is a voice for caregivers across the nation. A national speaker and writer, her passion is to answer the needs of family and professional caregivers in both practical and emotional ways. Her numerous articles and books include Finding the Joy in Alzheimer's and "Where's My Shoes?" My Father's Walk Through Alzheimer's. Her website, The Caregiver's Voice, provides practical resources for all caregivers, particularly those caring for elders with brain impairment or dementia.
What Led Brenda to Senior Care
After my mother died of congestive heart failure in 1993, I visited my father in Wisconsin once or twice a year. I called him from my home in California once or twice a month and we talked for an hour or more. These were exhausting conversations because he was profoundly deaf.
Over the next three years, I became aware that something was not right with him. Yet, as the youngest child of three and the first to leave home, I resisted getting involved because I wanted to preserve my father's independence and dignity.
It wasn't until the Milwaukee County Department on Aging case worker called to tell me: Something must be done for your father. I realized then if I didn't get involved the state might take over, and given his need for privacy, this would surely kill him. But wait. My sister lives five blocks away. I live 2,000 miles away. My brother lives IN our father's home. Why aren't they getting involved?
Why Brenda Cares
Caregivers are the real heroes of our land. Like our soldiers, family caregivers often give up their lives; in this instance, to care for a loved one -- a spouse, a parent, other relative, or even a neighbor and/or friend.
I continue, because there are pockets of wonderful, hardworking people with lots of initiative who value collaboration as we work together to benefit caregivers.
I continue, because after 16 years of working in this field, my clients keep me grounded and remind me what really matters in life.
I continue, because the time I spend -- speaking at events, writing 100-plus original articles each year, and, most importantly, touching just one caregiver -- makes all the difference.
Each of us goes through life wanting to have an impact. At this time in my life, I contribute to making life better for caregivers for cognitively impaired adults.
What Brenda Wishes She'd Known Sooner
The most important thing I discovered after my father moved into my home was to care for him the way I'd want to be cared for if I had Alzheimer's.
Even today, when faced with a caregiving challenge, I ask, "How would I want to be treated if I had [fill in the blank with the care recipient's disease or illness]?"
My honest answer to this question fills me with enough compassion that caregiving becomes less of a burden and more of a privilege.
Biggest Issues in Senior Care Today
There are two major issues that are at odds with each other: the business side and the human factor. What's surprising is humans run the business. Until we integrate both, each will exist as polar opposites, to the detriment of families and loved ones.
Caring.com plays a vital role in serving as the backbone to our caregiving heroes by helping family caregivers remain connected while having their questions answered by experts and fellow support group members.
We can do more in care settings to support frontline caregivers -- many of them immigrants seeking a better life for themselves and their families in America. Over time they grow to feel like pawns trapped in a no-win situation. However, with the right tools and continued nourishment, they can thrive and consistently care from that gentle place in their hearts, knowing their work remains a noble and THANKFUL job . . . even when family members and their supervisors are not watching.
And it's not all about money. Prior to becoming a full-time caregiver, I applied similar tools in corporate America with stellar bottom-line and measurable results.
Right now, too many in management are frozen by old systems and methods that drain the initiative right out of people. Also, it doesn't help that our regulatory systems have gone way overboard, resulting from knee-jerk legislation.
This must change, and I look for more partners willing to apply these tools as we take the steps of change together. Our future depends on it.
Words of Wisdom
It has been said, "To the world you may be one person. But to one person you are the world."
These two sentences guide me every day. Although we live in a world that measures how many Likes, Followers, Connections, and +s we have, it matters not in the end.
What matters is that, one by one, enough people receive the KNOWLEDGE they need to feel enough HOPE to FIND the JOY in caregiving.
Everything Will Be All Right
With all the noise in the world, and pressure to be like everyone else, I retreat to the wisdom I've gained from those at the end of life.
Live your life in such a way each day that when your time comes, if you reach out and cry, "HELP;" someone will be drawn to you, take your hand in theirs, and comfort you. When you live your life with heartfelt honesty, compassion for others, and gratitude, everything will be all right.
Thank you, Caring.com, for giving me this opportunity and the platform to share my thoughts.
Learn More About Brenda Avadian

The Caregiver's Voice website


Ezine Articles Blog


Brenda on Facebook


Brenda on Twitter


Finding the Joy in Alzheimer's: Caregivers Share the Joyful Times book


Finding the Joy in Alzheimer's: When Tears Are Dried With Laughter book


Where's My Shoes? My Father's Walk Through Alzheimer's book