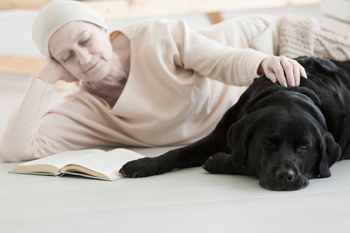 All Rights Reserved
About one in eight women in the United States will develop invasive breast cancer at some point during their lifetimes. This far-reaching disease affects not only each woman who has it, but also her family and friends.
In a world of information overload, choosing the right books about breast cancer can be a challenge. Whether you've recently been diagnosed with the disease or are helping a loved one fight it, finding reliable informational resources is essential.
After a breast cancer diagnosis, authoritative books about the disease can be indispensable sources of comfort and guidance. Below, we've rounded up seven of the most highly rated titles about breast cancer from doctors, survivors and others who've experienced the disease firsthand.
1. This Is Cancer: Everything You Need to Know, from the Waiting Room to the Bedroom
by Laura Holmes Haddad
In this raw, information-packed book, Laura Holmes Haddad describes her experience after being diagnosed with Stage IV breast cancer at 37 years old. With candid honesty, she addresses sensitive subjects that aren't often discussed with cancer patients and their families.
Her valuable insights on parenting while having cancer, the effects of cancer on marriage and fertility and several other issues can help other breast cancer patients and their loved ones cope with the situation, and even thrive.
To order: Amazon
2. Living Well Beyond Breast Cancer: A Survivor's Guide
by Marisa and Ellen Weiss
A breast cancer diagnosis brings up a lot questions, often starting with, "What do I do now?" This book seeks to answer this and related questions and help people with breast cancer learn what to expect throughout treatment and recovery. Readers will learn, for example, what to expect after a mastectomy and steps they can take to lower the risk of cancer recurrence.
To order: Amazon
3. The New Generation Breast Cancer Book
by Elisa Port, MD
Dr. Elisa Port's optimistic tone can be felt throughout this book, which serves as a handy guide to all things related to breast cancer. She gives readers the inside scoop about what to expect from breast cancer screenings to treatment. As the chief of breast surgery at The Mount Sinai Hospital, Dr. Port provides an expert new perspective on remaining optimistic while fighting breast cancer.
To order: Amazon
4. Pretty Is What Changes: Impossible Choices, The Breast Cancer Gene, and How I Defied My Destiny
by Jessica Queller
In this heartrending and heartwarming book, author Jessica Queller talks about losing her mother to cancer, then finding out she has a high likelihood of developing the disease herself due to a gene mutation.
She is then faced with an unthinkable decision: live with regular cancer screenings and prepare to fight the disease when it develops or proactively undergo a double mastectomy. Follow along with her often witty account of how she makes one of the most challenging decisions of her life and discusses the repercussions of gene mapping.
To order: Amazon
5. Dr. Susan Love's Breast Book
by Susan M. Love, MD
Susan M. Love, MD, has long been at the forefront of the breast cancer research and advocacy movement. In In Dr. Susan Love's Breast Book, she provides readers with a concise, comprehensive guide to different cancer therapy options, including safer chemotherapy options and immunologic approaches. The book The New York Times called "the bible for women with breast cancer" was updated in 2015 and is now in its sixth edition.
To order: Amazon
6. The Mayo Clinic Breast Cancer Book
by the breast health experts at the Mayo Clinic Cancer Center
After receiving a breast cancer diagnosis, many patients are immediately overwhelmed with questions. The Mayo Clinic Breast Cancer Book aims to answer many of those questions. From understanding different treatment options to coping with treatment side effects, this comprehensive guide to breast cancer offers invaluable information for both patients and their families.
To order: Amazon
7. Breast Cancer Husband: How to Help Your Wife (and Yourself) during Diagnosis, Treatment and Beyond
by Marc Silver
"Breast Cancer Husband" discusses is a first-hand account of the role a husband takes in supporting a wife with breast cancer. Award-winning journalist Marc Silver says he decided to write the book he wished he'd had after his own wife's breast cancer diagnosis.
The book discusses the unique challenges a husband faces when his wife is diagnosed with breast cancer and offers practical suggestions for coping and helping a spouse through diagnosis, treatment and recovery.
To order: Amazon