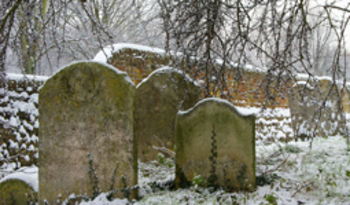 All Rights Reserved
Body burial or direct burial simply means placing a body in the ground after death, although it also applies to storing the whole body aboveground in a mausoleum, vault, or other type of crypt. The body is generally placed in some type of receptacle first.
Increasingly, people are choosing alternatives to the traditional burial, such as environmentally friendly "green" burials, or opting to handle the process on their own without involving the funeral industry.
Many of the following burial steps also apply to burying cremains, the ashes of a cremated body.
Step 1: Get a burial certificate.
State laws require that survivors secure a permit before a body can be buried. Burial permits may be obtained through any licensed funeral director, who will charge a fee for the service, or by applying in person at the local Vital Records or Birth and Death Registration office. There is generally a charge of $10 to $15 for such permits.
Step 2: Choose a burial spot.
The deceased person may have left oral or written preferences for a particular spot in which to be buried -- and those wishes should be honored if possible. Or the person may have paid in advance to secure a particular plot in a cemetery.
If no preferences were expressed, contact the cemetery of your choice for details. Or consider the possibility of handling the burial on your own, as discussed below.
Step 3: Arrange transportation for the body.
Many traditional burials involve the rite of transporting the body to the cemetery or grave site from the place where the funeral is held. This service must be specified and arranged, and there is usually an additional charge for it.
Funeral homes or private carriers can often provide the more traditional transportation of a hearse for this purpose. But many people have strong preferences for personalizing this aspect of a funeral by using, for example, a stretch limousine, a horse-drawn carriage, or an antique car.
If the burial arrangements are through a particular mortuary, it may have only one type of vehicle available. If this isn't what you desire, check to be sure it will allow you to provide other transportation and will not tack on an additional "vehicle charge" for this substitution. If this becomes a sticking point, consider doing business with another mortuary instead.
Body burial, steps 4-6
Step 4: Arrange to have the grave opened and closed.
A cemetery or other grave site owner will usually charge separately for opening and closing a grave site. Opening and closing fees typically run about $1,000, but rates are often determined by whether the grave is for an adult, a child, or an infant and whether the opening and closing occurs during normal working hours, a holiday, or the weekend.
A word to the wise consumer: Ask for an itemized list of services and charges involved, and track them.
Step 5: Purchase a burial vault or liner.
While funeral planning, you'll likely see a lot of information about burial vaults and grave liners. The stated purpose of a burial vault is to prevent the ground from caving in once it has settled.
Costs of vaults vary wildly, from $200 to $10,000 -- although in most cases, a simple concrete liner costing about $400 will provide sufficient protection. And you may also be able to keep down costs by purchasing a burial vault from an independent provider, which you can locate by searching the Internet for burial vault.
Interestingly, in most areas of the country, state and local laws don't require containers to surround the casket in the grave. However, many cemeteries require them, claiming that it helps them with maintenance. If you're opposed to purchasing a vault or liner, consider shopping around for a cemetery that doesn't require them.
Step 6: Purchase a cemetery marker, headstone, or monument.
It has become an American tradition -- and a requirement in many cemeteries and memorial parks -- to mark a burial spot with what we commonly call tombstones but what the funeral industry refers to more euphemistically as "monuments" or "memorial markers." Many sites limit markers, headstones, or monuments to a certain type or size.
Such items are commonly available from:
Monument shops

Cemeteries

Memorial parks
Tips for monument comparison shopping
There's often a high markup on monuments and markers, so consumers interested in saving money should take the time to do some comparison shopping. An Internet search for monuments and graves will yield a number of companies offering various designs and prices, which will arm you with valuable information when shopping locally.
Here are a number of other valuable tips for shopping for such items:
*Watch for markups, particularly when purchasing directly from a funeral home. Some funeral directors will emphasize the convenience of one-stop shopping that allows a consumer to get all the funeral goods and services in one place. Be aware, however, that there will often be a substantial markup on the monument or marker.
*Beware of unpriced items, particularly in shops that only sell monuments and markers. This practice allows the salesperson to manipulate the price based on the perceived affluence or insurance coverage of the shopping consumer.
*Be suspicious of a monopoly, particularly if you visit a cemetery that sells monuments and markers but doesn't mention any other possible sources for them -- or that tacks on a high charge for something that seems unclear, such as setting the foundation.
*Double-check charges for "outside" monument dealers, particularly when dealing with a memorial park that sells monuments and markers. You may see an added fee such as a "road charge" for a competitor's delivery vehicle, or an extra "installment preparation" charge.
Other body burial arrangements
Embalming and Burial
Contrary to popular belief and to what an unscrupulous member of the funeral industry may tell you, embalming is rarely required before a body is to be buried.
Exceptions may include situations in which:
The body is going to be transported by air or rail.
There's a long period of time between the death and the time the burial takes place.
Green burials
An increasing number of people are concerned about the effects traditional body burials have on the environment, given their use of formaldehyde-based embalming, metal caskets, and concrete burial vaults. Such people are opting for "green" burials that emphasize using only natural and biodegradable materials.
For more information on green burials, including cemeteries that offer them, see Green Burials. You can learn more and locate facilities at www.greenburialcouncil.org.
Handling the Burial on Your Own
Survivors who are willing and able to do so can hold a home funeral on their own or with the assistance of a home funeral practitioner. Some states require that a licensed funeral director be involved.
And home burial as an alternative to burial in a cemetery is allowed in most parts of the country, and quite common in rural areas, but it usually requires some minimum amount of acreage.
For more information, see "Caring for Your Own Dead" at the Funeral Consumers Alliance.