5 Ways to Fix a Leaky Bladder Without Surgery
These simple strategies can help control an overactive bladder.
98% helpful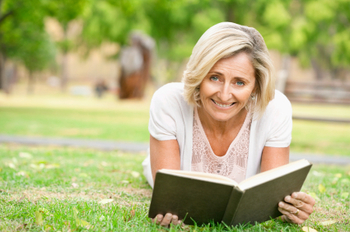 Middle-aged women and men over age 60 suffer most from overactive bladder (OAB) -- but anyone, at any age, can develop this sudden urge to urinate, also known as urge incontinence. While there are many strategies for leading a normal life with overactive bladder, the condition can often be dramatically improved in painless, nonsurgical ways, without drugs.
Unfortunately, sufferers often mistakenly assume they're stuck living with overactive bladder symptoms, according to the National Association for Continence. In a 2011 Harris Poll, women 46 to 64 ranked a weak bladder as one of the most embarrassing issues to bring up with a doctor, so they don't. Yet an accurate evaluation and diagnosis is the best first step to solving the problem.
Here are five solutions doctors often recommend for OAB:
Overactive bladder fix #1: Physical therapy
"Strengthening the pelvic muscles is the key to bladder health," says ob-gyn Jill Rabin, coauthor of Mind Over Bladder, or I Never Met a Bathroom I Didn't Like and chief of ambulatory care and urogynecology at the Albert Einstein College of Medicine in Hyde Park, New York.
A simple exercise you can do at home: Locate the muscles involved in urination by consciously stopping the flow midstream. Later (when you're not urinating), contract these same muscles for a count of five, then release for a count of ten. Repeat five times in a row. (That's one set.) Work up to doing between five and ten sets a day.
Both men and women can do these basic pelvic floor muscle exercises (or PFMEs, which you may know as Kegels, after the doctor who popularized them). "It's very similar to the muscles you build up in your arms," Rabin says. And as with other kinds of workouts, it can take up to six weeks of dedicated practice to see results.
If you feel you need help locating the right muscles, or want to be sure you're doing PFMEs properly, ask your doctor (especially a specialist like a gynecologist or urologist) to refer you to a physical therapist who specializes in these moves. "If you're not motivated to stick with it, work with a physical therapist," Rabin says.