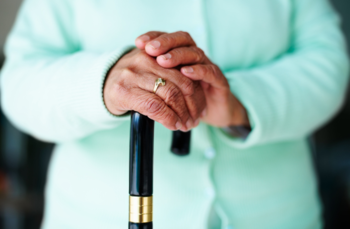 All Rights Reserved
Mobility problems affect people of all ages, but are especially common among older adults. Seniors are more likely to experience an age-related decline in mobility, as well to suffer from joint diseases such as arthritis or other chronic conditions that affect mobility.
Research by the Centers for Disease Control and Prevention shows that nearly 60 percent of Americans over 65 have issues that limit their activity in some way. That's a big problem for older folks, since the ability to get around on your own is one of the biggest factors determining whether you can live independently.
The good news, though, is the wide availability of reliable devices that can help seniors with mobility issues, including a simple walking cane.
Here's a look at some of the best walking canes for seniors on the market today
1. Vive Adjustable Walking Cane
The Vive Adjustable Walking Cane is one of the top-rated canes available today. One of its best features is that it aligns your weight with the strongest part of the cane, providing improved mobility overall. Moreover, its aluminum body makes it lighter than many other canes.
There are plenty of other things to like about this cane, including slip-resistant rubber grips, brass pin locks, and a lifetime money-back guarantee.
Pros
Wide grip that helps align weight over the strongest part of the cane
Lightweight but durable
Lifetime guarantee
Cons
One Amazon reviewer noted that the grip was too big for their hand
Some reviewers said they had trouble adjusting the cane
To order: Amazon
2. Hugo Quadpod Adjustable Cane
The Hugo Quadpod Adjustable Cane ranks among the best walking canes for seniors for many reasons, including its unique design that allows the cane to re-center itself for maximum stability as you're walking. It's also height-adjustable and can accommodate people from 5 feet tall to to 6 feet 5 inches tall.
The cane also has an ergonomically designed cushion-top handle that's made to fit comfortably in user's hands.
Pros
Ergonomic design and handle
Design re-centers itself for maximum stability
12 precision height settings
Cons
Some Amazon.com reviewers said it could be more stable
To order: Amazon
3. HurryCane Freedom Edition Folding Cane
Billed as the top-selling cane in America, the HurryCane Freedom edition model consistently receives top customer ratings thanks in part to patented technology that increases traction and improves balance. The HurryCane also designed to fold up compactly and efficiently when you're not using it.
Pros
Cane feels like an extension of your body
Patented technology designed to increase traction and improve balance
Holds up to 350 pounds
Cons
Some reviewers say it's not able to stand on its own as advertised
To order: Amazon
4. EZ2Care Adjustable Lightweight Folding Quad Cane
The manufacturers of the EZ2Care Adjustable Lightweight Folding Quad Cane are all about convenience. You can switch effortlessly between hands to change direction, and it also folds up for convenient carrying and storage.
This EZ2Care model also ranks among the best walking canes because of its heavy-duty cane tips that are slip-resistant on most surfaces, and for its solid base with a triangular support that's lightweight yet durable.
Pros
Convenient design
Built lightweight but strong
Easy to switch from hand to hand
Cons
Not as easy to take apart as some other models
To order: Amazon
5. Nova Designer Offset Handle Cane
If you've grown weary of canes that all look the same, then it's worth taking a look at the Nova Designer Offset Handle Cane. These canes come in different colors and designs to help add a splash of style to your daily routine.
But this cane not only looks good; it's also lightweight and sturdy and can handle up to 300 pounds, and is designed to provide excellent support for the hand and wrist.
Pros
Come in aesthetically pleasing designs
Sturdy but lightweight
Includes a slip-resistant rubber tip
Cons
One Amazon reviewer said the cane's locking silencer couldn't be tightened enough to avoid rattling
To order: Amazon
6. Ohuhu Folding Walking Cane
The Ohuhu Folding Walking Cane is often rated as one of the easiest-to-use walkers on the market. Among its many user-friendly features are adjustable LED lights designed to guide you in the dark, and the fact that you can adjust the light to meet your needs wherever you are.
It also folds compactly for easy storage when not in use. For additional ease of use, the cane has five adjustable height levels, an anti-slip pivoting base, and an ergonomically designed handle.
Pros
Helpful LED lights
Pivoting base
Built strong but lightweight
Cons
Some reviewers say that the base doesn't always hold as well as it should
To order: Amazon