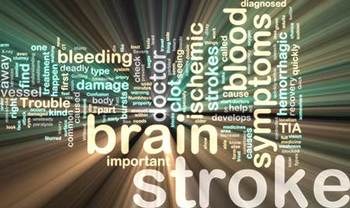 All Rights Reserved
Strokes, or "brain attacks," are among the leading causes of death and adult disability in the U.S. -- and their incidence is steadily increasing. That means it's highly likely that someone in your life may be affected by a brain attack, either as a victim or caregiver.
The shocking thing is that 80 percent of strokes are preventable. That means that stroke websites are not just for stroke survivors and their loved ones -- they're important to all of us.
Yet most of us don't look for information about strokes until after the event has happened.
Here, discover the seven best websites to help you gain knowledge about preventing, detecting, and responding to the symptoms of a stroke. Check them out now to familiarize yourself with the signs, take action to help change the risk, and be ready to assist a loved one by acting F.A.S.T.
#1 Best Stroke Website: The Internet Stroke Center
Beautiful, easy to navigate, actionable, and informative -- the Internet Stroke Center, an independent resource for stroke information, is the best on the Web. The simple design and clear wording make this site an excellent resource for patients, families, and caregivers. If you have time to look at only one website about strokes, this is the place to start -- thanks to its clear, user-friendly interface.
Most impressive is this website's dedicated section aimed at giving concise information for patients, families, and caregivers. It includes a caregiver introduction and host of information, including home modification ideas for when a loved one returns from the hospital, incontinence resources, and a caregiving guide for African-Americans.
Reducing the risk of stroke and taking actionable measures for yourself and your loved ones is also explained on the Stroke Center. For those who are dealing with the aftermath of a stroke, there is extensive information about the different effects strokes can have on a patient as well as on their family members and caregivers.
Furthermore, stroke victims, families, and caregivers can search for local trials and Stroke Centers across the U.S. The Clinical Trials Registry lists research studies by topic, disease, and location and indicates which stage the study has reached (recruiting, completed, terminated, etc.).
2 Best Stroke Website: National Stroke Association
The National Stroke Association's website is high on our list because of its scope: Everything you ever needed to know about stroke is here. You'll find informational videos and articles to help explain the biology of a stroke. It's organized to help every type of person, with categories such as "What Is Stroke?", "Prevention, Recovery, Signs, and Symptoms," and more.
Stay up-to-date with stroke news
You can stay informed about the latest in stroke research and caregiving by signing up for the site's newsletter, StrokeSmart.
Connect with other survivors and caregivers
Stroke survivors and caregivers have plenty of opportunities to connect with others who have had similar experiences. The Recovery page has useful information about healthy living, medication adherence, caregiving, and in-person support groups you can find through their registry or start near you.
Caregivers also have a dedicated online community called the Careliving Community. Members can add photos, start discussions, write blog posts, and learn about in-person events around the U.S., helping them know they're not alone.
3 Best Stroke Website: American Stroke Association
The American Stroke Association (ASA) is one of the most revered organizations among heart and stroke professionals in the U.S. As an arm of the American Heart Association, the ASA contains a plethora of information.
Spreading the word about stroke prevention
Identifying a stroke in its early stages can save someone's life and mobility. That's why ASA has an entire section focused on an educational campaign based on the acronym "F.A.S.T." This stands for Face drooping, Arm weakness, Speech difficulty, Time to call 911.
Since a large number of stroke victims in the U.S. are African American, ASA has an entire campaign called "Power to End Stroke," comprised of videos, articles, interviews, and tips dedicated to providing resources for African Americans who may be in danger of stroke.
And if you want to receive hard-copy information about strokes, you can sign up for a Stroke Education Packet.
Support for life after stroke
Those who have had experience with a stroke, either as a survivor or caregiver, know that it's important to stay connected to others with similar experiences. ASA has an entire section for family caregivers, with practical information, caregiver communication outlets, resources to relieve guilt and frustration, and personal stories.
The Stroke Family Warmline is a phone number that caregivers and recoverers can call to connect with a professional or other family caregivers and victims: 1-888-4-STROKE (1-888-478-7653).
4 Best Stroke Website: American Speech-Language-Hearing Association (ASHA)
The simple language and easy navigation of the ASHA Stroke information page make this resource painless and educational for both caregivers and survivors of strokes. The focus and expertise of this organization makes it top-notch at clearly explaining how strokes can affect communication and speech.
How stroke affects speaking
When a stroke affects a survivor's ability to communicate, it can cause difficulties in speaking, hearing, social skills, reasoning, and memory. Here you'll learn more about the range of speech language disorders associated with stroke, including aphasia, dysarthria, and apraxia.
Get help with speech recovery
If you or a loved one is looking for a speech-language pathologist to help with a speech language disorder, you can find a professional near you in the ASHA directory. You can also find information on ASHA's website about what types of activities speech-language pathologists help with when someone's speech skills and abilities are affected by stroke.
5 Best Stroke Website: Womenshealth.gov
The Heart Health and Stroke section on Womenshealth.gov is an all-around easy and informative resource for stroke information. It contains facts about risk factors, stroke prevention, and governmental campaigns on heart disease and stroke health and prevention.
Find out what to expect during stroke treatment
Many people fear what may happen at the doctor's office. What to expect at the hospital explains, step-by-step, what is likely to occur. It includes an explanation of stroke treatment and the different types of machines that are used for tests. It also includes contact information for other national organizations that provide stroke information.
Get the latest information about stroke research
The site also has a news section about stroke health, with information about up-to-date research and articles from national and government-funded studies.
6 Best Stroke Website: CDC Division for Heart Disease and Stroke Prevention
The Centers for Disease Control and Prevention (CDC) is the government's primary source of online communication about health and safety information for the American public. This means information about health topics and epidemics, including brain attacks, is among the most up to date on the Web. It's not always the easiest site to navigate, but it is an important, authoritative source of information you can trust.
Get the facts
The stroke page is a great source for facts and educational materials, including risk factors, guidelines, and recommendations for either avoiding or managing conditions relating to a brain attack. Materials, resources, and publications about heart disease and stroke prevention are available to download, and you can find information about current programs aimed at lowering stroke risk.
Learn how strokes are affecting the U.S. population and your local area
What's unique about the information on the CDC website is that it's not only highly regarded by public health professionals but it displays information about the incidence and prevalence of diseases (such as strokes) throughout the entire American population. While its resources are largely useful for professionals, the CDC's interactive maps and statistics are of interest to many members of the American public who are searching for information about this disease in relation to their home region.
7 Best Stroke Website: WebMD Stroke Health Center

The Stroke Health Center on WebMD is great spot to get information about the basics of stroke, including facts, symptoms, tests, and treatment. The stroke slideshow includes 23 slides with detailed graphics as a visual guide to understanding stroke. The online Stroke Community is vibrant, with questions and personal testimonies from users who have experienced a stroke or are caring for someone who's had one. News, research, and discoveries are also covered. WebMD is user friendly and full of up-to-date information to keep caregivers and stroke victims informed.