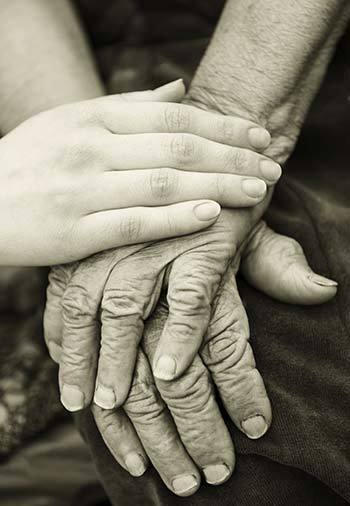 All Rights Reserved
When you receive a diagnosis of Parkinson's disease, you and your loved ones may feel overwhelmed -- and scared. It's likely you have a lot of questions: Are there symptoms we didn't notice, or will new ones crop up? What are the treatments? What should we expect, both now and as the disease progresses? The Internet has good resources that can help you find insight, guidance, and support. Here, we've ranked the top sites that help family caregivers with this complex disease.
1. MyParkinsons.org
Not many websites are built specifically for current and future caregivers for specific diseases, but MyParkinsons.org is high on our list because it's dedicated to just that audience. The site's simple, informative features are easy to navigate and provide concise and clear information.
By Caregivers, for Caregivers
Spend some time on the Commentary page and you'll find insightful stories about the real struggles caregivers face. You'll get caregiver-to-caregiver insights from stories like To pamper or not to pamper, an honest description of the dilemmas of caring for a Parkinsonian.
Helping Caregivers Meet
Sometimes the best source of comfort is an in-person support group -- and the site's list of support groups can help you find meeting places all over the U.S. and Canada. The site also has forums where caregivers can talk to one another.
Additional Resources on MyParkinsons.org
Be sure to see the site's recommended books and other online advocacy organizations and caregiver groups, which help you remember you're not in this alone.
Visit MyParkinson's.org.
More Great PD Sites
The Michael J. Fox Foundation for Parkinson's Research
National Parkinson Foundation
Parkinson's Disease Foundation
Davis Phinney Foundation for Parkinson's
Parkinson's Action Network (PAN)
The American Parkinson Disease Association
The Michael J. Fox Foundation for Parkinson's Research
Even if you don't know anyone with Parkinson's, you've likely heard of the Michael J. Fox Foundation. This is part of why it's high on our list -- the charismatic actor uses the power of his celebrity to bring attention to the need for more research into a cure for Parkinson's disease.
Fox was diagnosed with early-onset Parkinson's at the age of 30. He revealed his disease to the public eight years later and started www.michaeljfox.org to help raise awareness and funding for treatment.
Tips for Living a Full, Happy Life With Parkinson's
If your loved one is living with Parkinson's, the foundation aims to help him or her live a full, happy, and healthy life. You'll find facts on symptoms and side effects, treatment options, how relationships are affected by PD, tips to navigate care costs, and the latest research into treatments.
Insight Into Caring for Someone With Parkinson's
The site has a dedicated section for loved ones and caregivers of people with PD, including advice from Lonnie Ali, Muhammad Ali's wife. Lonnie touches upon sensitive topics including care options, marriage and PD, friendships and PD, and emotional well-being.
Supporting Parkinson's Disease Research
A major part of this foundation's work is its funding of the search for a cure. This benefits a family caregiver in two ways: First, you can be part of the effort to reduce the impact of this disease in generations to come. Second, you can look into the option of clinical trials. Many trials throughout the U.S. are actively testing new PD treatments -- and you can search for trials near you in the site's clinical trials area.
Visit michaeljfox.org.
National Parkinson Foundation
The National Parkinson Foundation (NPF) focuses on providing resources to improve quality of care for people with Parkinson's. The site shows a global network of top medical centers, care centers in community hospitals, and U.S. chapters and support groups serving 100,000 people and families with Parkinson's.
NPF's Helpline
Being able to call someone and talk about the Parkinson's journey is a huge reason why the NPF site is high on our list. The NPF Helpline is staffed with specialists with nursing and social work backgrounds who are ready to assist and support the Parkinson's community. They can provide up-to-date information about the disease and related medical issues, health and social care, emotional support, and referrals to health professionals and community resources. Helpline specialists can be reached Monday through Friday from 9 a.m. to 6 p.m. EST at 800-4PD-INFO (473-4636).
Helping PD Caregivers
In Caregiving 101," you'll find important topics for caregivers, such as 10 early warning signs of PD, bathroom safety tips, and a caregiver stress inventory.
NPF also has a YouTube channel with lots of helpful videos from professionals, caregivers, and people with PD. They point you toward education about the disease and offer day-to-day advice from professionals, answers to common questions, and stories from people living with Parkinson's.
Visit parkinson.org.
Parkinson's Disease Foundation
The Parkinson's Disease Foundation (PDF) is one of the most influential organizations in Parkinson's disease research, education, and advocacy. Its team of Parkinson's experts is available to answer questions through the National Helpline Monday through Friday from 9 a.m. to 5 p.m. EST at (800) 457-6676.
Looping Friends and Family Into the Parkinson's Puzzle
In the Support for Care Partners, Family, and Friends section, you'll find resources to help you cope with the stresses of PD caregiving. You'll also find Expert Briefings -- presentations from experts aimed at educating patients and caregivers about important aspects of the Parkinson's journey. Some Expert Briefings include:
How to Take Care of the Caregiver
Nonverbal Communication and Caring for PD
Tips for PD and Care Partners
Coping With Dementia: Advice for Caregivers
Helping Your Children Cope With PD
Visit PDF.org.
Davis Phinney Foundation for Parkinson's
The Davis Phinney Foundation strives to provide inspiration and hope for the Parkinson's community. The Victory Summit's free, traveling symposia for patients and caregivers of Parkinson's visits cities throughout the U.S. It provides education, raises funds, and showcases opportunities to start victory events in other cities.
Equipping Parkinson's Patients With Wellness Tools
The Davis Phinney Foundation's Living Well Challenge is an educational series of "webisodes" and worksheets from PD experts. Webisode topics include exercise, medical and surgical therapies, sleep and fatigue, nutrition, emotional support, safety, and more.
Additionally, the site's Live Well Today section provides tips to help Parkinson's patients and caregivers live well, with a focus on exercise, humor, nutrition, sleep, and deep brain stimulation.
Parkinson's Action Network (PAN)
Founded in 1991 by lawyer and Parkinson's patient Joan Samuelson, this organization helps create a unified voice for the Parkinson's community on numerous public policy issues, including drives for research funding for organizations like the NIH, work with the FDA on drug-approval issues, and pushes for Parkinson's-specific programs at the Departments of Defense and Veteran's Affairs. PAN has established a strong voice as the disease's national grassroots advocacy program in Washington, D.C., and continues to bring awareness to lawmakers and the general public about the effects of Parkinson's.
Educating the American Public About Parkinson's Disease
PAN is dedicated to helping people understand the disease and the urgency for finding proper treatments and a cure. The organization also provides significant hope for people with Parkinson's by working tirelessly to find a standard diagnostic test as well as to pinpoint causes and treatments.
Connecting Parkinson's Caregivers With the Cause
PAN also recognizes the importance of caregivers in the fight against Parkinson's. This website's interview series on caregiving highlights the federal and state support available to family caregivers and loved ones who help with Parkinson's care. As a politically-centered advocacy organization, PAN recognizes the scope of this disease and works to bridge the gap between policy makers and citizens.
Visit ParkinsonsAction.org.
The American Parkinson Disease Association (APDA)
The American Parkinson Disease Association (APDA) is a grassroots organization dedicated to serving and connecting Americans affected by Parkinson's. APDA works tirelessly to keep up to date on the latest findings while making sure the community is connected, organizing a plethora of local events and opportunities to connect with the Parkinson's community, young and old.
Local Events to Raise PD Awareness
Whether an optimism walk, golf tournament, 5K race, or food-and-wine tasting, you can do something fun for the sake of finding a cure for Parkinson's. Find a local event near you and connect with the Parkinson's community, or start a fund-raising campaign of your own on the APDA events page.
National Resource Center for Young Onset Parkinson's
APDA has an extensive resource center to help raise awareness and provide powerful tools to those affected by young onset Parkinson's. The National Young Onset Center is aimed at educating and supporting the unique situation of those ages 21 to 40 who are diagnosed with Parkinson's in the U.S. Young support groups, person-to-person programs, educational materials, and webcasts are among the few ways APDA helps young people connect. The Your Stories page allows people to read and share their stories within the site community.
Visit http://apdaparkinson.org/.