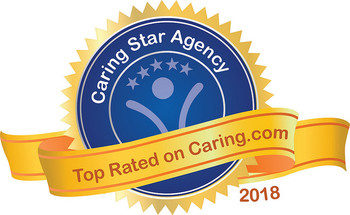 All Rights Reserved
As the population of elderly Americans grows, more and more families are considering home care for their aging loved ones. In-home caregivers can provide much-needed companionship, housekeeping and help with personal hygiene that allow older adults to stay independent and age safely in their home.
Oftentimes, families turn to home care agencies to find those reliable caregivers whom they can trust to invite to their home. These agencies do the crucial work of ensuring that caregivers have the right training, screening and supervision to assist elderly adults.
But with thousands of home care agencies in the U.S., it can be hard to know which ones to choose. That's why Caring.com has once again compiled our annual list of the best home care agencies in America, based on nearly 25,000 consumer reviews for home care agencies.
This year, we're excited to highlight more than 253 agencies in 34 states that have earned top marks from seniors and families who've used their services. To qualify for the recognition, agencies must have 10 or more consumer reviews on Caring.com and an overall average rating of 4.5 out of 5 stars, among other criteria. Families working with these agencies can have peace of mind knowing that their loved ones are in good hands.
Looking for top senior living communities? See our list of senior living community winners.
Best Home Care Agencies By State
Best Home Care in Alabama -- 7 Caring Stars of 2018
Baldwin County
Calhoun County
Jefferson County
Lee County
Mobile County
Best Home Care in Arizona -- 9 Caring Stars of 2018
Maricopa County
Pima County
Yavapai County
Best Home Care in California -- 28 Caring Stars of 2018
Alameda County

Kindred at Home - Personal Home Care Assistance

Butte County
Fresno County
Los Angeles County
Marin County
Monterey County
Orange County
Placer County
Riverside County
Sacramento County
San Bernardino County
San Diego County
San Mateo County
Santa Clara County
Sonoma County
Best Home Care in Colorado -- 6 Caring Stars of 2018
Arapahoe County
Boulder County
Denver County
Jefferson County
Best Home Care in Connecticut -- 2 Caring Stars of 2018
Fairfield County
Tolland County
Best Home Care in Florida -- 26 Caring Stars of 2018
Brevard County
Broward County
Clay County
Duval County
Hernando County
Hillsborough County
Lake County
Miami-Dade County
Orange County
Palm Beach County
Pasco County
Pinellas County
Polk County
Saint Lucie County
Sarasota County
Volusia County
Best Home Care in Georgia -- 4 Caring Stars of 2018
Floyd County
Fulton County
Hall County
Best Home Care in Illinois -- 19 Caring Stars of 2018
Cook County

Inspired Care Home Health

DuPage County
Lake County
Sangamon County
Will County
Best Home Care in Indiana -- 6 Caring Stars of 2018
Delaware County
Hamilton County
Lake County
Marion County
Putnam County
Vanderburgh County
Best Home Care in Kansas -- 2 Caring Stars of 2018
Johnson County
Sedgwick County
Best Home Care in Kentucky -- 3 Caring Stars of 2018
Daviess County
Jefferson County
Kenton County
Best Home Care in Louisiana -- 1 Caring Star of 2018
Best Home Care in Maine -- 1 Caring Star of 2018
Best Home Care in Maryland -- 8 Caring Stars of 2018
Anne Arundel County
Carroll County

Frederick County

Howard County

Montgomery County
Best Home Care in Massachusetts -- 6 Caring Stars of 2018
Bristol County
Norfolk County
Plymouth County
Worcester County
Best Home Care in Michigan -- 7 Caring Stars of 2018
Kent County
Macomb County
Monroe County
Oakland County
Saginaw County
Wayne County
Best Home Care in Minnesota -- 1 Caring Star of 2018
Best Home Care in Missouri -- 8 Caring Stars of 2018
Boone County
Clay County
Greene County
Jasper County
Saint Louis County
Best Home Care in Nebraska -- 1 Caring Star of 2018
Best Home Care in Nevada -- 5 Caring Stars of 2018
Clark County
Washoe County
Best Home Care in New Hampshire -- 1 Caring Star of 2018
Best Home Care in New Jersey -- 11 Caring Stars of 2018
Atlantic County
Bergen County

A-1 Health Care Services, Inc

Burlington County

Care4U Home Health Services, LLC

Camden County
Essex County

Assisting Hands Home Care

Mercer County
Somerset County
Warren County
Best Home Care in New York -- 9 Caring Stars of 2018
Nassau County
New York County
Rockland County
Suffolk County
Westchester County
Best Home Care in North Carolina -- 9 Caring Stars of 2018
Craven County
Forsyth County
Iredell County
Mecklenburg County
Rowan County
Wake County
Best Home Care in Ohio -- 11 Caring Stars of 2018
Columbiana County
Cuyahoga County
Franklin County
Hamilton County
Lake County
Lorain County
Lucas County
Montgomery County
Portage County
Best Home Care in Oklahoma -- 1 Caring Star of 2018
Best Home Care in Oregon -- 8 Caring Stars of 2018
Deschutes County
Jackson County
Linn County
Marion County
Multnomah County
Washington County
Yamhill County
Best Home Care in Pennsylvania -- 12 Caring Stars of 2018
Allegheny County
Bucks County
Cumberland County
Dauphin County
Lehigh County
Montgomery County
Best Home Care in South Carolina -- 4 Caring Stars of 2018
Anderson County
Greenville County
Horry County
York County
Best Home Care in Tennessee -- 5 Caring Stars of 2018
Shelby County
Hamilton County
Madison County
Williamson County
Montgomery County
Best Home Care in Texas -- 18 Caring Stars of 2018
Bexar County
Comal County
Dallas County
Denton County
Ellis County
Galveston County
Harris County
Jefferson County
Lubbock County
Mclennan County
Navarro County
Travis County
Wise County
Best Home Care in Utah -- 1 Caring Star of 2018
Best Home Care in Virginia -- 6 Caring Stars of 2018
Frederick County
Hampton City County
Loudoun County
Manassas County
Winchester County
Best Home Care in Washington -- 3 Caring Stars of 2018
Grays Harbor County
Pierce County
Spokane County
Best Home Care in Wisconsin -- 7 Caring Stars of 2018
Eau Claire County
Fond Du Lac County
Kenosha County
Outagamie County
Ozaukee County
Racine County
Right at Home Central Maryland - Frederick
Howard County

Montgomery County
Best Home Care in Massachusetts -- 6 Caring Stars of 2018
Bristol County
Norfolk County
Plymouth County
Worcester County
Best Home Care in Michigan -- 7 Caring Stars of 2018
Kent County
Macomb County
Monroe County
Oakland County
Saginaw County
Wayne County
Best Home Care in Minnesota -- 1 Caring Star of 2018
Best Home Care in Missouri -- 8 Caring Stars of 2018
Boone County
Clay County
Greene County
Jasper County
Saint Louis County
Best Home Care in Nebraska -- 1 Caring Star of 2018
Best Home Care in Nevada -- 5 Caring Stars of 2018
Clark County
Washoe County
Best Home Care in New Hampshire -- 1 Caring Star of 2018
Best Home Care in New Jersey -- 11 Caring Stars of 2018
Atlantic County
Bergen County

A-1 Health Care Services, Inc

Burlington County

Care4U Home Health Services, LLC

Camden County
Essex County

Assisting Hands Home Care

Mercer County
Somerset County
Warren County
Best Home Care in New York -- 9 Caring Stars of 2018
Nassau County
New York County
Rockland County
Suffolk County
Westchester County
Best Home Care in North Carolina -- 9 Caring Stars of 2018
Craven County
Forsyth County
Iredell County
Mecklenburg County
Rowan County
Wake County
Best Home Care in Ohio -- 11 Caring Stars of 2018
Columbiana County
Cuyahoga County
Franklin County
Hamilton County
Lake County
Lorain County
Lucas County
Montgomery County
Portage County
Best Home Care in Oklahoma -- 1 Caring Star of 2018
Best Home Care in Oregon -- 8 Caring Stars of 2018
Deschutes County
Jackson County
Linn County
Marion County
Multnomah County
Washington County
Yamhill County
Best Home Care in Pennsylvania -- 12 Caring Stars of 2018
Allegheny County
Bucks County
Cumberland County
Dauphin County
Lehigh County
Montgomery County
Best Home Care in South Carolina -- 4 Caring Stars of 2018
Anderson County
Greenville County
Horry County
York County
Best Home Care in Tennessee -- 5 Caring Stars of 2018
Shelby County
Hamilton County
Madison County
Williamson County
Montgomery County
Best Home Care in Texas -- 18 Caring Stars of 2018
Bexar County
Comal County
Dallas County
Denton County
Ellis County
Galveston County
Harris County
Jefferson County
Lubbock County
Mclennan County
Navarro County
Travis County
Wise County
Best Home Care in Utah -- 1 Caring Star of 2018
Best Home Care in Virginia -- 6 Caring Stars of 2018
Frederick County
Hampton City County
Loudoun County
Manassas County
Winchester County
Best Home Care in Washington -- 3 Caring Stars of 2018
Grays Harbor County
Pierce County
Spokane County
Best Home Care in Wisconsin -- 7 Caring Stars of 2018
Eau Claire County
Fond Du Lac County
Kenosha County
Outagamie County
Ozaukee County
Racine County
Waupaca County