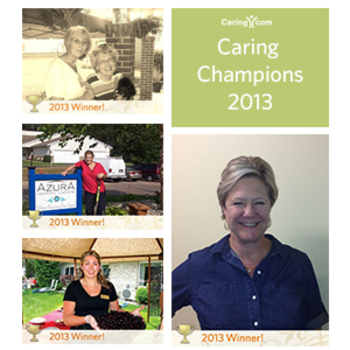 All Rights Reserved
Searching for a senior living community for loved ones involves many questions. Will Mom and Dad adjust to their new home? Will they make friends? Will they be treated with kindness and respect? Will they be safe?
The best senior living communities do all they can to calm your concerns, but there's nothing like knowing that your elder will be cared for by someone who treats him or her like family. We're grateful for those senior living caregivers who love working with the aging population, who take the time to hold a nervous hand or get that extra blanket, who notice when something seems "off" and won't rest until that elder gets the necessary help. These Caring Champions are angels among us, and we can learn much from them. They remind us that there are amazingly kind, thoughtful, empathetic, professional, competent caregivers who exemplify the qualities we seek in every senior living caregiver.
1. They Show Sound Judgment and Confident Care.
Great caregivers have a sense of what an elder might not be able to communicate verbally. This ability takes focus, courage, and confidence. Speaking up and sometimes speaking out to meet the needs of our aging population is vital to the well-being of our elders.
Amanda E. of Rittenhouse Senior Living of Portage, in Portage, Indiana, exemplifies what it means to be a truly outstanding caregiver. Amanda leads a monthly support group and teaches caregivers how to recognize the signs of caregiver stress and burn out. She teaches them that it's ok to ask for help. "When I think of Amanda, the word amazing is the first word that comes to mind. It is not often you meet someone who is so well versed in all aspects of eldercare. She understands the residents' needs, as well as, the staff's. She is able to multi-task and follow up to ensure quality is maintained." says Marsha Leonard, Amanda's supervisor. "Amanda is attentive to each resident and ensures the fine details of each resident's care plan are followed. . . . I am proud to have her on my team of caregivers."
2. They Treat Elders With Dignity.
Good caregivers consider it a privilege to care for our elders. They see into the hearts and lives of those in their care and meet each one of them with respect. Those receiving care know when they're valued, and respect goes both ways. Elders and family members who are treated with dignity respond with trust and cooperation.
Abby S. at Boardman Lake Glens in Traverse City, Michigan, is known for the way she honors the elders in her care. "Abby goes beyond the call of duty to not only give each of our residents top-notch physical care but always to maintain their dignity as well gain their love and trust. She talks with them and not at them. Residents at Boardman Lake Glens ask for Abby by name. Abby also helps train other care providers."
3. They Create and Sustain a Nurturing and Welcoming Environment.
Have you ever walked into a room and known instantly that everything about the place and everyone there contributed in some way to creating a warm, safe, and happy environment? Great caregivers are usually at the center of making good things happen. We can't help but pick up on the positive influences around us, and elders especially appreciate being surrounded by great caregivers who share personal warmth.
Cathy M. at Emeritus at Woodstock in Woodstock, Georgia, is known for her smile. As concierge, Cathy is the one who greets family and seniors as they go about their day. She's known for her purpose and passion. Cathy leads an exercise class each morning and the residents are so eager to work out and be with her that they come looking for her before class begins. "The residents and their family members love Cathy," says Kimberly Taylor, supervisor at Emeritus.
4. They Have an Experienced, Well-Trained Caregiving Style.
What's a caregiving style? Style comes with confidence, and real confidence comes from experience. It's obvious when someone is good at what they do. They take a challenging situation and meet it with ease. Some caregivers are just that good.
Dawn L. is a geriatric nurse's assistant at Roland Park Place in the heart of Baltimore, Maryland. Dawn is known for her positive attitude. She's patient and dependable. She has a gentle touch and an authentic caregiver style, and she strives to meet the needs of each elder in her care. She creates a sense of trust that comes with her 19 years of experience in the senior-care field. Her warm, personable way of connecting with the elders she cares for eases tensions and inspires her peers.
Dawn is so respected among her peers that she often trains others in the geriatric field, and her approach to care is frequently emulated by others on the staff. "One resident calls her 'daughter' and will not do certain things for anyone except Dawn," says Tanya Allen, a professional peer. No wonder Dawn shares the distinction of being a Caring Champion.
5. They Practice Creative Caregiving.
Maria S. at Aspen House in Loveland, Colorado, is called the "dementia whisperer." She cares for ten ladies who all suffer from the disease, and Maria knows how to approach each one. Standout caregivers don't give up, not even when those they care for are confused, angry, depressed, or shut off from the world. They find ways to bring out a smile. Not only are these caregivers well trained, they go outside typical training and incorporate whatever works to help those in their care.
One of Maria's ladies dreaded the shower. She'd show her teeth and refuse to bathe. Maria didn't give up. She simply rolled up a washcloth for the woman to bite -- providing a safe outlet for the woman's frustration. She plays music during personal hygiene care and during shower times. She even hosts weekly tea parties for the ladies in her care, serving pastries and tea and providing music. Several clients' families commented on how their loved ones, who were uncommunicative and unhappy, began to smile and share in ways they haven't in years. Maria's creative caregiving allows her to tap into the true essence of those she cares for. Her attentiveness helps her be aware of each woman's physical and spiritual needs and expectations.
6. They Incorporate the Family Into the Elder's Care.
The diseases and care concerns of the aging affect everyone around them. Good caregivers know how important it is help family members and others who are close to the elder feel welcome and comfortable. They offer assistance as to how to best interact and how to become an advocate when needed. They know that elders need their loved ones, but many people are afraid and pull away. They don't understand the disease and "leave it to the professionals," not realizing that family is vital, especially in those last precious months and days.
Bunny C. of Azura Memory Care of Eau Claire, Wisconsin, is an RN whose tireless dedication to her clients is known throughout her community. She works double-duty, dividing her time between Mayo Clinic and Azura Memory Care. Even the staff appreciates Bunny so much that they trust their own loved ones' care to her.
Bunny understands that dementia has an impact on elders -- and on everyone who knows and loves them. She works to help families understand that it is the disease and not their loved one who can't remember their name or who strikes out at them. Her compassion and heart show in the way she interacts with the residents, their families, and their medical professionals. She is always willing to lend an ear, a suggestion, or a shoulder.
7. They Know It's a Calling, Not Just a Job.
Time and time again the word "calling" was used to describe the Caring Champion nominees. When a caregiver considers what they do a calling, it changes everything. They approach the day with gratitude and believe they receive more than what they're giving. Not many working professionals feel that way, but exceptional caregivers do. They approach each elder with respect and profound tenderness. They know that at times they'll be exhausted, frazzled, and even befuddled as to how to help their clients, but they don't give up or give in. They persevere because they know that what they do is important and even crucial to the well-being of elders. It's not always easy to be a caregiver, but a great caregiver knows it's worth it.
Dorothy B. in Autumn Cove Retirement Community in Anniston, Alabama, is a proud Caring Champion who loves caring for seniors. Working with elders who have memory issues, Dorothy must balance her daily caregiving duties with her patients' moods, needs, and occasional flare-ups. This makes every day unique and sometimes challenging, but Dorothy knows how to soothe ruffled emotions. She recently had a client who suffered terrible nervous episodes. Dorothy patiently worked with her, calming her down and holding her hands until her anxiety passed. She took the extra time to help her client learn how to manage her emotions even when it meant other responsibilities had to wait. "People first" is the way Dorothy approaches life.
8. They Relate and Look for Ways to Make a Difference.
Some seniors have a difficult time adjusting to their move into a care home. Even when they're surrounded by caring folks, they might not "click" right away. Notable caregivers know how to pull people out of their shells. They are constantly assessing, making sure that people are safe and that their care needs are met. They find ways to make life sweeter and the transitions easier. They're down-to-earth people who make an impact in their community.
There are many career paths in elder care -- nutritionists and cooks, registered nurses and nurse's aides, administrators, groundskeepers and maintenance staff. Assisted living communities are like a small village with one central focus: providing excellent care for the aging population. John B. at Emeritus at Palm Village in Hilton Head, South Carolina, serves in the maintenance department. John not only keeps the place running smoothly but he also takes the time to interact with the staff and clients alike. John is a giant-sized teddy bear of a man. He always has a smile on his face and likes to sing while he works.
John is a dedicated Baltimore Ravens fan. He made an unlikely buddy with a female resident who loved the Steelers and was as tiny in stature as John is large. They'd chide each other about their teams and she loved getting "fired up." After a stay in the hospital, John's football buddy returned to her room to find a bouquet of flowers in her beloved Steelers colors -- and she knew where they came from. When she was placed in hospice, John made it his business to visit her every day.
John even takes his own time to take several men in the community fishing. He meets people where they are and makes their lives better.
9. They Go Above and Beyond Any Job Description.
Great caregivers wear many hats. They never say, "That's not my job" when it comes to providing quality care for their elders. Whether it's finding an extra blanket or sneaking in a late-night pudding cup, they do all they can to make sure those in their care are provided with the creature comforts that make life sweet. But it's not just about the soft side of care. Great caregivers go out of their way to advocate for their clients. They're not afraid to get on the phone and make some noise to get what patients need and deserve. They're not hung up on title or position, because they know that care is what really matters.
Meg B. of Promenade Senior Living at Blue Hill, Pearl River, New York, is an RN who thinks there's no such thing as a job description. Meg will do whatever is needed to ensure her residents have a quality day. She's known to come early and stay late. She has come in on her day off to avert an emergency or help ease the worries of a new resident. Meg can often be seen walking a resident to the dining hall. She extends her expertise to help train and coach care managers. She's easy to approach with questions or concerns, and she doesn't leave until her residents are resting peacefully.
10. They're on "Team Care."
No lone rangers here! Exceptional caregivers know that caregiving is a team sport. They're a part of an integral circle of care. They pinch-hit whenever necessary by covering shifts when someone can't come in, without waiting to be asked. At Emeritus at Seabrook in Everett, Washington, personal care product coordinator Vai F. leads Seabrook's Better You program, sponsored by Emeritus. Vai has aspirations of becoming an LPN. As a team player, she helps in almost every department -- dietary, cooking, med tech, administrative -- and is good at everything she does. Caring Champions like Vai understand that the best care doesn't come from just one person but from many who are all dedicated to the same purpose -- great care.