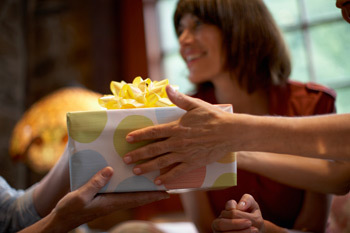 All Rights Reserved
Are you looking for a great gift for an amazing caregiver? Do you want to thank them for the joy they bring to everyone around them? Here at Caring.com we know just how special those caregivers are -- and we've found thoughtful and helpful gifts they'll appreciate. Some gifts give comfort and help make everyday life easier. This year we've featured alarm clocks that help you remember important appointments and medications by using your own voice recordings, the most amazing massager to help you work out the kinks of a long caregiving day, and more.
What if you have several caregivers and care aides for whom you'd like to show your appreciation? For inexpensive yet thoughtful gifts, let Caring.com help you show the caregivers in your life just how much you appreciate them. Even though the holidays are here, you can breathe a sigh of relief . . . caregiver gift giving just got a whole lot easier.
Gifts Under $30
Hulu Plus
This year we're featuring one of the major media streaming possibilities: Hulu Plus. For $10 a month or less, you can watch your television shows when you have the time. It's easier to operate than most VCR/recording devices and offers thousands of shows/episodes, movies, and documentaries. You don't have to set up a recording time; just scroll through their vast choices and click -- television shows and movies are there when you have the time. Sign up or buy a subscription to Hulu Plus today.
Price: $7.99 per month
Amazon.com Gift Card
Do you have a caregiving tribe and want to show all your caregivers and aides what they mean to you? You can order multiple gift cards on Amazon for all kinds of goodies your care buddies will love. Purchase a four-pack of Starbucks, Rocky Mountain Chocolate Factory, Omaha Steaks, or Amazon gift cards. Amazon makes gift giving easy -- for all the people who make your life a little easier each and every day. Choose from various holiday gifts cards
Price: Starting at $10
Can't We Talk About Something More Pleasant? A Memoir
Our next selection is bound to unleash smiles and even belly laughs. Author and New Yorker cartoonist Roz Chast, who wrote Can We Talk About Something More Pleasant? A Memoir, is a 2014 National Book Award Finalist. Her book is based on her experiences with her own aging parents. Roz nails the adult-child's caregiving experience! The cartoons and captions tap into the worries, frustrations, and hilarities on the sweet and bittersweet journey every caregiver knows oh-so-well. Do yourself a favor and order this book.
Price: $17.71 Hardcover, Kindle $11.99
Creating Moments of Joy for the Person with Alzheimer's or Dementia: A Journal for Caregivers

Creating Moments of Joy for the Person with Alzheimer's or Dementia: A Journal for Caregivers, by Jolene Brackey, is a caregiver perennial book. Inside Creating Moments of Joy is a reaping of wonderful ideas that help caregivers and their loved ones focus on how to glean joy and meaning from caring for their loved one struggling with dementia. You'll find inspiration, great ideas, and practical ways to create and capture moments of joy with your loved one.
Price: $17.99
Hot-Beverage Warmer
Want to know one of the most frustrating things about being a caregiver? Never being able to finish a hot cup of coffee or tea. It seems like there's always an interruption, and by the time you finally lift your cup, it's cold. If you're looking for a small yet thoughtful gift, then consider this hot-beverage warmer. It works like a heated coaster and requires no special mugs or glassware. Just use your own standard-size 3.5" mug or cup. With dual temperature settings (high or low), you can enjoy your beverages piping hot or just comfortably warm. Consider combining this beverage warmer with a funny mug, some tea bags, or hot chocolate, and you've got a gift set that's sure to please.
Price: $19.99
Aromatherapy Tabletop Diffuser
Caregivers experience a tremendous amount of stress. Lack of sleep, worry, exhaustion, doing all they can to alleviate their loved one's pain and meet their needs -- it can all can build and build. What if there were a way to take the edge off at least some of the stress, for the caregiver and their care person? Aromatherapy has long been proven to help alleviate stress, calm anxieties, and -- depending on the essential oils used -- even help with concentration.
Price: $31.99 (from Massage Wearhouse)
The Guide to Essential Oils and Aromatherapy (Book): $24.99 (Buy your copy today.)
Lotus Organic Essential Oils: $6.35 (Buy essential oils here.)
Medcenter Talking Alarm Clock and Medication Reminder
Any caregiver will tell you that keeping up with medications can be a challenge. The Talking Alarm Clock and Medication Reminder by MedCenter does more than just beep and blare. This alarm clock is easy to use, with big buttons, large numbers, and loud and extra-loud alarm settings. You can program the device with your own voice and play back a personal message or reminder for each alarm. All these features make it a thoughtful gift for a caregiver or the care receiver. With four alarms for each day, optional AC adaptor (sold separately or in combination), and "Easy Set" mechanics, the Talking Alarm Clock helps caregivers manage their busy schedules and ensures proper timing of medication, appointments, exercise, or food needs.
Price: $29.99
Gifts Under $50
Chromecast
Do you know a caregiver who has missed out on a favorite show because they were in the middle of caregiving and just couldn't stop? If they forgot to set their DVR (or couldn't figure out how to), then we've found the perfect gift. Streaming media ensures access to television movies and music and is easier to use than you think. If you (or your caregiver) have an HDTV television and a home Wi-Fi network, then consider Chromecast as this year's amazing and inexpensive holiday gift. Costing less than $35.00, Chromecast is easy to install: Just plug into a slot on the side or back of your television. Download the Chromecast app to your Android or IOS 6 or higher (Apple) phone, laptop, or tablet device, and you'll have access television shows, movies, music, and more. It literally turns these devices into your remote, which is quite nifty all on its own!
Chromecast allows you to download from YouTube, music from Google Music or Pandora, movies from Google Movies and TV, or to sign up for a subscription to Hulu Plus and catch up on your favorite TV shows (you can play older seasons and episodes of many shows, so it can take the place of a DVR). Chromecast is so small you won't even know it's there, and you can even take it with you when you're traveling -- perfect for the long-distance caregiver or one who needs to travel. Just connect it to another television and continue to enjoy your media wherever you go. (Google Music and Television included; Hulu Plus, Netflix, HBO Go, and other options can be streamed through Chromecast at an additional cost.)
Sounds complicated? It's not. Chromecast takes only minutes to install, and you just might find yourself saying bye-bye to that expensive cable bill.
Price: $32.49
Back and Shoulder Massager
Yes, a gift card for a massage is a thoughtful caregiver gift, but only if it gets redeemed. If you know a caregiver who just can't get away, someone who would appreciate immediate relief, then consider this Acu-Masseur Massager. This is the best of the best; it's the massager that massage therapists buy for themselves. It offers the perfect reach for those hard-to-reach places, and it really gives on-the-spot relief for back and shoulder stress and pain. If you know that your caregiver won't get around to using that gift card, then this massager might just be the perfect gift.
Price: $44.95. Check out the Acu-Masseur Massager on Massage Warehouse.
Ike Behar Reversible Fashion Wrap

Caregivers are busy people, but they still want to look great even while running errands, heading out for a doctor's appointment, or going out for lunch with friends. This reversible poncho is perfect to throw on and head out the door with some sass and style.
The Ike Behar Reversible Fashion Wrap offers comfort and style at an affordable price. With two sides to choose from, it's a versatile grab-and-go gift for the caregiver in your life. At this price you might want to buy several (and keep one for yourself)!
Price: $48 (Prices may vary)
Gifts Over $100
Smartwatches for the Techie Caregiver
Does your caregiver deserve a bit of a splurge? If he or she happens to love their smartphone, then they'll go bananas for a smartwatch. If all this sounds too techie, we'll make it easier. A smartphone is a phone that has the capability of sending/receiving texts and emails, offers Internet access, and has apps/programs you can "open" (games, helpful items such as a calendar, pedometer). You can also play music and read or listen to books on your smartphone, so in many ways it serves as a portable computer. Smartphones come as an iOS/Apple operating system; all others are considered Androids. What that means is that you have to buy a smartwatch that's compatible with your smartphone (Apple phone to Apple watch, Android phone to Android watch). Once you know which type of phone your caregiver has, picking out the perfect splurge (a smartwatch) is easy.
If they have an Android phone, one of the best smartwatches out there is the Pebble Steel.
The Pebble Steel is one sleek watch, but it's more than a watch. It's synced to your phone. If you're getting a text or email, you can simply glance at your watch. No more fumbling in your purse or back pocket for your phone. The Pebble Steel comes with a black leather band and offers marine-grade stainless-steel and Corning Gorilla Glass and customized digital watch faces. You can download dozens of apps (so it can be used much like your smartphone), and it's waterproof and easy to use. Its rechargeable battery lasts five to seven days on a single charge. You can even control your music through ITunes, Spotify, or Pandora right from your wrist. The Pebble Steel is definitely an impressive gift!
Price: $199 (Prices may vary)
If your caregiver has an Apple iPhone, the good news is that there is an Apple Watch. To learn more about the Apple Watch, view this video.