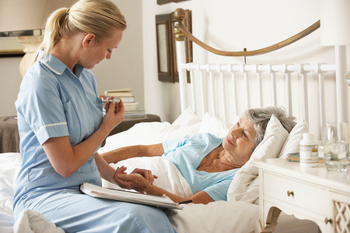 All Rights Reserved
Palliative care is specialized medical care for people with serious illnesses, and is meant to manage symptoms and improve patients' quality of life. Some research shows that those who receive palliative care at home have a higher quality of life and live longer than others with similar conditions – and need to go to the hospital less often in the long run.
But for doctors and patients to start getting the most out of home-based palliative care, experts say we need a paradigm shift away from viewing this type of care as the first step toward end-of-life care. Rather, palliative care can help patients and their families heal, prevent worsening health, or help them gain a higher quality of life despite their illness or injury through care that's in keeping with their values.
"Palliative care is a new approach to care of people with serious illness that focuses on maximizing the quality of life for the patient and their family," explains Diane Meier, MD, director of the Center to Advance Palliative Care (CAPC). Home-based palliative care focuses on symptom management and psychological and spiritual supports, in the context of the patient and families' goals, she says.
There are three broad categories of people who can benefit from home-based palliative care, explains Meier. The first includes people with a serious condition that can be cured or healed, but only with time. The second category is people living with an incurable chronic condition who can benefit from added support and care at home. And the final group are people who may be progressing to the end stage of their illness, but have at least a year or more of living still to do.
The Home-Based Palliative Care Team
The key to understanding who will be involved in home-based palliative care is to know that your team will be "needs-driven, not prognosis-driven," says Meier. That means a group that includes professionals you'd expect on a care team, such as a nurse or a physical therapist, as well as others that might be new to you, such as a social worker.
"We consider palliative care to be another layer of support. Some think it should start at diagnosis, no matter the prognosis," emphasizes Susan Hedlund, manager of patient and family support services for the Oregon Health and Science University Knight Cancer Institute in Portland, Oregon.
You're not alone if you think of palliative care purely as pain management, or "hospice lite" says Hedlund, but it's more than that. Palliative care teams include specialists who focus on physical, psychological, and spiritual care of the patient and their family, depending on identified needs. This is a level of care that is more intensive and holistic than home health, which is typically short-term and goals driven, for people who do not need or qualify for hospice care.
And, each provider may have different offerings. For example, Home Care Assistance of Cincinnati offers two social workers and two occupational therapists who can work with your palliative care team.
"In regards to palliative care at home, we specialize in keeping people comfortable with quality of life at the level where our clients are. That means adapting to changing needs along the way and knowing the resources available as well as training caregivers to understand behavior changes and how to respond to them," explains co-owner Liz Sudberry.
Each community is likely to have a different set of home-based palliative care services available, because there are no standards in place and reimbursement for these services is inconsistent. In some communities, palliative care teams are available to provide a web of services directly in people's homes. In other communities, according to Huntsville Hospital experts in Alabama, services may be provided through a personalized team arrangement drawing creatively on other local models such as home health and hospice care.
In rural areas, such as parts of Vermont, your family may be able to take advantage of teleconsulting services that connect families – even distant relatives in other states – with local community care workers and palliative care experts, says palliative care expert Robert Gramling, MD, Division Chief, Palliative Medicine at the University of Vermont Medical Center in Burlington, Vermont.
7 Benefits of Home-Based Palliative Care
The following are some of the key benefits of home-based palliative care:
1. You're at home. "Ninety-nine percent of people would rather be at home than in the hospital," says Meier. Your home is likely more comfortable and familiar, as well as less costly and, in some instances, safer than hospital-based care. Meier points out that although hospital staff work hard, the risk of getting an infection there is likely greater than at home.
2. Family caregivers get more support. Palliative care training for medical staff includes paying attention to and addressing the needs of family caregivers, who risk depression and exhaustion in many cases.
3. You'll have better problem-solving. "It is very hard to do an accurate assessment of a patient and family's need when they are in the hospital," notes Meier. Palliative care team members who visit the home may be in a better position to observe specific needs, such as adding grab bars throughout the home to enhance safety or difficulty storing and preparing food.
4. You save energy. Being in the hospital is tiring – as is constantly traveling to and from medical office visits. Home-based palliative care means that for a period of time, much of your care team can come to you.
5. Your team could prevent worsening health. Home-based palliative care can prevent unnecessary trips to the emergency room or a return to the hospital. Your team may also be able to advise you on ways to make your residence safer, which can lower the risk of accidental injury, or identify other needs, such as infection prevention, respiratory rehabilitation, home-delivered meal programs or social services that could enhance your quality of life and reduce isolation and depression.
6. You'll maintain care coordination. Whether you're getting home-based visits or telehealth consultations, home-based palliative care should support care coordination with specialists. And you can continue to get any regular treatments, such as chemotherapy, in a clinic setting as well.
7. You'll get more out of hospice care. Home-based palliative care does not mean you'll go to hospice, although some palliative care patients do transition to hospice. Lee Shaw, Director of Business Development at Hospice Family Care in Huntsville, Alabama, says that those who have been cared for under a palliative care model are able to have a higher quality hospice care experience in part because they and their family have already clarified their values for care.
Asking Your Doctor About Palliative Care
Nationally, professionals like Meier, Gramling and Hedlund are advocating for home-based palliative care. But there are steps anyone can take to access home-based palliative care for your family, or improve access in your community.
The first step is to ask your doctor for home-based palliative care or a palliative care consult if you feel symptom management and quality of life needs are beyond what home health can assist with. When you discuss this, think about all the aspects of your family's situation with which palliative care can help.
This includes the immediate needs of pain or chronic disease management, but also less concrete (but equally important) goals around quality of life for your family. Think of home-based palliative care as filling the gap on a spectrum of services between home health and hospice care.
"From a community standpoint, you can advocate within your hospital system for home-based palliative care or get involved with legislation so more care can be offered in the home," advises Jennifer Vann, DNP, CRNP, coordinator of Huntsville Hospital Palliative Care in Huntsville, Alabama.
By asking for the care you need, you'll be part of a growing trend that could change the way care is provided.