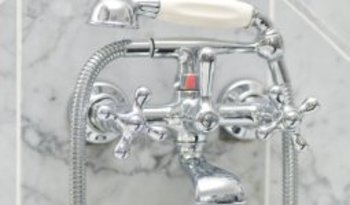 All Rights Reserved
Many elder accidents occur in the bathroom. If an older adult is going to live with you, it's essential to set up -- or in some cases remodel -- your bathroom to make it safe and comfortable for her.
General bathroom safety
Bathroom door If the person you're caring for uses a walker or wheelchair, the door needs to be at least 32 inches wide. (If she doesn't use such a device yet but you're remodeling, consider a wide door in case she does later.)

Doorknob A conventional doorknob can be difficult for older adults with arthritis or poor hand strength to grasp and turn. If that's an issue, replace the knob with a lever or push-button device for easy opening.

Bathroom floor  The floor should have a nonslip surface, as should standing areas in the bathtub or shower. Either remove throw rugs or place antislip mats under them.

Taps All hot water outlets in sinks, showers, and tubs should have antiscald devices (sometimes called thermostatic mixing valves) installed to prevent burns. As an alternative, you could lower the thermostat on the hot water heater to 110 to 120 degrees Farenheit; however, be aware that legionella bacteria can grow at temperatures below 140 degrees.

Emergency alerts Install an emergency buzzer or phone accessible from the tub, toilet, or shower so that she can alert the household or others if she needs immediate help. It may not be possible for her to get help simply by calling out, especially if she has a frail voice and the bathroom is removed from other living quarters.

Lock Install a lock that can be opened from the outside even while locked from the inside. If a person falls or becomes unconscious while inside a locked bathroom, you need to get in quickly.
Bathroom tub and shower comfort and safety
\ *Walk-in tub or shower A walk-in tub or shower with an opening door enables an older adult to step directly in rather than up, over, and down. This can help prevent falls.
\ *Grab bars Put easily accessible grab bars in the tub or shower. Grab bars should be able to support her weight and should have a circumference of 1.5 inches. Allow about 2 inches between each grab bar and the shower wall.
\ *Battery-powered lift If she can't easily get up and down by herself, a battery-powered, waterproof chair can raise and lower her into the tub.
\ *Fold-down seat A fold-down seat securely attached to studs in the wall can be useful to anyone who might get dizzy in the shower.
\ *Handheld showerhead A mobile showerhead makes it easier for her to direct water where she wants it without shifting around, minimizing potential slips.
\ *Taps The hot and cold water controls should have easy-turn levers and be easy to reach while outside the tub.
\ *Shower shelves Her soap, shampoo, and towel should be easily reachable while sitting in the tub. Shelves that hold shampoos and soaps in the shower should be at chest height and conveniently close, so that she doesn't have to stoop or stretch to get them.
Bathroom sink, counter, and toilet comfort and safety
Sinks and counters
\ *Push-pull levers Hot and cold water should be controlled with levers that are easy to push or pull, not knob-type handles, which can be difficult for older adults to grasp and turn.
\ *Sink level The sink should be 34 to 36 inches from the floor, so she doesn't have to stoop to wash her hands and face.
\ *Counter space There needs to be plenty of counter space to hold her medicines, supplements, and personal toiletries.
\ *Corners Counter edges around the sink should be rounded, not sharp.
\ *Vanity mirror The mirror should be able to magnify several times to assist an older adult with shaving, makeup, and personal hygiene. A portable mirror that tilts up and down, magnifies, and is backlit can be useful.
Bathroom toilets
\ *High toilet A raised toilet seat, at least 17 inches from the floor, is easier for older adults to use (most standard toilets are 14 to 15 inches high).
\ *Grab bar The toilet should have a grab bar on either side to help her get up and down.
\ *Toilet roll or bidet She should be able to reach the toilet paper easily. Bidet systems, long popular in Europe, cleanse with sprays of water from underneath and the sides of the bidet. They are becoming more popular here and may appeal to the person in your care.
\ *Room to roll If she uses a walker or a wheelchair, you'll need plenty of free floor space around the toilet: 32 to 42 inches on the side and 18 inches in front.