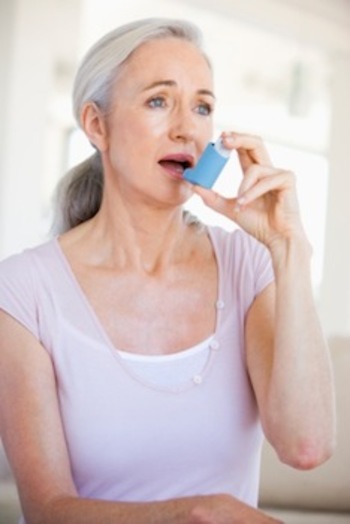 All Rights Reserved
It's likely you heard about asthma as a child on the playground. Or perhaps you're the one who battles with it regularly. Either way, asthma is a condition that can be controlled with proper medical treatment and environmental adjustments. Discover 10 things every caregiver should know.
1. What is asthma?
Asthma is a disorder of the lungs in which the airways are narrowed, due to inflammation of the tissues, production of mucus in the airways, or constriction of the muscles surrounding the airways. An asthma flare-up is an emergency because the person cannot breathe; air is not able to get into the lungs.(1)
2. How common is it?
Globally, 300 million people suffer from asthma.(2)
3. Who gets it?
This disease affects people of all ages, from children to adults. More boys have asthma than girls, but adult men and women are affected equally.(3)
4. What causes it?
Research has shown it to be hereditary and also environmental. Exposure to certain viral infections or environmental allergens at some point during childhood may cause asthma. Allergens include animal dander, mold, cockroaches, and pollen. Food additives such as sulfites have been known to trigger asthma. Certain medicines, such as nonsteroidal anti-inflammatories and beta-blockers, can cause asthma. Irritants such as tobacco smoke or industrial chemicals and dust can trigger the reactions in the lungs. It's possible to develop occupational asthma and exercise-induced asthma.(4)
5. What are the symptoms?
Wheezing, coughing, shortness of breath, and tightness in the chest are all symptoms.(5)
6. What are the treatments?
Asthma is chronic, which means it has no cure. There are long-term and short-term controls for asthma symptoms, however. Long-term medicines reduce airway inflammation and prevent asthma symptoms such as coughing and wheezing. Quick-relief, or "rescue," medicines relieve asthma flare-ups. Also, patients should try to avoid asthma triggers. Medicines can be taken by mouth (as pills), via a nebulizer, with a shot, or with an inhaler (which delivers vaporized medicine directly to the lungs).(6)
7. Do socioeconomics play a role?
Asthma occurs more commonly in people living below the poverty level.(7)
8. How many people need medical attention for asthma attacks?
More than 15 million physician office and hospital outpatient department visits are due to asthma, and nearly 2 million people go the emergency department for asthma each year.
9. Does race play a factor?
180 percent more African-Americans die from asthma than Caucasians.
10. How much is spent annually?
Annual spending on asthma amounts to more than $56 billion, including direct medical costs from hospital stays and indirect costs such as lost school and work days.
---
Sources
1. http://www.nhlbi.nih.gov/health/health-topics/topics/asthma/
2. http://www.nhlbi.nih.gov/news/press-releases/2013/nih-statement-on-asthma-month-2013.html
3. http://www.nhlbi.nih.gov/health/health-topics/topics/asthma/atrisk.html
4. http://www.nhlbi.nih.gov/health/health-topics/topics/asthma/causes.html
5. http://www.nhlbi.nih.gov/health/health-topics/topics/asthma/signs.html
6. http://www.nhlbi.nih.gov/health/health-topics/topics/asthma/treatment.html
7. http://www.epa.gov/asthma/pdfs/asthma_fact_sheet_en.pdf