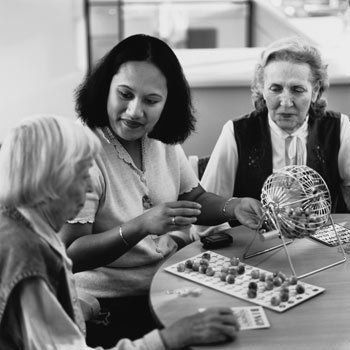 All Rights Reserved
When you start your search for residential care for your loved one, you're probably looking for a situation where she'll be safe, happy, and well cared for the rest of her life. And that's exactly what you should be looking for, of course. The problem is, this is a big decision -- and one requiring a fair amount of research -- yet many families wait to begin this search until they're faced with a health crisis requiring urgent action.
Statistics bear this out; of the people who call Caring.com to begin the search for assisted living, 60 percent will move their loved one within 2.5 months and a quarter will do so within 30 days of making that initial call.
While this is understandable, of course, it's also unfortunate, experts say, because it leaves families making a difficult decision under enormous pressure. And many families may not realize there's another solution: a short-term stay, which can keep your loved one safe while you take stock of your options. Here are six reasons to consider such a plan.
1. Your Loved One Can Experience Assisted Living Firsthand
While you're certain assisted living is the right option for your parent or other loved one, she may be less sure -- or even strongly opposed to the idea. In this situation, a short-term stay may give new meaning to the old saying, "actions speak louder than words," allowing your loved one to discover for herself the benefits of a busy social calendar, convenient transportation, and good food ready without the need to cook. (For more ideas on overcoming resistance, see this list). Many assisted living communities have month-to-month lease arrangements in addition to long-term contracts, allowing you to give your loved one a trial period with this new way of life. While she may decide she's not happy with a particular community, she's likely to be much more positive about the idea of moving in general after she's experienced it for herself.
2. One Month Can Tell You a Lot
Each assisted living community has a different "vibe" -- some are intimate and cozy, some bustling and active, while still others are popular with particular social networks, such as people of a certain religion or cultural background. While visits can help you suss out such differences, there's nothing like actually living there to give your loved one a sense of whether she fits in.
3. You'll Buy Yourself Some Research Time
Even a quick search has probably turned up a number of residential options in your area. And you may be surprised by the variety; some are small, some large, some have extensive amenities, others are simpler but excel in staff service and community involvement. Even if you've narrowed your search to a few candidates, it's going to take time to check each out thoroughly. (If possible, it's best to make more than one visit to any community you're seriously considering, and some experts advise dropping by unannounced.)
4. You Won't Be Excluded by Wait-Lists
As you may have already discovered, some of the most popular assisted living communities have wait-lists, sometimes for certain types of rooms and other times for the entire facility. Choosing the option of a short-term stay prevents you from having to make your decision based solely on the spaces currently available.
5. You'll Have Time to Get Your Finances in Order
Geriatric care managers see the following scenario all too often: A family, faced with a crisis, chooses the best assisted living situation they can find on short notice -- often not the most affordable option -- then realizes their funds won't last at this rate of spending. They're faced with the inconvenience and disruption of a move. So while at first glance it may seem like month-to-month rates aren't the best deal, this scenario can save you a great deal in the long run by allowing you to make a full assessment of your financial resources and select a community that your family can continue to afford year after year.
6. Short-Term Stays Relieve Caregiver Stress
There's a reason many assisted living communities use the term "respite care" for short-term stays; they provide a much-needed breather for caregivers as well as a change of scene for residents. And caregiver stress is a very serious issue, leading to health problems, depression, and strains on marriages and other relationships. (Wondering if caregiver stress is affecting your health and well-being? Take our quiz). Whether you need this break because of work obligations, family responsibilities, or to take a much-needed vacation, it gives both you and the person you're caring for a break from your regular routine. You may also find that such a break provides the perspective you need to look ahead and start forming a long-term plan.