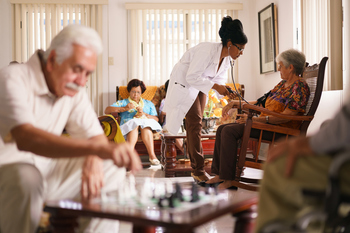 All Rights Reserved
Choosing an assisted living facility can be overwhelming. You might feel as if you're drowning in brochures describing all of the different assisted living services available, as well as grappling with budget and cost considerations. According to AARP, there is no single standard for the types of services offered in assisted living facilities, so we've put together a guide to help you with this difficult decision.
Assisted living is a living situation for people who can't live on their own, but who do not need full-time medical care. Typically, people entering assisted living need help with at least three activities of daily living (ADLs), which include everyday routines such as eating, bathing, toileting, dressing, and transferring to and from a wheelchair, according to assisted living expert Peggy Flannigan, PhD, professor of nursing at Bradley University in Peoria, Illinois. People who need less assistance may want to consider an independent living community or a Continuing Care Retirement Community (CCRC).
Even when you're realistic about the need to find an assisted living facility, making the best match can be challenging.
"I think of myself as matchmaking a facility to people's needs," says Robin Marks, Long Island Regional Director of Amber Court Assisted Living. "You have to assess a person's physical, emotional, and medical needs, and figure out how close you can get to meeting those needs."
Figuring out where you want to be is the next step, once you've decided to look for assisted living services.
"Some people look at what is close to home and can provide a setting that is familiar and comfortable," explains Flannigan. But, she says, there might be other deciding factors, such as staying close to a family doctor or faith community, or moving closer to family. Once you've identified a general location, begin your search with assisted living facilities nearby.
Before you start visiting facilities, take these steps:
Be realistic about what needs you or your loved one has, and what they might need in the future. Make a list of priority needs and concerns.
Make a list of assisted living facilities in the area. Ask family members or friends for referrals, if you can.
Call the communities you're interested in and ask for information, such as brochures, assisted living services, and costs. Or head to each community's website for more information.
Develop a general outline of your budget to make this move. Remember that four out of five people pay out of pocket for assisted living services, according to AARP.
Make a list of your priority questions, using our guide below and your own research.
Schedule a time to tour the facilities you like best. While visiting, talk to staff and residents. Bring someone with you to help keep track of the details.
Make a second visit, without calling ahead. This allows you to get a feel for the facility outside of standard touring hours.
Ask for a copy of the contract to review before you sign anything. Make sure you understand the base rate, any expected rate increases, and all of the fine print. Ask for help from family or a lawyer if you're unsure what the contract says.
Living Spaces
Moving out of a home your loved one has lived in for years or perhaps decades can be bittersweet. He or she will likely be downsizing, which may be a relief, explains Marks. Many people wait to move to assisted living past the point where they are able to comfortably take care of their home. Ask community representatives:
Do you have private rooms?
What kinds of appliances come with each room? Is there a kitchenette?
Do you have private bathrooms or shared bathrooms?
What do you recommend residents bring to furnish or decorate their rooms?
What are the expectations regarding visitors?
Assistance with Activities of Daily Living
Changes in your loved one's ability to manage independently throughout the day likely underlie the decision to move to assisted living. Activities of daily living include bathing, dressing, shaving, cleaning, laundry, cooking, hobbies, and undressing.
Ask:
What kinds of ADLs does your staff help with? What services do you not provide? Which cost extra?
We know that we need assistance with specific things – can you provide that assistance?
Does your facility accommodate walkers and wheelchairs? Does your staff help with transfers from wheelchair to bed, and vice versa?
Food and Dining
"What will Mom eat? And where?" might top the list of concerns people have when looking at an assisted living facility. Assisted living services can include a variety of eating options, from a shared dining room with a rotating menu or buffet, to small on-site bistros and other eateries.
Ask:
What are dining room operating hours?
How many meals and snacks are included in the monthly community fees?
Will my loved one's room have a space where they can prepare a small meal or snack? For example, a microwave and a refrigerator?
Can you accommodate my loved one's diet? "Ask them, can you accommodate a vegetarian diet? A Kosher diet? You just have to ask whether those needs can be met or how they can be met," Lambert explains, adding that you will want a range of options in within a diet.
Social activities
"A good social director can make or break a facility," says Lambert. "The activity calendar is very important." Be sure to take a look at the activity calendar. Ask about specific activities that are of interest to your loved one and, if they're not available, talk to the activity director about whether you can request new activities. Also, consider the age of the residents you see. Socializing is important, and it will be easier for your loved one to be with people in a similar age range and mobility level.
Ask:
Can I see the activity calendar for past months and upcoming months?
Can you arrange activities my loved one is interested in?
How do residents get to and from activities that are not at the facility?
What are the range of costs for activities?
Transportation and Parking
Find out about the options for getting around off-site.
Ask:
Can my loved one bring their own car? Are there parking fees?
Is there a shuttle service? What is the shuttle's route?
How is transportation organized for activities?
Exercise and Fitness
Whether your loved one wants to stay active, become more active, or find low-impact ways to stay fit, assisted living services often include fitness options.
Ask:
Do you have a fitness or exercise room on-site?
Do you have any group fitness activities?
Do you have a walking track or path nearby?
Do you exercise have classes, such as chair yoga, for residents with limited mobility?
Do you have any fitness professionals or physical therapists who can assist with staying active?
Do you have a partnership with a fitness club or wellness center that has an indoor pool and pool classes? How can I access that facility?
Medical Assistance
Even though your loved one doesn't need full-time nursing or medical care, he or she may require daily medical assistance or assistance on an as-needed basis. Ask about care assistance available for any specific health concerns you have. Also, ask:
Is there a nurse on-site? What are the nurse's hours?
If there is an emergency when the nurse is not here, how are emergencies handled? What emergency room or doctor is most likely to be called?
Do you provide any medication supervision, such as insulin injections or daily medication compliance? Does that have an added cost?
How can my loved one get to and from their doctor's office? Or can their doctor come here?
If my loved one needs more intensive nursing, is there a connected facility where he or she can move?
Do you provide memory care services?
Is there a written care plan for each resident? How much input will my loved one, other family members and myself have in that plan?
Housekeeping Services
Cleaning and laundry are services that are typically included at assisted living communities. Ask about the housekeeping schedule and what is provided as part of the routine services. Also be sure to ask about any add-on cleaning services that may cost more.
Other Assisted Living Services
There are a number of other services you can look for, including a beauty salon or barber, faith services, café, or bank. Some services might be permanent on-site offerings – or professionals may visit the community on certain days to provide those services. After you've visited a couple of assisted living facilities, you should have a better idea of what is available and what is most important to you. Be sure to take good notes as you visit the assisted living facilities you are considering, and take the time you need to find the best match for your loved one.