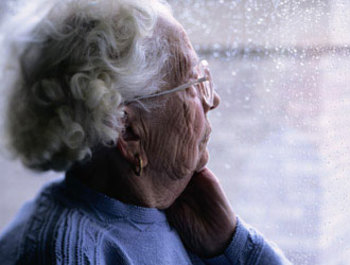 All Rights Reserved
If you suspect or know of a problem with your loved one's care, the first thing you'll want to do is spend some extra time just listening to him and encouraging him to talk the problem through with you.
It helps if you know in advance what to keep an eye out for. Here are some problems that may arise, and what you can do to help:
Trouble adjusting to new living arrangements
Early days in a new housing environment -- especially a communal one -- can be difficult, so even a small discomfort or irritation during the settling-in phase can feel overwhelming if your friend or relative thinks he's going to have to live with the problem for the rest of his life.
What you can do: Hearing him out, encouraging him to try new things (like joining an on-site club or signing up for an activity), sharing a meal or two with him in the dining room, and helping him focus on the positives until he gets used to his new home may make what seemed like a deal-breaker shrink in perspective as the plus side of communal living comes into focus.
SEE ALSO: Find Assisted Living Near You
Not getting along with another resident
Moving from living alone or with a spouse to a group setting can be challenging. Conflicts can arise, from small misunderstandings to full-fledged flare-ups.
What you can do: Talk with him about the problem and brainstorm ways to alleviate it. Family, friends, and staff can also support residents in a new social setting by making sure they're comfortable with basic logistics and daily routines. New residents should understand procedures for reporting problems within the community and feel comfortable sharing concerns.
General boredom
A good assisted-living community will have a full calendar of activities to keep residents active and engaged -- but just because activities exist doesn't mean your friend or relative will automatically take advantage of them. When you come to visit, take note of whether he's habitually in his own living unit behind closed doors rather than in a communal area engaged with other residents. Does he complain of loneliness or say that there's "nothing to do?"
What you can do: Sometimes simple shyness keeps older adults from taking advantage of the very group activities they may have moved to assisted living in order to access. You can help by inviting yourself along to an initial meeting of a club or activity group to help break the ice.
SEE ALSO: Find Assisted Living Near You
Especially if he doesn't drive, take advantage of visits to go on a simple outing to a nearby restaurant or movie or to see old friends. If there was a social club or other activity he enjoyed before moving to the assisted-living community, see if it's possible for him keep up with it after the move.
Abuse by another resident, or fear of another resident
If some of the residents are beginning to show signs of pre-dementia or other conditions that can cause aggression, conflicts can get out of control.
What you can do: For anything more than a simple slight, it's probably a good idea to involve staff to help check facts and determine the cause of the conflict. Especially if your friend or relative is new to the community, staff will be more familiar with all the different personalities and can help sort out misunderstandings. If the conflict persists and your friend or relative fears another resident, be sure to stay in close contact with the staff so they can take further action.
If a new resident is the target of verbal aggression from a more long-standing one, staff and family should also take time to evaluate the behavior of the target, who may unknowingly be contributing to the situation. For example, a new resident who is disoriented may wander into another resident's "space," which can create fear or anxiety and result in verbal abuse.
Problems with a staff member
It's hard to find oneself suddenly dependent on strangers for basic care, so it's not uncommon for older adults to complain about their new caregivers, especially initially. Whether or not these complaints are well founded, it's important to hear them out and try to help resolve them.
What you can do: After you've spoken to your friend or relative and heard his story, try gently bringing the subject up with the caregiver -- not necessarily to point a finger but to figure out whether, together, you can come up with a solution. You know the older adult best, so sometimes simply explaining a personality quirk or special need can help smooth a relationship.
Caregivers vary from one shift to another, so make sure you ask who is assigned to your your friend or relative each time you visit or call, and make a point of getting to know the various caregivers.
If speaking to the immediate caregiver doesn't solve the problem, you may need to go up the chain of command, all the way to the facility administrator if necessary. Whom this will involve depends on how the particular community is run and how its administration is structured, so it's a good idea to ask for a facility manual early on, before your friend or relative signs a contract and moves in.
Line staff that cares for him on any given day, or those at the front desk, should also be able to answer your questions about the chain of command and steer you in the right direction if you have a serious concern.
Signs or complaints of poor care, neglect, or abuse
Because many older adults were raised "not to make a fuss" and may not speak up for themselves for fear of alienating the caregivers on whom they are so dependent, it's important to ask questions that leave the door wide open for him to report serious problems. Instead of just asking "How are you?" from time to time you may want to gently ask a more directed question, such as, "Is everything OK? Are there any problems I can help out with?"
Visible trouble signs to watch out for include frequent bedsores, unexplained weight loss, or older adults who spend long periods unattended in their beds or in wheelchairs in hallways or common areas.
What you can do: If you have reason to believe that a particular caregiver might be neglectful or abusive, then ask that your friend or relative be moved or assigned to a different caregiver while the concern is investigated.
If a serious problem does arise, this is an area where your family member may need you to advocate for him right away. So if you try to contact an administrator and don't get a response immediately, keep trying. These may be busy administrators, but your loved one's health and happiness are at stake!
If at all possible, you'll also want to make frequent, unannounced visits to check on your friend or relative's well-being during a period when a serious concern has been raised.
If, after going up the chain of command at the community, you still have serious concerns, you can contact your local or state long-term care ombudsperson and consider filing a complaint. Of course, if your concerns have reached this level, it may also be time to think about looking into a different assisted-living community.