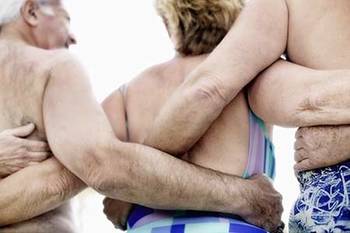 All Rights Reserved
When it comes to living with chronic pain, you might not think it makes much difference where you live. But unfortunately that's not always the case, experts say. Easy, convenient access to pain management treatment, occupational and physical therapy, and help managing the tasks of daily living can make an enormous difference in the life of someone who's coping with chronic pain.
With this goal in mind, assisted living communities across the country are working to provide increasing resources for pain management, says Rita Vann, senior vice president of Healthcare Services and Clinical Services for Brookdale Senior Living.
"Awareness has grown within Brookdale, as well as across the industry, about the importance of pain management for the overall health of our residents," says Vann. "An increased emphasis on pain management as part of a holistic approach is a trend that's likely to continue."
With services available onsite, pain management in assisted living becomes a partnership between the resident, the family, doctors, therapy providers, and social workers, says Patricia Foran, vice president of Clinical Services at Senior Lifestyle Corporation.
SEE ALSO: Find Assisted Living Near You
"We listen to the story -- how the resident perceives the pain -- and observe what's working and what's not working," says Foran. "It's important to try different approaches, because pain management is never one-size-fits-all."
Being Proactive to Manage Pain for Residents
Proactive pain management is extremely important for older adults because pain can quickly become a limitation on independence, experts say. "Pain can become so debilitating for people that they can isolate themselves," says Foran. "And in an assisted living community, we don't allow that to happen."
Experts say that when older adults live alone, they may lack motivation, ability, and access to physical activities, which can be extremely important in protecting mobility, particularly when someone is limited by pain. Assisted living communities are able to provide a much wider range of facilities and services to promote physical activity and fitness, helping seniors stay as active as possible. Brookdale communities, for example, have implemented a group of individualized programs known as Optimum Life in which physical and wellness activities are tailored to a senior's ability level.
Medication and Physical Therapy for Pain
Then there's medication, which has become a hot-button issue in aging. According to research presented at the American Academy of Addiction Psychiatry (AAAP) in 2012, approximately 20 percent of adults 65 and older take pain medication several times per week, and 18 percent of those with chronic pain are addicted to or abuse pain medication. Sadly, older adults often turn to medication as their first-line treatment for pain, when other approaches might offer a safer long-term solution. To that end, doctors, nurses, and therapists in assisted living receive specialized training in alternative pain management therapies, Foran says. "People reach for pain meds way too quickly -- we try to stay away from drugs whenever possible and understand and treat the root cause of the pain."
SEE ALSO: Find Assisted Living Near You
Alternative and Wellness Therapies for Pain
In recent years, assisted living communities have begun incorporating more alternative and wellness therapies for pain, such as massage, acupuncture, acupressure, TENS, and posture and position management. According to a report by the Assisted Living Federation of America, yoga, breathing, meditation, cognitive behavior therapy, and herbal medicine are all becoming important parts of holistic pain management programs in assisted living communities.
Most important of all, experts say, is the key role pain assessment plays in creating an individualized treatment plan for pain. With the access and contact provided by assisted living, pain management experts can try new things and observe what's working much more efficiently than can a doctor who only sees a patient during regular appointments. And in dementia care, you may need to rely almost entirely on observation, experts say. "Our pain management experts are trained to read facial expressions, watch how someone is reacting to touch, and watch a resident's behavior to see if intervention is working," Foran says. With regular, frequent contact, doctors, nurses, social workers, and therapists can take the time to ask questions and take stock of a resident's behavior, attitude, and emotions -- time that's well spent in the long run, experts say.