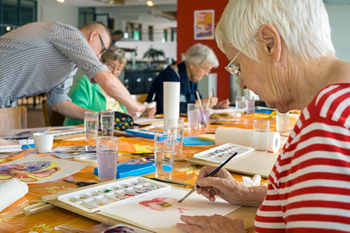 All Rights Reserved
Undertaking an art project with a senior loved one gives you both an opportunity to spend time together at home and in the community. And if your loved one finds it increasingly difficult to express themselves because of a condition like dementia, taking a photograph, painting a picture or playing an instrument is an amazing form of self-expression.
Aging can be accompanied by difficulties including memory loss, isolation, physical challenges and depression. But activities such as arts and crafts or coloring can take a person's mind off of their physical and mental stressors, says Kimberly Hershenson, a social worker and therapist at RevitaLife Therapy in New York City.
"When we're focused on creative, fun activities, our attention moves away from constant worrying," Hershenson said. "This helps the nervous system regulate, allowing our brain to clear space to process difficult issues."
1. Adult coloring books
A recent artistic trend sweeping the nation – coloring books created for adults – may be an artistic endeavor especially well suited for an older person who is just delving into the arts. Because it's less free form than painting or pottery, coloring books provide structure for someone afraid to venture into artistic expression.
And a 2005 study found that coloring complex geometric patterns may create a state akin to meditation. This benefits people dealing with anxiety, something common among older individuals with dementia or Alzheimer's disease. Supplies can be found at book and crafts stores everywhere and the original coloring company, Crayola, offers a line of products and kits designed for adults.
2. Terrarium
Making a terrarium is an art project that also allows your senior loved one to reap the benefits of gardening, even if he or she can no longer get outdoors or needs a low-maintenance planting option. With minimal supplies – a container, small plants and soil – terrariums are simple, inexpensive ways to keep your home green year-round. You can also spend time with your aging loved one making terrariums to give as gifts. The Internet is replete with examples, supplies and how-tos like this one from HGTV.
3. Pottery
A 1993 study surveying 20 nursing home residents in 1997 found that those who took an eight-session pottery class reported better self-esteem and less depression and anxiety than the study participants who didn't take the classes. Some pottery techniques are more challenging than others, but there are options for nearly everyone.
Advanced potters can throw pieces; and if you're a novice, you can mold pieces or paint those already formed. And pottery classes can be found nearly everywhere, making it a great way to get out, spend time and mingle with others.
4. Making music
Though it may be more challenging to learn to play an instrument in old age, it's never too late. Playing an instrument keeps brain cells active and helps create new synapses, plus learning an instrument later in life has been shown to improve attention, memory, mood and problem-solving skills.
And a Northwestern University study in 2014 even found that playing music can help people differentiate noises they want to hear (like friends talking) in noisy places – something that becomes more challenging as we age. Another option is music therapy, which can be beneficial for people with dementia or Alzheimer's disease. Working with a therapist can improve memory, social and motor skills and emotional wellbeing.
5. Writing
Writing projects like journaling and poetry can help your senior loved one tell their story and share it with family and friends. Poetry readings are a good way to get out and meet other creative minds in the community. Writing can be daunting for someone who has never done it before, so reading poetry is a good form of inspiration for writing your own works.
And if this is your first time journaling, you don't have to get stuck staring at a book full of blank pages. There are plenty of options out there to get your creative juices flowing, such as Journal Sparks, a book featuring writing prompts, guided exercises and craft activities to get your journal started.
6. Painting
Painting is not only a creative outlet, but can also be a great way to get your elderly loved one out of the house. In most areas, you can find various kinds of painting classes and events or spend an afternoon at a museum to find inspiration for painting. Art stores carry canvases and art supplies to help your loved one get started.
If painting is a new endeavor, you may want to try paint by numbers, which is good for hand-eye coordination and minimizes frustration. You can help your loved one start or continue painting by making it as simple as possible: set the canvas in a spot with good lighting and have covers for the floor easily accessible.
7. Crocheting or knitting
If you don't know how to crochet or knit, learning from an older loved one can be a great way to spend time together. It's an inexpensive hobby with an extensive number of free patterns, tips and videos available online. There are even crochet-alongs to join where groups work "together" online on the same project at the same time. And arthritis or other joint problems shouldn't hinder knitting or crocheting. There are ways to work around stiffness and discomfort, like these six tips offered by Favecrafts.com.
8. Photography
Taking up photography is a great way to help an aging loved one tap into their artistic side while engaging memory and other cognitive skills. Photography classes allow you and an aging family member to learn the trade together and interact with other artists. Some organizations, like the Museum of Photographic Arts in San Diego, offer arts classes and programming specifically for seniors.
If your loved one is a little more tech-savvy, there are online courses with information for beginners using digital cameras including equipment, websites and software used to store, edit and share photos. And once you've learned to manage your photographs, they can be used to create other art projects like cards, stationery and scrapbooks.