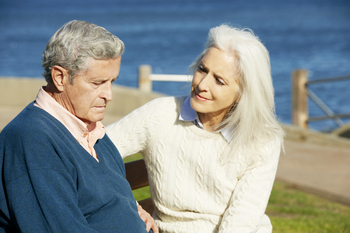 All Rights Reserved
Unfortunately, in today's society mental health is still viewed with a stigma, as some dirty little secret that many people refuse to discuss among family and friends. Many won't admit to themselves or others that they could benefit from treatment. Among seniors, this stigma around needing mental healthcare is often exacerbated by generational stereotypes of depression as something for people with "major problems," or as a normal part of life that should just be endured. Couple this with the general lack of experience and ignorance many seniors have in dealing with mental healthcare, and it's no wonder depression and mental illness are increasingly more common among seniors. Christine deVries, CEO of the American Association for Geriatric Psychiatry, discusses these issues and more.
For those who are unfamiliar, what is the mission and purpose of the AAGP?
Christine deVries, CEO: AAGP is a professional membership association that promotes the mental health and well-being of older people through professional education, public advocacy, and support of career development for clinicians, educators, and researchers in geriatric psychiatry and mental health. Our purpose is to increase access to quality mental health services for older adults.
What would the average person be surprised to learn regarding mental health and older adults?
The prevalence of mental health issues in older adults.

Major depression for older adults living in the community range from 1 to 5 percent; major depression among older adults receiving home healthcare services is about 13 percent. An estimated additional 5 million older adults have what may be defined as minor depression. Depression for older adults has serious consequences, including the fact that 16 percent of all suicides in the U.S. are by older adults.

Statistics for dementia are a bit more well known -- one in eight older adults has Alzheimer's disease.
What are the biggest misconceptions the general public has when it comes to the mental health of older adults?
CDV: The biggest misconception is that depression is a normal part of aging, and for this reason, many older adults do not seek out medical care for their depression. We have a slogan that we use to get people's attention: "Depression Kills. Treatment Works." In other words, depression can lead to death -- either through suicide or more often by increasing the severity of physical conditions such as cardiac disease. But treatment is available and it does work, and by treating the depression, the physical health of an older adult also improves.
Advocacy is a key focus of the AAGP. What are the main issues impacting the well-being and mental health of older adults on which the AAGP is currently focusing?
CDV: One of the largest advocacy issues impacting access to care was the lack of parity in Medicare for the payment of mental health services. For many years, healthcare consumers paid a 50 percent co-payment for Part B outpatient mental health services but 20 percent for physical healthcare. But several years ago we were successful at getting Congress to pass legislation specific to Medicare (which was different from the overall mental health parity legislation) that would gradually erase this discriminatory reimbursement payment. It goes into full effect in 2014. This was a beginning; however, there remain many discriminatory aspects of the healthcare delivery system for individuals seeking mental health care. Stigma associated with mental illness continues to be a significant barrier for those seeking care.
A second area that we focus on is the dearth of research funds targeted toward mental health. I compare it to the women's health movement of 20 years ago, when issues that predominantly impacted women did not receive adequate research funding from either public (federal government) or private research institutions, nor were women included in basic clinical trials. Advocacy changed that situation when Congress addressed several of these issues through legislation. We are in the same place with older adults in terms of research that we were with women's health two decades ago. The funds allocated to older adult's mental health disorders are abysmally low compared to any other cohort. Furthermore, older adults are not included in clinical trials. The reasons cited are the complexities of older adults and that they often have multiple health conditions; but similar arguments were used on the omission of women, and researchers overcame those barriers. AAGP continues to advocate for increased funding specifically targeted toward research for mental health disorders that either disproportionally impact older adults or for treatments for mental health disorders specific to older adults.
A third priority issue is that of workforce -- ensuring that there are enough trained healthcare professionals to treat the growing numbers of older adults with mental illness. AAGP was successful in advocating for a congressionally funded study by the Institute of Medicine (IOM), which was published in July 2011: The Mental Health and Substance Use Workforce for Older Adults: In Whose Hands? The report documents the interaction between chronic physical health and mental health and the growing need for providers trained to care for older adults. AAGP is working with Congress to implement some of the recommendations by the IOM.
For those people interested in our full legislative agenda, please see our downloadable Federal Legislative and Regulatory Agenda.
What types of educational programs does the AAGP provide?
CDV: AAGP provides a variety of educational programs. Most of our programs are targeted toward healthcare professions, physicians, nurses, psychologists, and social workers focused on the latest research and clinical advances in the treatment of older adults with mental health disorders. We have a large annual meeting each March, where over 1,200 individuals come together for 3 days for over 55 workshops. For more information on this meeting, people can go to www.AAGPmeeting.org. All of the education provides continuing education credits.
In addition, we also provide computer-based education, such as online self-assessment programs, webinars, and webcasts. We also hold small regional meetings from time to time -- focused on one disease or aspect of disease -- and bring in the nation's top experts for one-and-a-half-day sessions. We are constantly exploring new ways to get information and education to our members on the cutting-edge issues of geriatric psychiatry and mental health. In addition, we provide consumer education in the form of detailed pamphlets on issues ranging from depression, sleep disorders, older adult substance abuse, healthy aging, and anxiety, among others. Single copies are available free at our Foundation's website, www.gmhfonline.org.
Describe the AAGP's typical member.
CDV: The typical AAGP member is a healthcare professional or researcher (and sometimes both) -- physician, nurse, PhD researcher, social worker, psychologist, case manager, pharmacist, neurologist, geriatrician -- who is devoted to the mental healthcare of older adults. They work in a variety of settings, including solo practices, group practices, universities, veteran's hospitals, in-patient facilities, and nursing homes. They are adamant about ensuring quality care and helping the family along with the patient.
What are the benefits of being an AAGP member?
CDV: AAGP provides tools for success for whatever area the AAGP member is working -- whether it be as a clinician, a researcher, or an educator. But I think the biggest aspect of membership is community. The field is still fairly small, and those in this field are excited to get together to share successes and problem-solve on challenges. Our annual meeting is like a big homecoming for many -- where people catch up, dialogue, and help solve the issues facing older adults with mental illness in our society. We have provided additional forums to further these conversations, like discussion roundtables at our meeting. We have also spent a lot of time in the past several years promoting that same community through social networking and online sources. For example, we have discussion sites via our website for clinicians, researchers, and educators -- but also for those who practice in rural communities, who work in VA facilities, women healthcare professionals, and for members in training, among other groups. We are trying to engage larger communities through our Facebook and Twitter sites. We see ourselves as a source of information and a way for people to make a connection.