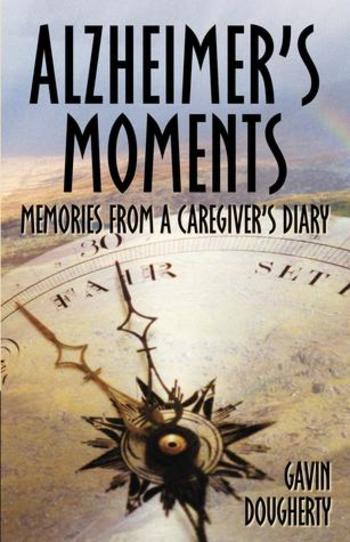 All Rights Reserved
Gavin Dougherty's book Alzheimer's Moments: Memories From a Caregiver's Diary documents his family's journey through Alzheimer's caregiving. He recounts his cross-country move to New York to care for his mother, including the day-to-day challenges of providing care and the toll caregiving took on his own well-being. He also candidly discusses the reasons behind his difficult decision to move his mother to assisted living.
We asked Dougherty to tell us more about his personal story and what inspired him to share it with others.
Your book is based on a diary you kept while being the primary caregiver for your mother, who had Alzheimer's. What prompted you to turn those notes into a book?
Gavin Dougherty: During the course of my mother's illness, I interacted with so many people confronting the dire circumstances of Alzheimer's disease. While each situation was unique, I learned that many of the obstacles faced by caregivers and family members were the same. By sharing my experiences, the book provides a source of support while serving as a potential road map for others navigating the turbulent waters of dementia care.
At one point your mother began wandering. How did you come up with creative strategies to cope with wandering and other Alzheimer's behaviors?
GD: I came up with many of the ideas out of necessity and experimented with their effectiveness through trial and error. In addition, the aide that we hired suggested methods that worked for her other clients. More ideas came from friends who had experience with dementia in their families. I found that adapting the various strategies to fit my mother's personality worked best, so she wouldn't resist my efforts.
As a dementia caregiver, how did you deal with the difficult emotions, like frustration and loss of patience? Did you ever feel resentment?
GD: Yes, at times I felt the entire range of negative emotions, and I internalized most of them during the four years that I was at home with Mom. This resulted in bouts of depression that I handled by seeking professional counseling and medication, attending yoga classes, talking with sympathetic friends, and writing about the various situations that were confronting me.
As Mom's condition became more advanced, I was able to have an aide come in weekday afternoons. That gave me the luxury of time by myself, whether it was for a trip to the grocery store, going to the movies, taking a walk, or just retreating to a different room in the house and closing the door. I was also able to take a few vacations to recharge my batteries.
You write that you had to "save yourself first" in deciding to place your mother in assisted living. Why is it so difficult for family caregivers to get to this point in thinking, even when they clearly are having trouble going it alone?
GD: In my case, Mother Dear had watched her father succumb to Alzheimer's disease in a nursing home. She expressed that it was her greatest fear that she would end up the same way. To honor this, my brother and I agreed to keep her at home as long as possible. I felt a strong sense of guilt every time the subject of an assisted living facility came up. I knew it was the last thing she would want, I didn't want to be weak, and I kept telling myself that I could last just a little longer.
What, if anything, made the transition to a care facility more bearable?
GD: The burden and responsibility of caring for someone 24/7 was lifted. It was clear that she needed a team of professionals and had outgrown what I could offer at home, no matter how hard I tried. I had researched many of the reputable care facilities in the area and I was confident that she was going to a place designed specifically to handle her level of required care.
Did you learn anything new about yourself through your experience as your mother's caregiver?
GD: I had considered myself to be an impatient person, but I proved otherwise!