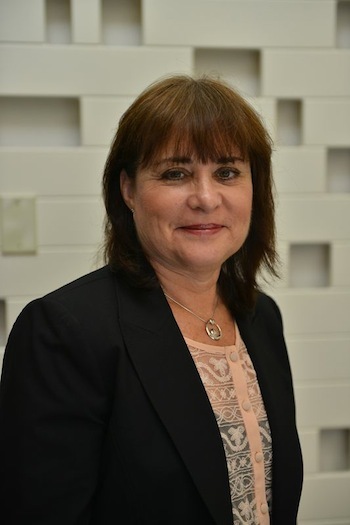 All Rights Reserved
When a loved one is first diagnosed with Alzheimer's, the fear of the unknown can be overwhelming. This is a time when the awareness efforts of an organization like Alzheimer's Foundation of America start to pay off. Even if you don't know AFA by name, chances are that you're familiar with some of the work they do.
Perhaps you've heard of the AFA's Quilt to Remember? It's more than 744 feet wide now, panel after panel of life stories told in fabric.
Or maybe you've heard of National Memory Screening Day in November? Or the AFA's toll-free hotline that connects you to licensed social workers who can answer your questions?
We wanted to know more about all of these services -- and more about what AFA's mission is -- so we interviewed president Carol Steinberg. Read on to discover what Steinberg has to say about the many resources AFA provides to dementia caregivers.
Alzheimer's Foundation of America provides services and support to individuals confronting dementia, and those who care for them. What do you wish more people knew about your organization?
Carol Steinberg, president: Care is at the core of everything Alzheimer's Foundation of America does. We unite more than 1,600 member organizations throughout the United States that provide education and resources to people with Alzheimer's disease and related illnesses, as well as family and professional caregivers. With this, we are providing resources not only at a national level but also at a grassroots level.
We have a wealth of programs and services that people should know about -- and take advantage of. One of our main services is our toll-free hot line, and it's important to note that this service is staffed by licensed social workers. In addition, we are cognizant that people learn or like to learn via different methods, so we offer materials and access to resources in various ways to fit comfort levels. The public can connect with our social workers, for example, by phone (toll-free) as well as by e-mail, live chat, Skype, and bulletin boards.
How do you help people cope with the fear they experience when they're first diagnosed with Alzheimer's?
CS: Fear typically comes from the unknown. To mitigate the fear factor, we provide education and practical strategies so that people with Alzheimer's disease and their families can become well informed and prepared -- to know what to expect as the disease progresses and to plan for the future. In addition, the greatest teachers often are those who have walked in similar shoes. So we encourage people to embrace support groups and other resources that can help them get through daily challenges and share experiences. Among them, we host an online support community on Inspire.com where people can interact and learn from others.
What are some of the steps you're taking to help people recognize early warning signs of Alzheimer's?
CS: One of the Alzheimer's Foundation of America's hallmark initiatives is National Memory Screening Day, which takes place each November. On National Memory Screening Day, as well as other times throughout the year, community sites from coast to coast provide free, confidential memory screenings to individuals concerned about memory loss, with the objective of early detection and intervention.
While a memory screening is not used to diagnose a particular illness, it is a significant first step toward finding out if a person may have a memory problem and indicate if someone might benefit from a full-scale evaluation by a healthcare professional. For more information about this initiative, visit www.nationalmemoryscreening.org.
In addition to this major initiative, we "talk up" the importance of early and proper detection all the time, whether on our website or in our educational materials, social media, or advocacy efforts. We drive home the message that people should raise the issue of memory concerns with their physicians, even if not asked, and that Medicare beneficiaries should be aware that "detection of cognitive impairment" is part of the new annual Medicare wellness exam.
What part of the Alzheimer's caregiving experience do you think surprises people most?
CS: It's perhaps the erratic nature of Alzheimer's disease that catches caregivers off guard. Each case of Alzheimer's disease is different, but, in general, someone's symptoms can change on a dime. A person with the disease might be able to recall a loved one or an experience one moment, and then be totally unaware the next. Someone might be calm one moment, and then aggressive or anxious the next. This requires caregivers to be on their toes, looking for triggers such as environmental factors or other medical conditions that might be causing the turnaround.
The Quilt to Remember has grown to be more than 744 feet wide -- the size of 4.5 Olympic-size swimming pools. How is this project helping families confronting dementia?
CS: The emotional toll of Alzheimer's disease weighs heavily on caregivers. The AFA Quilt to Remember allows families to release pent-up feelings by telling a loved one's life story. Creating a quilt panel is an incredibly heartfelt and moving way to pay tribute to a loved one who has or had Alzheimer's disease. In one of the most powerful comments, a panel maker once told us that in making the quilt panel, she "fell in love all over again" with her late husband. In addition, some organizations have enlisted their staff, clients, and clients' families to help craft panels for the AFA Quilt to Remember. It can be a very therapeutic activity for people with Alzheimer's disease.
When is the right time for families to think about residential memory care communities?
CS: Transitioning to long-term care is an extremely thoughtful and often difficult and guilt-provoking decision for families. As you can imagine, it is also a very personal decision with no "one size fits all" solution. So while there is no one right time per se, there are a number of factors that typically trigger a family to start exploring options. A major factor is the person's level of disability. When activities of daily living, such as bathing, eating, dressing, and using the toilet, become a consistent challenge, it may be time to consider long-term care. In addition, a survey of family caregivers of people with Alzheimer's disease, conducted for AFA by Harris Interactive, found that aggression (59 percent) and fear of self-harm to the diagnosed person (54 percent) or injury to other family members (48 percent) would be the most likely reasons for long-term care placement of loved ones.
What tips do you have for caregivers to maintain personal well-being while caring for an Alzheimer's patient?
CS: The most important thing caregivers can do is take care of themselves. Studies show that caregivers of people with Alzheimer's disease face declines in their own mental and physical well-being. The answer is taking time, if you will, to smell the roses. This could be retreating to a private space in another part of the house, going for a physical exam, having lunch with a friend, reading a book, taking a walk, etc. Various strategies can help caregivers obtain this much-needed respite, including having a loved one attend an adult day program, setting up a care team so family and friends share caregiving responsibilities, hiring a home health aide, or exploring overnight respite stays at long-term care facilities.
How can people learn more about Alzheimer's?
CS: There are a number of great resources. In addition to AFA's main website (www.alzfdn.org) and our other resources, we encourage people to reach out to our member organizations for local support. Government resources include the revamped website of the U.S. Department of Health and Human Services, www.alzheimers.gov; and the National Institute on Aging,www.nia.nih.gov. Also, people can learn about participating in clinical trials at www.clinicaltrials.gov.
What resources does AFA offer to people who've been diagnosed and to those caring for a loved one with Alzheimer's?
CS: We recognize that people don't know where to begin. AFA is here to help individuals with Alzheimer's disease or a related dementia and their families from prediagnosis, point of diagnosis, and through the progression of the disease. Our resources include a network of websites; a toll-free hotline -- (866) 232-8484, staffed by licensed social workers; care ADvantage -- a free, quarterly magazine for caregivers; a biweekly electronic newsletter featuring recent developments in research, treatment, and caregiving; a monthly teleconference with guest experts, Care Connection; educational conferences and DVDs; and two divisions specifically focused on younger caregivers -- AFA Teens and AFA on Campus. We also host an online support community at Inspire.com.