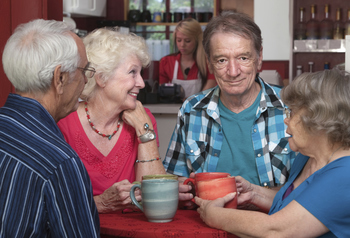 All Rights Reserved
When Paula Rais hosted the initial Alzheimer's café event at the Children's Museum of New Hampshire in 2011, only one couple showed up. Five years later, they're running out of chairs.
"The core value is: socialization, friendship, and conversation," Rais, Vice President of development and community engagement at the museum says. Alzheimer's cafés have a deceptively simple structure: set up a few tables with snacks and coffee and just let people socialize. The concept took a little time to catch on in the community, but those who came began to discover the benefits of simply taking a break.
Many people wonder how an Alzheimer's café is different from a support group or an adult day care program. The primary difference is that Alzheimer's cafes are designed to give caregivers and those living with Alzheimer's disease a chance to attend an event together that is both social and in a non-medical setting.
History
Alzheimer's cafés first started in the 1980s in the Netherlands when psychologist Dr. Bere Miesen noticed that patients with Alzheimer's and their family members struggled to speak openly about the disease, as if it were taboo. The cafés were designed as a forum to talk about Alzheimer's and learn more about the illness. In 2008, Dr. Jytte Lokvig started the first café in the United States at the Santa Fe Children's Museum, but with a slightly different goal: to help those with Alzheimer's and their caregivers leave the disease at the door.
Lokvig proposed that café events should occur in a non-medical setting like a museum, café or community center so that people could get a break from associating outings with their illness but still meet people like themselves in a safe, supportive environment where people understand the disruptive aspects of the disease.
Benefits
"There's so much that people are dealing with when they have a loved one that has this condition. They're trying to cope with the changes that happen. It's very exhausting," Rais says. "So the premise behind not talking about Alzheimer's is giving people a respite from that. Just letting people engage in social time as who they are and who they have been for most of their lives."
While socializing is the main goal, many cafes also feature local guest artists and musicians who perform. Some cafes also host a sing-along or arts and crafts activity that everyone can be involved in.
To further explore the benefits of the Alzheimer's café at the Children's Museum of New Hampshire, Rais initiated a study with researchers from the nursing department at nearby Keene State College. "We all could see that people seemed happier and attended consistently," Rais wrote in an email, "but doing the study gave the attendees themselves a voice."
The report, which came out in 2015, found that attendees with dementia liked seeing "the familiar faces and the smiles" at events and that attendees responded positively to the normalcy and relaxed atmosphere at the café.
"[The café] is like a window to my future, and much more informal than a support group," one attendee is quoted as saying in the report. "It's lighter and it helps me prepare for where I'm heading."
Finding or Starting a Café
Rais hopes that the hard data about the benefits of Alzheimer's cafés will help encourage other individuals and organizations to start cafés in their communities. Today there are about 200 cafés throughout the country, most of which are held once a month. But having more cafés in more locations would give those with Alzheimer's and their caregivers more opportunities to meet, which might foster a more lively and vibrant social life.
Of course, there are some challenges to hosting an Alzheimer's café. "You have to be 'on,' like having a party at your house," Rais says. "You're checking the food, making sure no one's sitting by themselves, keeping the conversation going…it takes some focused energy." For these reasons Rais recommends enlisting a few patient volunteers to help make sure everything runs smoothly.
The enthusiasm that café attendees have for the event and the impact it has on their lives appear to make these challenges worth the effort. "I'm surprised by how much people have looked forward to seeing each other," Rais says. "People have created friendships and have even begun to see each other outside of the café."
---
Lokvig's website provides information about how to find an Alzheimer's café in your area or how to start one of your own.