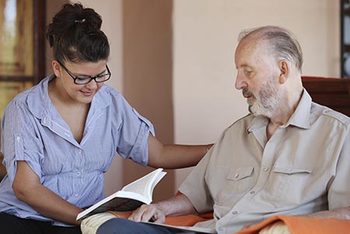 All Rights Reserved


There is much discussion in our daily news about Alzheimer's disease and the devastating impact it has both on the individuals who suffer with it and their loved ones who provide care for them. And the attention is deserved, particularly when you consider the statistics related to Alzheimer's:
Alzheimer's disease is the sixth leading cause of death in the United States.
More than 5 million Americans are living with the disease.
One in 3 seniors dies with Alzheimer's or another dementia.
In 2012, 15.4 million caregivers provided more than 17.5 billion hours of unpaid care valued at $216 billion.
Nearly 15 percent of caregivers for people with Alzheimer's or another dementia are long-distance caregivers.
Beth Kallmyer is the vice president of Constituent Services at the Alzheimer's Association.
Tell us about the Alzheimer's Association.
Beth Kallmyer: The Alzheimer's Association is the world's leading voluntary health organization in Alzheimer's care, support, and research. Our mission is to eliminate Alzheimer's disease through the advancement of research, to provide and enhance care and support for all affected, and to reduce the risk of dementia through the promotion of brain health. For more information, visit www.alz.org or call our 24/7, toll-free Helpline at (800) 272-3900.
What are the warning signs of Alzheimer's?
BK: Alzheimer's is a brain disease that causes a slow decline in memory, thinking, and reasoning skills. Memory loss that disrupts daily life may be a symptom of Alzheimer's or another dementia, but there are ten warning signs and symptoms. To learn the ten warning signs of Alzheimer's, visit www.alz.org/10signs.
What are the biggest misconceptions about Alzheimer's?
BK: Many people mistakenly think that Alzheimer's is just a little memory loss. Alzheimer's also impacts an individual's ability to accomplish everyday tasks, to think abstractly, and to determine next steps. While advancing age is the greatest risk factor, Alzheimer's is not normal aging. Alzheimer's is a fatal disease that kills brain cells responsible for memory, thinking, and behavior.
What advice do you have for the primary caregivers of those diagnosed with Alzheimer's?
BK: It is critical for caregivers to educate themselves, to make advance plans, and to care for themselves. The Alzheimer's Association has resources available to assist them every step of the way. In addition to the website and Helpline, the Alzheimer's Association offers a variety of educational and support resources, including care consultation and online resources to assist families with the care management of someone living with Alzheimer's.
Which behaviors displayed by people with Alzheimer's do caregivers most commonly need to seek professional assistance for?
BK: One of the most frequent topics we discuss on our 24/7, toll-free Helpline is safety. From cooking to driving to wandering, it's critical that families regularly assess safety concerns and proactively make plans, involving the person with the disease whenever possible. The Alzheimer's and Dementia Caregiver Center on www.alz.org provides tips and even video examples of ways to approach those conversations. The Alzheimer's Association also offers its Comfort Zone® GPS-based location management system and MedicAlert® + Alzheimer's Association Safe Return® 24-hour nationwide emergency response service.
What are the most avoidable mistakes caregivers make?
BK: Knowing the 10 warnings signs and receiving an early diagnosis are critical to planning for the progression of the disease. People with Alzheimer's live an average of 8 years after their symptoms become noticeable, but survival can range from 4 to 20 years. It is important that everyone involved educate themselves and plan for the future at the earliest possible opportunity to ensure that decisions aren't made during a crisis, when options can be limited.
What resources are available for caregivers through the Alzheimer's Association?
BK: The Alzheimer's Association recently introduced two new, free online tools. Alzheimer's Navigatorâ"¢ is a tool designed to help individuals with the disease, caregivers, and family members evaluate their needs and develop a customized action plan that provides information, support, and resources.
ALZConnectedâ"¢, powered by the Alzheimer's Association, is a social networking community for people with Alzheimer's, caregivers, and others affected by the disease to share questions and form new connections.
What is the best recent news on the advocacy front?
BK: The Alzheimer's Association advocates for the needs of people facing Alzheimer's, helping to pass landmark legislation such as the National Alzheimer's Project Act that mandated a coordinated national plan to address Alzheimer's disease. We are committed to a strong implementation of the National Alzheimer's Plan to help ensure it reaches its goal of preventing and effectively treating Alzheimer's disease by 2025.
On the research side, what has you most optimistic?
BK: As the largest nonprofit funder of Alzheimer's research, the Association has been part of every major research advancement over the past 30 years. We advance the understanding of Alzheimer's through our peer-reviewed research grant program, which has awarded more than $300 million to 2,100 scientists since 1982. We recently awarded our largest-ever research grant -- nearly $4.2 million over 4 years -- to the Dominantly Inherited Alzheimer's Network-Therapeutic Trials Unit (DIAN-TTU), based at Washington University School of Medicine in St. Louis, to enable the program to move forward more quickly with innovative drug and biomarker trials in people with genetically based, young-onset Alzheimer's disease. We're looking forward to more exciting research updates at the Alzheimer's Association International Conference (AAIC) in Boston this July.
Lastly, what is the best way for people to help end Alzheimer's?
BK: Anyone can join the fight against Alzheimer's. To learn how you can get involved, please visit the Alzheimer's Association at www.alz.org.