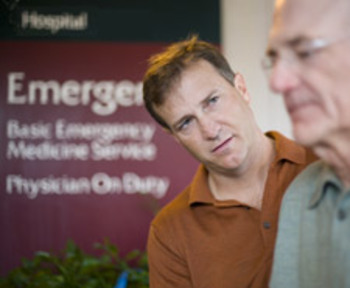 All Rights Reserved
Preparing ahead of time
Prepare contacts. Make a written list of contacts, including the primary caregiver and other family members or friends who help with care, who should be notified in an emergency. Keep a copy with you in case you get a call about the patient's condition and can't come to his side yourself; share copies with other caregivers and facilities he frequents, such as an adult day care center or church program. Note which people have legal permission to be present when physicians and other staff discuss his medical issues.
Prepare records. Anyone who accompanies the patient in the emergency room should bring along a copy of his medical records and relevant legal documents. These include:
A clear summary of his medical condition (including the Alzheimer's disease and any other health problems)
A list of all the medications, vitamins, and supplements he takes, including dosages
Contact information for his primary care physician and any specialists he sees
Prepare for medical access. A companion who has the patient's verbal permission to stay by his side should have no problem gaining access. But you can't count on a verbal okay in a crisis or if he's already in mid- to late-stage Alzheimer's. If he's confused or agitated or unable to grant permission, the hospital staff may require that you present a legal document (such as a health care proxy) that allows you to stay with him -- another important reason to obtain this authority soon after his diagnosis. It's best not to count solely the patient's spouse for this role, as she or he may be too upset in a crisis (or, in the event of a car accident, for example, also indisposed).
Hospital policies vary. Make sure you let staff know the patient has Alzheimer's disease and that you are a caregiver (or a son or daughter there in that capacity).
First reactions and dealing with an emergency room
Reacting when an emergency happens
Consult if you can. If possible, call the patient's doctor about a medical problem before going to the emergency room. Depending on the circumstances, a physician may be able to see an urgent case in the office on short notice. Or she may have advice on how to deal with the situation or the ER specifically.
Don't drive to the ER. Calling an ambulance is considered safest for someone with Alzheimer's. Confusion or agitation, which may worsen under stress, can make the ride to the hospital challenging and dangerous (especially if you're alone with the patient). Note: His insurance may cover some ambulance service providers and not others; it's useful to check what's covered now, before a crisis happens.
Bring essentials. Take the essential health and legal records with you, as well as change in case you're in a hospital area where you can't use a cell phone. (You don't want to leave him alone while you step outside.) If you have time and it's appropriate, bring a comfort item (such as a family photo) along with his medications, a change of clothes, and personal hygiene items (including adult diapers, if used), in case the visit drags on or he needs to be hospitalized.
Navigating the emergency room
What happens first: Triage will likely be the patient's first stop in the ER. A staff member will record vital signs and a summary of his current medical issue and medical history. Make certain this person notes that the person you're caring for has Alzheimer's disease -- in fact, tell this to every new medical staffer you encounter. Explain what stage he's in and that you're his caregiver (or his son or daughter, there to support and help him). The staff will likely do a brief mental exam and then make a decision about the urgency of his situation. This will determine how quickly he will receive medical care. A frail elderly person with dementia is rated more urgent than a younger person with the same condition, or than a peer without dementia with the same condition.
Once you've left triage, if the issue is not life-threatening and you aren't seen immediately, you'll register him, which creates a hospital record and involves the presentation of insurance and Medicare/Medicaid information. (In some cases this step may be completed at his bedside.) Then try to find a relatively peaceful, quiet spot in the waiting area where you can sit down.
Stay close. It's important that you or another trusted helper stay at the patient's side at all times in the hospital. Any hospital setting, but especially an emergency room, can be intimidating and disorienting to him, and his response can interfere with his care. An ER visit can involve a lot of waiting (often several hours), many questions that require remembering medical history and other facts, and interacting with various strangers -- three situations that are stressful to someone with Alzheimer's.
What to say: When he's called to be examined, reintroduce yourself and, if necessary, briefly explain again why you need to accompany him: "I'm Mr. Smith's daughter and I have the legal okay to stay with him, because he has stage 2 Alzheimer's disease ." He may be examined more than once (for example, first by a resident and then by an attending physician). Be patient and don't assume that each new face knows about his Alzheimer's.
What to do: One of your most important contributions will be to listen to the physician's discharge instructions. The patient is liable to forget or misunderstand them. You'll likely receive a document describing them; you should read and be sure you understand them before you leave the hospital.

Your role in the ER:

To calm and reassure the person in your care
To help answer questions from physicians and other staff
To ask for assistance if there's a problem
To get attention if things seem to reach a standstill
To listen to the diagnosis and discharge instructions
To ask questions as needed for clarification

Where to find help: Depending on the patient's condition and the nature of the discharge instructions, you may want to inquire about discharge planning services. This hospital service, usually pro vided by a social worker, helps you learn how best to help the patient carry out discharge instructions and handle follow-up care. You will also receive information about other resources, such as visiting-nurse or home-health-aide services.

You should feel free to ask for help from the hospital social worker (or geriatric case manager) if, at any point during the emergency-room treatment, the situation becomes overwhelming, or you need assistance advocating for the patient, or if he must be hospitalized and you need help and advice.