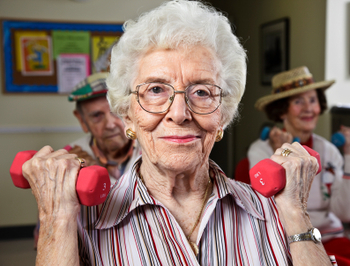 Adult daycare offers valuable respite to caregivers of patients who have Alzheimer's or other dementia, while also providing the patient with important cognitive and social stimulation that may slow the disease's progress. Here's how to line up care.
Step 1: Find out if the person is eligible for adult daycare services.
Adult daycare services are typically available to people with Alzheimer's who are living in their own homes (or with a caregiver) and who:
Are in the early- to mid-stage of the disease
Don't require constant one-on-one assistance
Have some mobility (most programs allow a self-propelled wheelchair)
Are continent (sometimes just bowel, sometimes bowel and bladder)
Are not physically or verbally abusive
Do not wander excessively
Depending on the program, you may need:
Documentation of a doctor's diagnosis of dementia or Alzheimer's
Proof the person lives within the community (for state-sponsored programs)
An intake examination by the staff to determine eligibility according to its own requirements
Step 2: Look into what daycare services are available
Canvass local resources to determine programs in your area. Make a list of the possibilities so you can systematically check them out. You'll probably want to look at several, because no two programs are identical.
Shortcuts to finding programs:
The Yellow Pages (try "adult daycare" and "senior care," but the listings may be imprecise)
An eldercare consultant
Friends, colleagues, and neighbors
Step 3: Gather information about the program
Call first to obtain brochures and ask questions (or visit websites; not all programs have them) and learn basic information. What to evaluate:
Eligibility: Does the person you're caring for meet the program's requirements for age and functional status? (Not all programs accept people with Alzheimer's, or people in the later stages of the disease. On the other hand, some programs handle only Alzheimer's patients.) Is a physician's certification of health status required, or does the center require an exam? At what point in the disease would he become ineligible?
Location: Where is the program located? How far is it from you? Is it convenient to your work or home?
Transportation: Is transportation available? What kind? Is there an extra charge for it?
Hours: When is the program open? Do these hours mesh with your schedule? Is it open early mornings, evenings, or weekends, if you need that? Determine which hours you most need care-giving relief.
Cost: What is the cost per day (or other fee structure)? Are fees payable weekly, monthly, or on a different schedule? Are there discounts for frequent attendance? Are transportation and meals included in the cost, or are they extra?
Reimbursements: What types are accepted -- Medicaid , others? What's the filing procedure?
Activities: What is a typical day like? What sorts of activities are offered? Are there activities specifically designed for people with Alzheimer's and, if so, what are some examples?
Other services: Is there physical therapy or other medical support? Counseling support? Caregiver support and training? You may or may not need additional services, but they're good to know about (and you may want them later). What's the program's protocol for reacting to medical emergencies?
Food: Is lunch provided, and what are typical offerings? Are snacks provided or must they be brought from home?
Staff: What's the staff-to-client ratio? (There's no industry stand ard, but six clients per staffer is considered good.) What are their credentials? Who's the director and what is her background? What's the proportion of paraprofessionals to trained staffers, such as a geriatric nurse, an occupational therapist, a recreational therapist, a social worker? (Not all are necessary, but the better trained the staff, the more likely that is to reflect on the quality of services offered.)
Background: How long has the program been operating? Who owns or sponsors it? Is it licensed by the state? (Not all states require this.)
Step 4: Narrow your choices and visit the sites
To make the decision process less overwhelming, winnow your list down to a handful of candidates and make appointments to visit them in person. (These initial visits should be made by you alone, without the person in your care.)
NADSA recommends asking yourself these questions:
Did you feel welcomed?
Did someone spend time finding out what you want and need?
Did someone clearly explain what services and activities the center provides?
Did someone present information about staffing, program procedures, costs, and what is expected of caregivers?
Was the facility clean, pleasant, and free of odor?
Were the building and rooms wheelchair accessible?
Was the furniture sturdy and comfortable? Were there loungers for relaxation? Chairs with arms? Was there a quiet place for conferences?
Was there a place to isolate sick persons?
Did the staff and participants seem cheerful?
Were volunteers helping?
Were participants involved in planning activities or making other suggestions?
Additionally, you may want to look for:
A garden or outdoor area
Clean, accessible bathrooms
Security measures to prevent clients from wandering away
The quality and atmosphere of the activities (watch some)
A menu or sense of the food offered
Steps 5 and 6: Check references and involve the person
Step 5: Ask for references.
By now you probably will have zeroed in on one or two programs that seem right for you. Ask for the names of caregivers who've had relatives in the program. Contact them and find out what did they like and dislike?
Step 6: Inform the person in your care.
Once you've selected a program, it's time to get the patient on board. (There's no real need to do so sooner.) Have realistic expectations; he may not be as open to the idea as you are. He may feel anxious, insecure, or uncomfortable about meeting new people, being in a new place, or being separated from his primary caregiver(s). He may be put off by the term "daycare," thinking he'll be treated like a child.
To ease the way:
Explain why the program is a good idea: "It will give us a little break from each other and let you be with other people. There will also be a lot of activities there that can keep you busy. Doctors think these kinds of programs can possibly slow down the Alzheimer's."
Try pitching the center as a club -- this may help remove some of the stigma of the "daycare" association while emphasizing the camaraderie and opportunities that the center makes possible. Or, for a patient who's focused on therapies for slowing the disease, it might be easiest to think of adult daycare for its therapeutic value.
Enlist a third party, such as a doctor or a geriatric care manager, to discuss the benefits if you sense or expect resistance. This approach can also help lessen feelings of guilt or stress associate d with leaving him at a center. (These feelings are common, and a neutral party also can help you see the value of taking advantage of available services.)
Adult Daycare Trial Run
Enroll the person in your care for a few sessions and see how it goes. Start small, with just a few hours per day or week, rather than diving into full-time daycare. It's common for new participants to express some stress or hesitation about a center -- but it's also common for them to overcome this pretty quickly.
If the transition proves difficult and he protests or expresses his dislike of his first visits, talk about his concerns. You and/or the director may be able to overcome specific objections. If he has problems with the daycare center that don't resolve after several weeks, you'll probably want to look into a different program for a better fit, or for an in-home care or companion service.